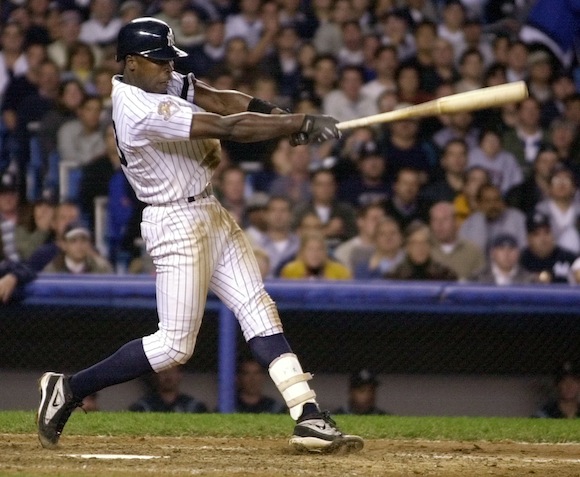 When the Rangers and the Yankees square off, I always think about Alfonso Soriano and today's Texas second baseman Joaquin Arias. As we all know, he was the Arlington-bound centerpiece of the package the Yanks dashed off to Texas in exchange for Alex Rodriguez, and Arias was the player the Rangers selected from the Yanks' organization.
This afternoon, while I ducked out of the living room and had to listen to John Sterling and Suzyn Waldman for a few minutes, Waldman mentioned how the Yanks almost gave up Robinson Cano in that trade. I didn't recall that and went digging for answers. I found a Jim Callis piece from 2004. The Baseball America scribe wrote, "Though initial speculation was that New York would give up a pitching prospect, baseball sources say the five-man list contains four hitters, including outfielder Rudy Guillen, shortstop Joaquin Arias and second baseman Robinson Cano, as well as righthander Ramon Ramirez."
Eventually, Callis amended his list to include Bronson Sardinha and replaced Ramirez, today a pitcher with the Red Sox, with Jose Valdez. The Rangers on March 23 took Arias, and since 2004, they've waited and waited for him to arrive. This year marks his fourth season with an appearance in the Majors, and his track record is inconsistent. He had an impressive cup of coffee in 2006, missed most of 2007 to injuries, played 32 games in Texas in 2008 and played in AAA in 2009. For 2010, he's hitting over .400 and may, at age 25, may finally be developing into a Major League infielder.
The Yanks don't miss Arias because they have Robinson Cano, and it's only through that twist of baseball fate that Cano stuck around. The team offered him to the Rangers, and the Rangers went with Arias. As Cano matures into the team's number five hitter, I'm happy to see him in pinstripes, and the A-Rod trade would have looked much different had the Rangers opted for the right player.
Meanwhile, Alfonso Soriano has been in the news these days but for all of the wrong reasons. The Cubs, Dan McGrath writes in The Times today, don't know what to do with him. The Cubs owe him $90 million and have him under contract through 2014. Yet, at age 34, he's falling apart. His knees aren't healthy, and his foot and bat speed are both on the wane. He hit .241/.303/.423 in 117 games and stole a career-low nine bases. His offense has picked up this weekend, but his defense in left field has taken a turn for the worse.
Since leaving the Yanks, Soriano has hit a very respectable .275/.328/.514 with 193 home runs. I thought the Yanks would miss him more than the team has. He gained two years after his real age came out following the trade, and his years as a 30/30 player seem to be behind him. I'll take A-Rod – and Robinson Cano.