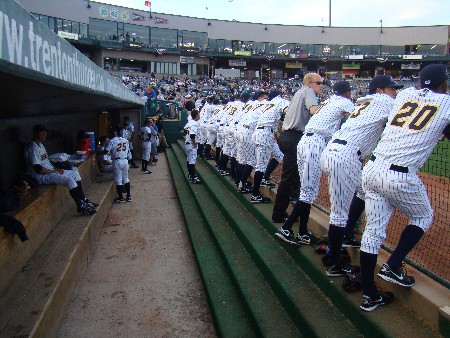 One night isn't enough to draw any conclusions from, but the first day of minor league baseball was very good to the Yankees. Here's some quick thoughts…
The organization is clearly trying to avoid putting any undue pressure on Jesus Montero. Despite the fact that he's the best hitter in the Triple-A Scranton lineup, he batted way down in the order last night, in the six hole. They did this with Austin Jackson last year, and eventually moved him up in the order when he got comfortable and started to produce. Either way, it's good that they're taking it easy on him. Being in Triple-A at age-20 is tough enough, he doesn't need to feel like he has to carry the offense on top of that.
Boone Logan's hot spring carried over, for at least one game. He struck out four and recorded two more outs on the ground, and threw just four balls in two innings of work. I suspect that f he reasonably approximates this level of performance going forward, he's going to first guy called up whenever the Yanks need an extra arm, not Mark Melancon.
From a fan perspective, it stinks to have Slade Heathcott start the season in Extended Spring Training. Between Andrew Brackman's surgery and Gerrit Cole not signing, the last time we got to see a first round pick start their first full season in the organization in a full season league was Ian Kennedy back in 2007. Yikes.
Hector Noesi is legit. He battled arm injuries for a few years, but now that he's finally healthy he's on his way to being one of the organization's top pitching prospects. I was surprised when he was added to the 40-man roster after the year, but he's got a low maintenance delivery and very good command of three pitches (89-91 mph fastball, changeup, curve). High-A Tampa is just a pit stop for him, he should in Double-A Trenton before long, and possibly even Triple-A Scranton at some point.
Chris Garcia's injury is unfortunate, but frankly it's not totally unexpected. He's very easy to dream on with his size and power repertoire, but that injury prone label is well deserved. He said it felt serious last night, but hopefully the MRI says something different. I'm not getting my hopes up.
This team needs another high upside, high probability prospect in the worst way. I know that's a lot to ask, but damn, it truly is "Montero and everyone else." Hopefully Brackman maintains last season's late success and becomes that guy.
It was a great Opening Night; all four affiliates won convincingly (combined score: 14-2) and the starting pitching was phenomenal (21.2IP, 10 H, 0 R, 0 ER, 2 BB, 17 K). The best part of all? We get to do it all again tonight.