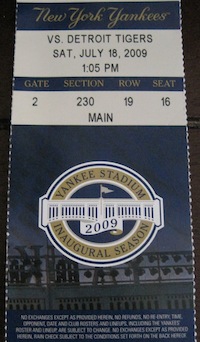 As the Yankees begin their second season in a new ballpark with lower ticket prices and a World Series title to defend, fans are flocking to the Bronx for a chance to watch a game or 81. According to a report from the Associated Press, ticket sales for 2010 are outpacing 2009, and Yankee officials say they may soon need to cut off season-ticket sales to keep some seats open for individual game purchases.
Earlier this week, Hal Steinbrenner said that the Yankees have outsold last year by 2000 full season ticket packages. So far, the team has sold the equivalent of 37,000 season ticket plans while, in 2009, they had sold 35,000 before the stadium had hosted Opening Day. The team eventually sold 2000 more tickets last year, and Steinbrenner anticipates cutting off season ticket sales shortly.
The team averaged 45,918 fans per game last year in a stadium with a capacity that nears 50,000, and team officials believe that high prices were to blame for the empty seats. This year, as the AP notes, the team has slashed the price tag on the most expensive options:
New York renamed 538 seats along the foul lines Champions Suite, removing them from the Legends Suite and cutting off access from the duplex Legends Suite Club. The reclassified seats sell for $350-$550 for individual games, while the 1,357 remaining seats in the Legends Suite are $450-$1,600 for individual games, down from $500 to $2,625.

New York also cut 3,400 tickets behind home plate in the lower deck from $325 to $235-$250 per game as part of season plans. "The big change here was giving our fans yet another option as far as tickets," Steinbrenner said.
I'm curious to see how these numbers translate into final attendance figures for the Yankees. In old Yankee Stadium's last year, the team drew a record 4.29 million fans with an average of 53,069 per game. In the new park, the Yankees still claim a capacity of 52,325 including standing room, but the team averaged just 45,918 fans last year for a total attendance of 3.79 million. Tuesday's crowd of 49,293 was the largest regular season crowd in the new park's short history. Wednesday's game drew just 42,372.
For the Yanks to draw 4 million fans again, they'll have to average 49,382 fans per game in the new house, and until standing room tickets are available for every game, that mark seems unattainable. For now, though, we should be happy that the Yankees are both lowering ticket prices and selling so many seats. The gaudy economic experiment of the new stadium may not have been as smashing a success as the Yanks had originally hoped, but the team has found a gold mine of money no matter. People will, after all, come out to watch a winner.
Photo of the 2009 ticket above comes to us from the incomparable Amanda Rykoff.