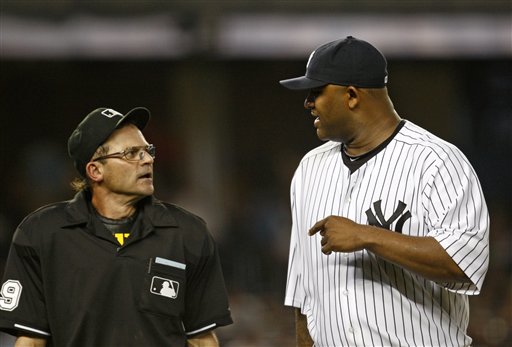 Update (6:07pm): The game is set to resume at 6:20pm ET, and the broadcast is going to shift over to FX.
* * *
The Yankees' roster has taken a pretty big hit in the form of seven small hits over the last week, as player after player after player succumbs to some kind of injury. Reinforcements have been called up from Triple-A and sent back down in favor of even more reinforcements. Throughout this chaos, there's been one constant: winning.
The Yankees have won seven of their last eight games, and that's because of the pitching. The four non-Javy Vazquez starters are a combined 16-1 with a 2.16 ERA over 23 starts, and they're taking the ball deep into games. Believe it or not, the highest ERA (NJVD) belongs to today's starter, CC Sabathia with a 2.74. I know if I signed a guy to a $161MM contract, I'd expect more than just the fourth highest ERA on my pitching staff.
Now that my lame attempt at humor is out of the way, here's today lineup…
Jeter, SS
Gardner, CF
Teixeira, 1B
A-Rod, 3B
Cano, DH
Swisher, RF
Winn, LF
Cervelli, C – fourth game in a row & his 8th start in the last 14 games … oh to be young again
Pena, 2B
And on the mound, Carsten Charles Sabathia.
The weather is Boston isn't pretty, but it looks like there's enough of a window to get this one in. First pitch is scheduled for 3:10pm ET and will be broadcast nationally on FOX. Enjoy.
Injury Updates: In case you've missed our earlier coverage, Kevin Russo has replaced Nick Johnson on the active roster, and Johnson may be out for a while. We anticipate a few more changes over the next few days as the Yanks will look to shore up the DH spot once Robinson Cano and Jorge Posada are both up to speed. Posada expects to DH tomorrow when the weather in Boston has cleared, and earlier today, Joe ran down some potential moves the Yanks could make this week.