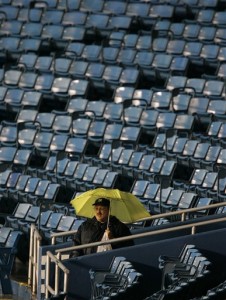 So, last night was fun, eh? Ben and I both left the Stadium last night with sore throats and tired legs from screaming like madmen and jumping around like lunatics. But it was totally worth it. Nothing like watching the Red Sox fans that were gloating in the top of the 9th inning walk down the tunnel with their tails between their legs fifteen minutes later.
Anyway, I'm not sure how likely they are to play tonight, but here's the lineup anyway…
Jeter, SS
Gardner, CF
Teixeira, 1B
A-Rod, 3B
Cano, 2B
Cervelli, C
Thames, RF
Miranda, DH
Winn, LF
And on the mound, Carsten Sabathia.
First pitch is scheduled for 7:05pm ET, but it's been raining all day. It looks like there's a window to get this one in, but who knows with weather forecasts. If they do in fact start playing, it'll be a mad dash to get the lead before the 5th inning ends. The game is on My9 locally and MLB Network nationally.
Should the game be delayed or postponed or whatever, use this as your open thread for the night. You've got NBA and NHL playoff action on, plus the Mets are in Atlanta. Enjoy.
Update (6:34pm): No surprise here, but the game has been delayed. No word yet on the start time.
Update (7:11pm): Tentative start time in 8pm ET.