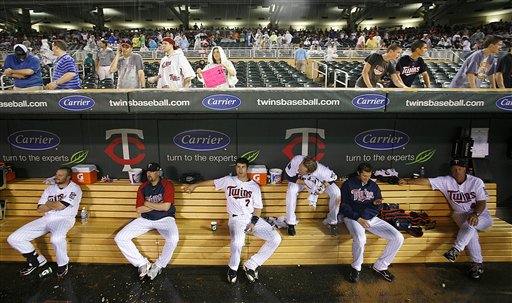 It's not quite a doubleheader, more like a one-and-a-half header. Before playing tonight's regularly scheduled game, the Yanks and Twins will play the final four innings of last night's game, which had to be suspended because it was raining like a mofo. When we left off, the game was still scoreless and the Yankees were set to come to bat in the top of the inning, and both A.J. Burnett and Scott Baker had been cruising for the last few innings. It was an old fashioned pitcher's duel, but now it's a mad dash to scratch a run or two across and hold on for dear life.
Here's the lineup, if you need a reminder…
Jeter, SS
Gardner, CF
Teixeira, DH
A-Rod, 3B
Cano, 2B
Swisher, RF
Miranda, 1B
Cervelli, C
Russo, LF
David Robertson will get the ball in the 6th inning, which kinda surprised me because three of the first four hitters are lefthanded. I figured Joe Girardi wouldn't pass up the opportunity to use Boone Logan. Girardi also said that none of the relievers will be used in both games.
The game is scheduled to resume at 5:05pm ET, and depending on who you ask, it'll be broadcast on either My9 or YES. Enjoy the rest of the game.