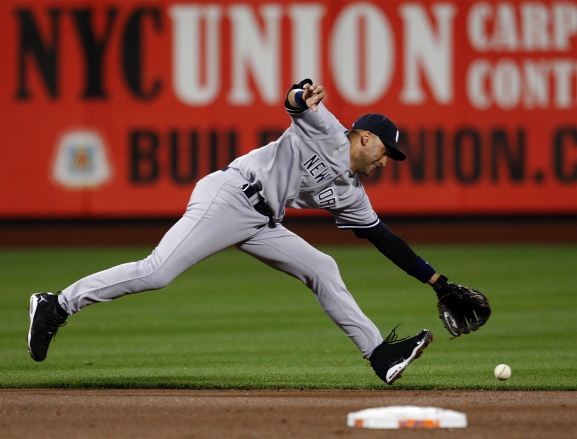 It's unsurprising for anyone who has watched most of the season to date, but it appears that Derek Jeter has taken a step backwards defensively. Last year he made marked improvements, and the numbers confirmed what our eyes saw. This year we've seen him miss a number of plays, particularly those to his right. While the readily available defensive numbers don't break down his defense that far, ESPN's Mark Simon tracked down the specific left-right splits for Jeter.
In the winter of 2007-2008, Brian Cashman had a conversation with Jeter in which Cashman raised the issue of Jeter's diminished defensive range. Jeter had not heard this from coaches or teammates, but made a commitment to improve. He started doing workouts that helped balance the typical workload of a baseball player. Because there are so many repetitive one-way movements — running the bases and swinging the bat — a player can become unbalanced. Jeter's workouts strove to help him work both sides of his body.
It seemed to work. Not only did Jeter look better in the field starting in 2008, but the numbers reflected it. On Baseball Info Solutions' +/- scale, Jeter rated just -1 to his left in 2008, and improved to +2 in 2009. This seemed to hamper his range to his right, usually his strong point, but even then he adjusted. After rating -18 in 2008, Jeter climbed to -3 in 2009. After another off-season of balanced workouts, we might have seen Jeter improve further, or at least negate the effects of age.
Instead we've seen him decline on balls to his left, on which he currently rates a -7. Again, this is no surprise to the faithful followers. Jeter has missed a number of balls, and has come close to missing a few more. I particularly remember a play in Detroit where it appeared he would smoothly scoop a grounder up the middle, but he hesitated at the last moment and had to make a spinning throw. On the good side, Jeter has been excellent on balls to his right, rating a +7.
At this point in his career, we can't expect Jeter to become a top defensive shortstop. The balls up the middle are frustrating to watch, but it is reassuring to know that he's at least making some plays that other shortstops have not. Still, it's certainly going to affect his contract negotiations after this season. How much will Derek Jeter the shortstop cost compared to Derek Jeter the guy who will have to move off the position in a couple of years?