Given their rich history, it's only fitting that the Yankees were part of the first rain delay and suspended game in the history of Target Field. Both A.J. Burnett and Scott Baker held the other side scoreless through five innings yesterday before Mother Nature intervened. The two teams came back this afternoon to finish this one off, and the Yanks turned to their fearless leader to carry them to victory.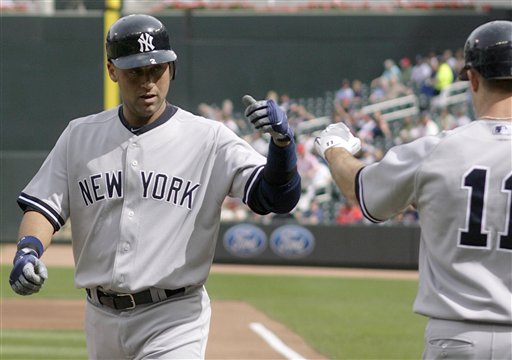 Jeter Puts Them On Top
With the offense largely underperforming, yesterday's five fruitless innings against Baker was just more of the same. The Yanks had opportunities early, but didn't capitalize yet again and were staring at a big goose egg on the scoreboard when the rain forced them to take a time out.
Derek Jeter didn't wait very long with only four innings to play this afternoon, jumping all over Brian Duensing's third pitch of the at-bat – a hanging changeup, which is basically a batting practice fastball – and hit it into the Twins' bullpen beyond the left-centerfield wall. I'm not sure if Jeter could physically hit a ball any further, maybe if he had a nice gust of wind at his back, but it's about as far as you'll see the Cap'n hit one these days.
The result was a collective exhale, as the Yanks were finally on the board, held their first lead in what seemed like an eternity, and just had to run out the clock with the bullpen well rested. Believe it or not, it was the team's first homer in their last seven road games, their longest stretch in 21 years.
Jeter One-Ups Himself Up By Throws Out Young
Because the homerun wasn't enough, Jeter also contributed a key defensive play to end the 6th inning and preserve the lead. David Robertson managed to retire Joe Mauer by deflecting a line drive off his back and into Alex Rodriguez's glove (just like he drew it up), but he walked Justin Morneau and his league leading .497 OBP. Michael Cuddyer popped out in foul territory for the second out, though Yankee nemesis Jason Kubel roped a hanger into the rightfield corner for a double.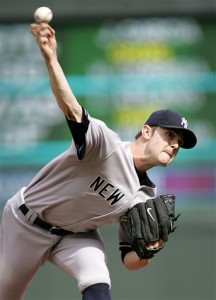 Luckily for the Yanks, Twins' third base coach Scott Ullger held Morneau up at third, though it wasn't clear if he would have been able to score after Nick Swisher got the ball back to the infield quickly. Robertson did exactly what he was supposed to do with the hacktastic Delmon Young, throwing a first pitch curveball out of the zone. Young beat it into the ground, and Jeter ranged to his right to snatch the ball in the hole and get the out with his patented jump throw. With a bad throw or a faster runner, the game's tied. Simply a huge play.
Happy Happy Happy
It was just one at-bat, but the pitch sequence to Morneau in the 8th was fantastic, ditto the execution. The first pitch curve was well off the plate for a ball, but Joba Chamberlain followed it up with a 94 mph heater on the outer half for a called strike, then another 94 mph heater down and away for a called strike, and the put away pitch was a up and in fastball at 94 that Morneau wouldn't have been able to catch up to if you told him it was coming. Great job with the early leader for the AL MVP award.
Also, big ups to the bullpen in general. Yeah, they put some men on base, but they got the job done.
Sad Sad Sad
It's a shame the Yanks lost out on A.J. Burnett's strong start yesterday, he looked like he had seven or eight good innings in him. But hey, if that's what it took to get Scott Baker out of the game, so be it. I wrote more about both the performance of both starters yesterday.
Robertson taking that liner off his back was scary, but it was good to see him able to stay in the game. The last thing the Yanks need is another injury. Not only did he complete the inning, but he stuck around the record the first two outs in the 7th as well.
Mark Teixeira still looks like the Yanks signed him out of a beer league last week. Just terrible at-bats and swings. I'm not sure why Joe Girardi was compelled to DH him this game after the off day, I would think the last thing you'd want Tex to do between at-bats is sit on the bench and think about how bad he's been.
Mariano Rivera hasn't looked right since his little side injury. He just isn't hitting his spots at all, completely uncharacteristic. Hopefully he gets back on track soon.
WPA Graph & Box Score
MLB.com has the traditional box score, FanGraphs the more advanced stuff. Well, they will once their scoreboard figures out how to handle suspended games.
Up Next
The quickest of turnarounds, as these two teams will play again at 7:05pm ET. It's a battle of lefties, Andy Pettitte vs. Francisco Liriano.