For just the seventh time this season, the Yankees played a game in front of their fans at home, where they're virtually unbeatable. They're 63-19 in the Bronx dating back to last May, and have already taken five of six at home this season. They tacked on another win Friday night, but it took a little of that comeback magic we saw so much of in 2009.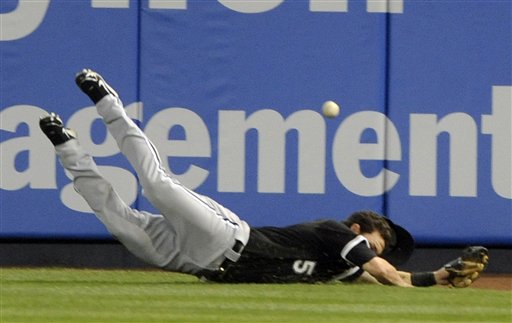 Biggest Hit: Derek Jeter's triple
The first six-plus innings of Friday's game brought the Yankees and White Sox right back to where they started, tied. Freddy Garcia had mostly stifled the Yanks over the first six frames, and he gave way to hard throwing southpaw Matt Thorton in the 7th. After Curtis Granderson went down swinging, backup catcher turned temporary starter Frankie Cervelli took an 0-2 fastball off the elbow to give the Yankees a much needed baserunner. Brett Gardner followed him up with a single (more on that later), bringing the Jeter to the plate with a chance to give the Yankees their first lead of the night.
It was clear from the start that if Thorton was going to get beat, he was going to get beat with his best pitch, the old numero uno. Fourteen of his first 16 pitches were fastballs, but he couldn't spot the first two to Jeter and set him up with a 2-0 count. The Yankee captain fouled off the next two pitches, one of which landed just to the right of the foul line deep in the rightfield corner. Another fastball came on the 2-2 count, and Jeter again drove it to right field, except it was clear this one was going to stay fair. The only question was whether or not infielder turned outfielder Jayson Nix was going to get a glove on it. He dove, he missed, and the ball rolled to the wall. Cervelli scored, Gardner was right behind him, and Jeter slid into third safely, giving the Yankees the lead with two innings to go.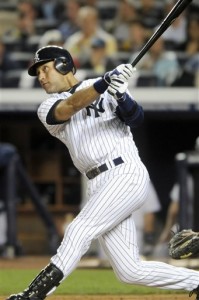 Honorable Mention: Jeter's homer
Of course, Jeter's triple wouldn't have meant much if he hadn't taken matters into his own hands two innings earlier by homering off the the ChiSox starter. Garcia had set down 13 Yankees in a row before Gardner slapped a worm-burning single through the 3.5 hole with two outs in the 5th. The speedster was apparently in Garcia's head, because he made four throws to first before throwing two pitches to Jeter. With a 1-1 count, Garcia hung a curveball right out over the middle of the plate, and Jeter just waited on it before driving the pitch out to left-center. It's not often we see the Captain pull the ball for power, but if you're going to hang a curveball that badly, almost anyone call pull it with authority.
Garcia had been on a roll after allowing a pair of runs in the first, and it looked like we were headed for one of those frustrating nights when the vaunted Yankee offense gets shut down by a guy well past his expiration date. Thankfully Jeter's heroics got his team back in the game, as he finished just a double shy of the cycle. He accounted for 50.5% of the win by himself, mostly thanks to the two hits we've already discussed.
Biggest Out: Nick Swisher's double play
After falling into a three run hole before they even came to the plate, the Yankees showed some fight in the bottom of the 1st by pushing two runs across with just one out. The molten hot Robinson Cano stood at first while the previously slumping Alex Rodriguez occupied third, meaning that all Nick Swisher had to do to tie the game was hit a moderately deep fly ball. Garcia missed with his first two pitches to set Swish up 2-0, but he fouled off a fastball that may or may not have been ball three. The fourth pitch of the at-bat was a changeup down, and the Yanks' rightfielder beat it into the ground toward first. Paul Konerko scooped it up, stepped on first, and fired to second to get Cano for an inning-ending 3-6 double play.
It was only the 1st inning, but the double play decreased the Yankees' chances of winning by nearly 12%.
The Pen Is Alright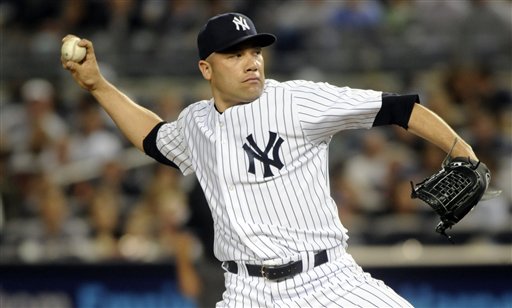 Outside of Mariano Rivera, the Yankees' bullpen has been hit or miss this season, mostly missing of late. They needed to get at least six outs from the relief crew before Rivera even became a factor.
Al Aceves relieved starter Andy Pettitte, who battled valiantly while allowing four runs in six innings, and he made quick work of Alexei Ramirez and Gordon Beckham before Alex Rios looped a soft single to left. After the former Jay stole second, Aceves intentionally walked Konerko before escaping the inning when A-Rod snared Carlos Quentin's screamer to the hot corner. Damaso Marte nearly walked Mark Teahen to lead off the 8th after the Yanks took the lead, but he eventually got him to ground out to second. Joba Chamberlain recorded two weak ground outs on five total pitches to hand the ball off to The Sandman.
Outside of the blooper by Rios, the Yankee bullpen was rock solid on Friday, which is what we became accustomed to seeing in the second half last year. Aceves bridged the gap from starter to setup man, and Rivera was his usual self in the 9th. PitchFX had five of Mo's pitches at 91, eight at 92, and seven at 93, which is more velocity than we've seen out of him since before his shoulder surgery prior to last season.
Happy Moments
Gardner's 7th inning at-bat against Thorton was a thing of beauty. Thorton can bring the heat, averaging 95+ over the last few years, but Gardner fouled off two fastballs as part of an eight pitch at-bat before singling back up the middle. If the ChiSox lefty had overpowered the Yanks' leftfielder on three or four pitches, no one would have been too surprised. Instead, he battled and helped set up the eventually winning runs.
Other than than, it was pleasing to see A-Rod get out of his 0-for-19 skid with a double in the 1st, and Cano continues to smoke the ball, even if a few of the balls he put in play ended up in fielder's gloves.
Annoying Moments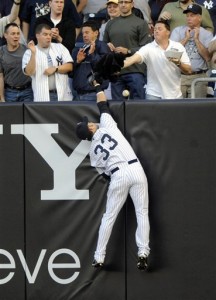 There was actually quite a bit that bothered me in this game, more so than a usual win. That whole top of the 1st inning for example. Two bloop singles and then that dude in front row tries to catch Konerko's homer with his jacket and ends up getting in Swisher's way. Swish may not have caught it, but he was close enough to at least try to make a play on it. And who the hell tries to catch a ball with their jacket? Be a man and use your hands. A jacket? Even using your hat is weak, but a jacket? Dude, take that nonsense to CitiField.
Oh, and Konerko too. Not just the homer, but he also turned that nice inning ending 3-6 double play in the 1st, then robbed Granderson of his first hit in what seems like an eternity with the leaping grab in the 2nd. Don't even get me started with Garcia retiring 13 in a row with his 85 mph nothingball.
Pettitte walking Juan Pierre when he was trying to sacrifice bunt, on five pitches no less. That's inexcusable, and Andy knows it. And the non-call on Donny Lucy running out of the base line later in that inning also ground my gears. If you're a believer in predetermined outcomes, it cost the Yanks a run.
WPA Graph
A little more jumpy than I normally like, but at least they won. Individual player breakdowns are available at FanGraphs' box score.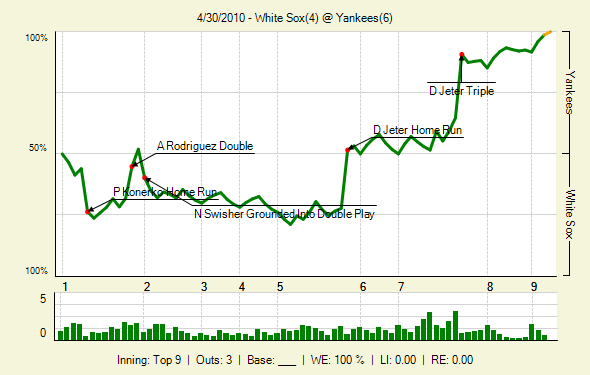 Up Next
Same two teams tomorrow at 1:05pm ET. Javy Vazquez's pursuit of redemption in front of the home fans continues against John Danks.