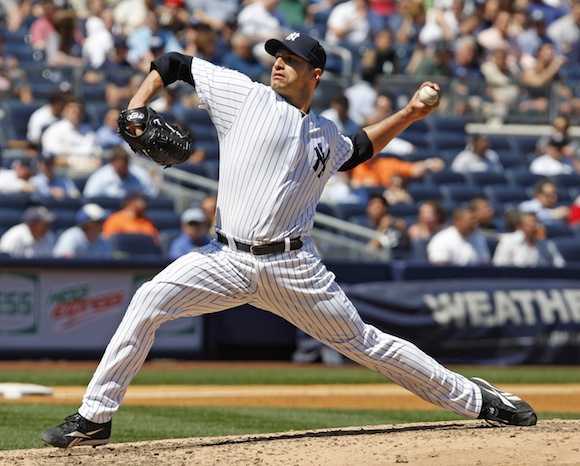 Update by Ben (6:04 p.m.): An MRI on Andy Pettitte's left arm has revealed "mild inflammation" around the elbow, the Yankees announced a few minutes ago. The team says the pitcher will be "treated conservatively" and "evaluated on a daily basis," and Brian Cashman earlier said that Pettitte will probably miss his next start.
At this point, I believe that Sergio Mitre will take Pettitte's turn in the rotation against the Tigers in Detroit on Monday. Despite allowing a two-run home run to Ty Wigginton, Mitre threw 2.1 serviceable innings today and is more stretched out than Alfredo Aceves. The Yankees, for what it's worth, do not seem to consider Joba Chamberlain an emergency starting option this season.
With his win today, Pettitte improves to 4-0 with a 2.08 ERA, and no one wants to see Andy go down for long. The good news is that Pettitte's elbow isn't strained. Inflammation will subside with rest and treatement. Obviously, we'll be following this story closely over the next few days.
* * *
After staying relatively healthy throughout April, the Yanks have seen a number of their starters go down with injuries. While Jorge Posada and Mariano Rivera should be back soon, now it's Andy Pettitte who ails. Marc Carig reports that Pettitte felt some tightness in his forearm during his start against the White Sox, and it flared up a bit again in the fifth today. Apparently he felt it in the upper part of his forearm this time (sorry, no one quite explained this well). He's off to get an MRI.
Update (5:04 p.m.): Not to get everyone's hopes up, but Dave Eiland just said "it's no concern," a half dozen times during his media meeting.
Update (5:28 p.m.): Though the team's press office, Andy Pettitte said the following: "Anytime you're talking about the area around the elbow, you start to worry a little bit. I think it's going to be fine but I'll know more after the MRI."
Photo Credit: AP Photo/Kathy Willens