When the Yankees lose, we tend to look everywhere for someone or something to blame. Among the many perceived goats for last night's game is Randy Winn, not just for his game ending strikeout, but because of his positioning on Jeremy Hermida's go-ahead double in the top of the ninth. Winn was playing shallow (so was centerfielder Brett Gardner, but we like him), only to have the ball go over his head for a double. MJ Recanati went so far as to say Johnny Damon would have caught that ball, wondering if the 13-year big league vet had ever heard of no doubles defense.
I'll give MJ a pass on that because I'm sure when he wrote that after the game he was just as livid as I was, but no doubles defense is the wrong call in that spot. Before we touch the philosophical side of outfield positioning, let's first look at the facts. Below is Mariano Rivera's spray chart from 2009, courtesy of Katron.org…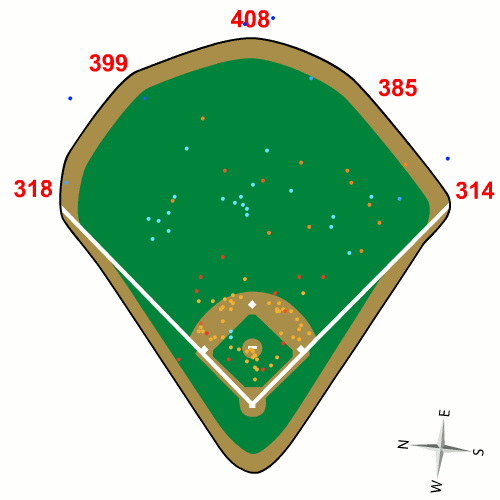 For further reference, here's his 2008 spray chart as well. 2010 is a tiny sample, it does nothing for us.
Clearly, Rivera does not allow many balls to be hit to deep left field, just five total from '08-'09. It's the nature of the cutter. If a righty is going to hit it, he's got to slap it the other way. If a lefty wants to hit it, he's got to pull his hands in and muscle it out of the infield, hence all the bloops hits and shallow singles Mo gives up. Only three balls during the 2009 season were hit like the ball Hermida hit off Rivera last night, and you're talking about 247 batters faced (130 lefties).
Furthermore, even if Mo wasn't on the mound, just think about the situation. There were two outs in the inning, so the runners on second and third (Marco Scutaro and Darnell McDonald, respectively) were going on contact. They were going both going to score on a single, nevermind a double. You bring the outfielders in to play the percentages, cutting off the most likely event. With Mo and his amazing ability to induce weak contact on the mound, it makes even more sense to do that.
Sometimes though, you just gotta tip your cap and credit the other guy. Give Hermida some props for a nice piece of hitting. Seriously, look where this pitch was…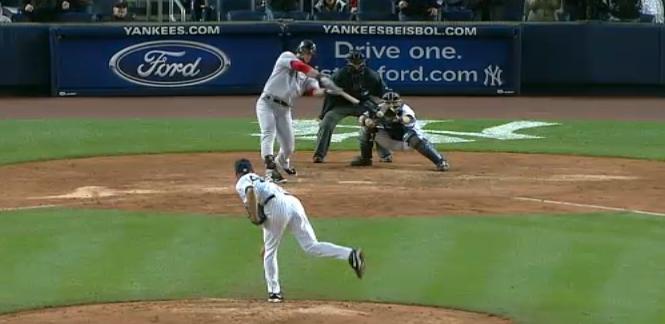 That's a great pitch, a 90 mph cutter on the outer black. Hermida just went out and got it. It happens. Not very often, but it happens.
I know it's easy to jump on Winn or the coaching staff or whoever for poor positioning on a play like that, especially since Randy kinda stinks, but in this case it's not justified. He was positioned properly, Rivera executed his pitch, and Hermida just beat him. Simple as that.