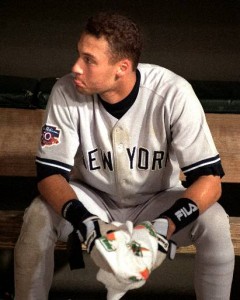 As if B-Ref couldn't get any better, yesterday Sean Forman introduced WAR data to the site's draft pages. Now you can go and see that Alex Rodriguez has the highest career WAR (99.0) among players taken first overall, or that Rich Yett (1.2) has the highest among players taken 649th overall. The data comes from Sean Smith, and it's calculated just a bit differently than the WAR you find at FanGraphs. However the concept remains the same; it encompasses all aspects of the game expressed in terms of runs (or wins) above a replacement level player.
Needless to say, I wasted a big chunk of my day yesterday playing around with this. What I have for you today is a list of the best players the Yankees have ever drafted in each round, assuming of course they actually signed and at least broke into the big leagues with the Bombers. Remember, the draft wasn't instituted until 1965, so guys like Lou Gehrig and Mikey Mantle and Joe DiMaggio and Whitey Ford never enjoyed the experience. Without further ado…
First Round: Derek Jeter, SS, 1992, 68.8 WAR
Simply put, Jeter is the greatest player the Yankees have ever drafted. His 68.8 WAR (and counting) is by far the highest total of any player the Yanks have ever selected, and in fact it's more than 36% larger than the second highest mark. The second best first round pick in team history is Thurman Munson, who amassed 43.4 WAR after being drafted 4th overall in 1968. It really drops off after that, the third best player is Ron Blomberg and his 8.7 WAR. Eek.
Supplemental First Round: Joba Chamberlain, RHP, 2006, 4.3 WAR
The supplemental first round hasn't been kind to the Yankees through the years, but then again it's not very often that they've lost a free agent good enough to bring back draft pick compensation. Joba is the only sandwich rounder in franchise history to become more than a replacement level player, but of course the jury is still out on some of the recent picks. Now if he could only preserve a four run lead in the 8th inning.
Second behind Joba on the WAR chart is Ryan Bradley, a hard throwing reliever who picked up -0.1 WAR before hurting his arm and ending up out of the game less than six years of being drafted in 1997.
Second Round: Al Leiter, LHP, 1984, 36.1 WAR
Leiter's first stint in pinstripes didn't last very long, just 106.2 innings before he was traded for Toronto for former AL homerun king Jesse Barfield. Exactly 0.0 of Al's career WAR came in a Yankee uniform, which is a shame. But hey, they did draft and develop him. The second best second round pick in Yankee history is catcher Mike Heath, a 1973 selection that accumulated most of his 36.1 WAR with the A's and Tigers.
Third Round: Ron Guidry, LHP, 1970, 47.3 WAR
Jeter might be the best player the Yankees have ever drafted, but Guidry is the best pitcher they've ever drafted. Well, at least until Andy Pettitte passes him a little later this season. The second best third round pick in Yankee history is none other than Nick Johnson, who racked up 14.4 WAR, mostly with the Expos/Nationals.
Fourth Round: Stan Bahnsen, RHP, 1965, 19.1 WAR
This one's a little before my time, so I can't comment much. Bahnsen spent parts of five seasons in the Yankees' rotation, winning the 1968 Rookie of the Year thanks to a 2.05 ERA in 267.1 innings. He moved on to the White Sox, A's, Expos, Angels, and Phillies. The next best fourth round pick the Yankees ever made was Jim Beattie, who wasn't too far behind Bahnsen with 13.5 WAR.
Fifth Round: J.T Snow, 1B, 1989, 10.0 WAR
Snow was a real good player for a long time, but of course he only had 19 plate appearances in a Yankee uniform. However, some other players the Yankees drafted in the fifth round but were unable to sign include B.J. Surhoff (34.4 WAR), Jim Barr (29.8), and Todd Stottlemyre (21.6). They also traded Greg Gagne (23.9 WAR) before he ever played a game in the Bronx. After Snow, the best player the Yanks ever selected in this round that actually broke into the big leagues with them is Randy Choate, who's been worth just 0.7 WAR in his career.
Things start the thin out the deeper you go, obviously, though there's definitely a few exceptions. It's pretty crazy to think that three of the greatest Yankees ever, as in the entire history of the franchise, were drafted after the 18th round. Ridiculous.
After the jump, a bullet point list of the best players ever picked by the Yanks in each round. It's rather long.
6th: Mike Pagliarulo, 3B, 1981 (9.8 WAR)
7th: Steve Kline, RHP, 1966 (6.1 WAR)
8th: Hal Morris, 1B/LF, 1986 (10.8 WAR)
9th: Sterling Hitchcock, LHP, 1989 (5.8 WAR) – Fred McGriff and his 50.5 WAR was drafted in this round in 1981, but the Yanks traded him to Toronto before he ever played a game for them … only Jeter had more WAR among players drafted by the Yanks

10th: T.J. Beam, RHP, 2003 (-0.2 WAR)
11th: Andy Cook, RHP, 1988 (0.0 WAR)
12th: Andy Stankiewicz, 2B, 1986 (1.1 WAR)
13th: no one from this round has ever reached the bigs with the Yanks
14th: Scott Kamienicki, RHP, 1986 (8.2 WAR)
15th: Jim Deidel, C, 1967 (0.0 WAR)
16th: Ricky Ledee, OF, 1990 (1.7 WAR)
17th: David Robertson, RHP, 2006 (0.4 WAR)
18th: Jerry Nielsen, LHP, 1988 (-0.4 WAR)
19th: Don Mattingly, 1B, 1979 (39.8 WAR) – Bob Tewksbury accumulated 18.9 WAR after the Yankees drafted him in this round in 1981
20th: Mike Lowell, 3B, 1995 (29.2 WAR) – he had a total of 15 plate appearances in pinstripes
21st: Jim Deshaies, LHP, 1982 (10.3 WAR)
22nd: Andy Pettitte, LHP, 1990 (46.6 WAR) – decent pick, I'd say … don't forget Kevin Maas, the 1986 draftee who racked up 1.2 WAR
23rd: none
24th: Jorge Posada, SS, 1990 (44.4 WAR) – another decent pick
25th: none
26th: Phil Coke, LHP, 2002 (0.4 WAR)
27th: none
28th: Shane Spencer, OF, 1990 (6.0 WAR)
29th: Russ Davis, SS, 1988 (-1.9 WAR)
30th: Doc Medich, RHP, 1970 (18.7 WAR) – Marcus Thames is next in line with 3.9 WAR, Deion Sanders right behind him at 3.8 WAR
31st: Kevin Thompson, SS, 1999 (-0.3 WAR) – remember the Kevin Thompson For Fourth Outfielder campaign?
32nd: none
33rd: Mike Dunn, 1B, 2004 (0.0 WAR) – best known as LHP Mike Dunn
34th: Brandon Claussen, LHP, 1998 (-0.5 WAR)
35th: none
36th: Craig Dingman, RHP, 1993 (-0.6 WAR)
37th-39th: none
40th: Mike Vento, OF, 1997 (0.2 WAR)
41st-43rd: none
44th: Mike Figga, C, 1989 (-0.8 WAR)
45th-47th: none
48th: none, but Brad Ausmus and his 17.5 WAR were traded before he was able to put on the pinstripes
49th -53rd: none
54th: Rusty Torres, OF, 1966 (-0.6 WAR)
55th-66th: none
67th: Roger Hambright, RHP, 1967 (-0.2 WAR)
68th-87th: none
88th: Scott Seabol, 3B, 1996 (-0.4 WAR) – he's actually the only 88th round draft pick in franchise history
89th-100th: none