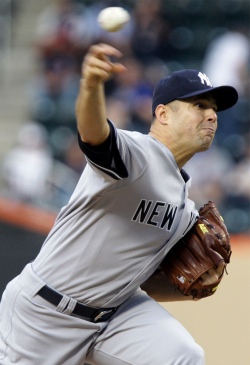 Javy Vazquez would do well to purchase ear plugs before his next start at Yankee Stadium. After two excellent starts, in which he allowed just two runs on six hits in 13 innings. Even better, he struck out 13 to two walks, a much better ratio than he was sporting prior to the start against Detroit. By many indications he, as we've heard commentators say, "figured it out." Something wasn't right in his first five starts, but a brief rest gave him time to collect himself. Or something else of an inspiring narrative nature.
It's clear that Vazquez's velocity has declined this season. His fastball averages 89.1 mph right now, down 2 mph from 2009, and down 3 mph from his superb 2007 season. That's not completely unexpected. Vazquez will turn 34 in June, a time when many pitchers start to lose velocity. With four quality pitches in his arsenal — fastball, curveball, changeup, slider, plus a two-seamer — he seems like the type of pitcher who can adapt. That is, as long as he retains command of his pitches. So far this season, at least in terms of his fastball, he has not. We saw that on display again last night after the two-game reprieve.
What stood out about last night, other than how hard the Twins hit the ball, was Vazquez's pitch selection. He went with the four-seamer 57.4 percent of the time, odd because he's thrown it 38.1 percent of the time this season. The changeup had been his go-to secondary pitch, constituting 19.5 percent of his overall pitches, but last night he threw it just nine times, while going to the curveball 15 times and the slider 13. Maybe he wasn't feeling the changeup, maybe the gameplan was to go with breaking pitches. I don't know. What I do know is that Vazquez certainly altered his pitch selection in this start.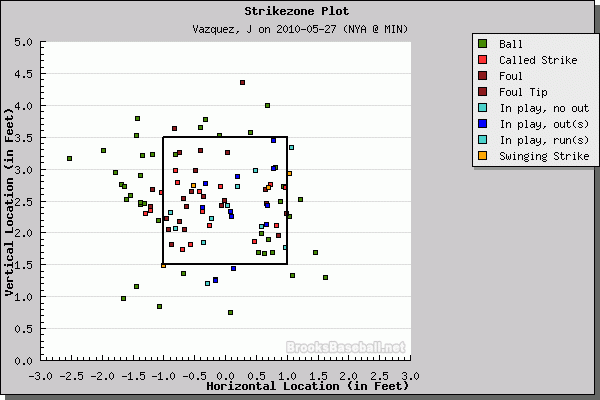 The real interesting bit is Javy's pitch chart, but before that I just wanted to throw up this one. The strike zone, it appeared, was fair. (And if you look at Blackburn's strike zone plot it looks pretty similar.) There's just one area that troubles me. At the bottom right, you'll see a cluster of green dots. Those are pretty clearly strikes, yet Javy didn't get the call at all. There's even one green dot that appears closer to the zone than the red dots to its left and to its right.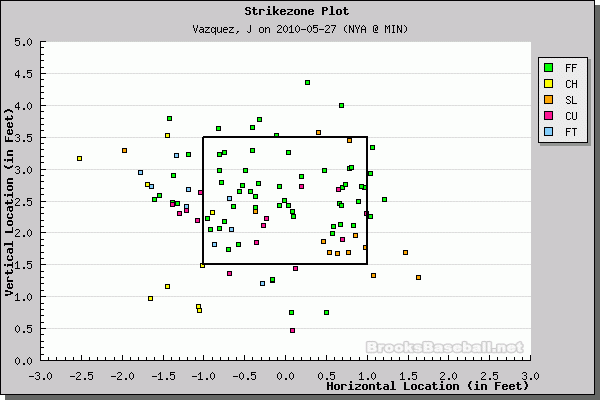 Unsurprisingly, that green cluster of called balls consisted mostly of sliders. That's the perfect slot for a slider, low and away to a righty, yet Vazquez did not get the call. That's not an excuse for his performance — none of this is an excuse — but if he's not getting that call he has to try something else. If another of his pitches isn't working, well, it's pretty easy to understand why he'd pitch badly in that scenario.
It looks like Javy had trouble locating the two-seamer inside. You can see a number of powder blue dots well out of the zone inside, and the few that did hit the zone caught plenty of the plate. He also missed the zone with the majority of his changeups, though I'm not sure whether that's by design or by mistake. The only one in the zone got hit. The one on the corner caused a swing and miss. The others were nowhere near the zone. Pitchers often throw a changeup that falls out of the zone, hoping a batter chase. I'm not sure if the Twins had a gameplan to lay off the changeup, or if they looked like bad pitches out of Javy's hand. In either case it's clear why Javy threw it less frequently than his other pitches.
At a quick glance, it looks as though 41 of his 62 four-seamers were reasonably within the zone, which is a good sign. That cluster in the middle might look concerning, but the Twins only managed one hit there. All of the curveballs in the middle of the zone were either called strikes or hits. The one low and away was called a ball, as were the two at the bottom of the zone. Look at the two curves directly on the inside edge. The one on top was a swinging strike, the one on the bottom a ball. Directly to the left of the bottom one are two more curveballs. They were both called strikes.
Javy did recover a bit in innings three and four, and it looked for a minute as though he might have been able to avoid disaster. But that didn't last, and he ended up leaving with a pretty ugly final line. He said he battled better last night than he had in his earlier starts, and in a way I can see that. Clearly he didn't have command of anything other than his four-seamer — perhaps a residual effect of his finger injury — and he got beat seemingly every time he went with a breaking pitch. But when you go into a battle with one weapon, it's hard to avoid getting shelled. I'm not totally discouraged by the start. What will discourage me is if he pulls the same thing against the Orioles on Tuesday.