Once Andy Pettitte re-signed for the 2010 season, the Yankees sought just one more pitcher to fill the rotation. That would leave only the No. 5 spot vacant, ripe for a competition, in name at least, between Phil Hughes and Joba Chamberlain. An additional veteran would afford the Yanks a bit more flexibility in the rotation. They would have a solid top four even if the No. 5 winner flopped, and would have depth in case of injury.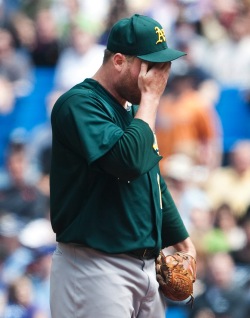 A few names of interest appeared on the free agent market. Ben Sheets, who missed the entire 2009 season after undergoing surgery to repair a torn flexor tendon in his throwing elbow, topped the list because of his ace potential. Justin Duchscherer, who also missed all of 2009 recovering from an injury, represented another interesting name. He made a successful transition to the rotation in 2008 before suffering his injury, and his ground ball stuff figured to play well at Yankee Stadium.
Finally, Joel Piniero, who found success by inducing ground balls in 2009, hit the market. While he had a leg up on Sheets and Duchscherer, he also had a far spottier past. After two and a half excellent seasons with Seattle in the early 00s, Pineiro fell off a cliff. From 2004 through 2006 he pitched 495.1 innings to a 5.60 ERA. His strikeout rate dropped precipitously during that period, going from 7.1 per nine in 2004 to 5.1 in 2005, and finally to 4.7 in 2006. The Red Sox, under the advice of Allard Baird, signed him to close games in 2007, but that didn't work out too well. It wasn't until last season, his second full season under Dave Duncan's tutelage, that Pineiro showed a consistent ability to record outs.
Yet the Yankees opted to avoid the free agent market. The decision was understandable. The three pitchers who would have best fit the Yankees' need, at a reasonable salary, all carried considerable question marks. Instead they turned to the trade market and acquired Javy Vazquez from the Braves. The cost wasn't high in Yankees terms. They swapped Melky Cabrera, along with his eventual $3 million salary, and high-upside prospect Arodys Vizcaino for Vazquez. It seemed to complete the Yankees rotation, giving them a bunch of top-three guys in the first four spots.
As we've seen through his first five starts, Vazquez hasn't worked out to this point. At the same time, neither have any of the other choices. While Sheets and Pineiro haven't performed quite as badly as Vazquez, they've struggled in their own ways. Duchscherer shined after struggling in his first start. He allowed just two runs in 19 innings during his next three starts. During his last start against Toronto, however, he left the game with pain in his hip. He described it as similar to the problem that kept him out for 2009. That was certainly one of the concerns with signing him during the winter.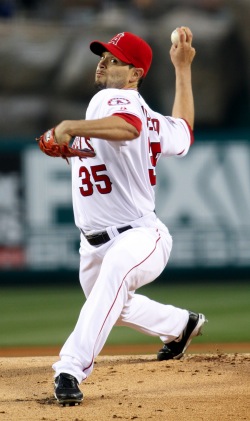 Pineiro actually started off the season strong, allowing just four runs in his first 20.1 innings. He actually struck out a decent number of batters 13, nearly 16 percent of all batters he faced. For comparison, last year he struck out 12 percent of all batters faced. All the while he kept his walk rate low, 3.7 percent of batters faced, against 3.1 percent last season. It hurt even more that one of those excellent performances came against the Yankees with Vazquez on the mound. Yet things went south pretty quickly.
In his last two starts Pineiro has lasted just 9.1 innings and has allowed 16 runs, 15 earned. Opponents have hit a home run as often as they have struck out. While Pineiro has kept his walk rate characteristically low, just two of 51 batters faced, he has seen his strikeout rate tank, just 6 percent of batters faced. Thankfully, the first such poor start came against the Yankees, who lit him up for six runs on 11 hits, none of which were home runs, in 6 IP. The Tigers, another team Pineiro dominated earlier in April, smacked him around on Friday, scoring 10 runs on 10 hits, including three homers, in just 3.1 innings.
Ben Sheets's most recent start almost mirrors Pineiro's last effort. In 3.1 innings against the Blue Jays he allowed nine runs on 10 hits and two walks, including three home runs. After striking out 20.4 percent of all batters faced during his years in Milwaukee, Sheets has struck out just 11.3 percent this season. Meanwhile his walk rate is through the roof, equalling his strikeout rate. He has more than doubled his walk percentage this season, 11.3 percent from 5.3 percent in Milwaukee. He claims he's having trouble with his breaking ball, an unsurprising development considering his absence in 2009.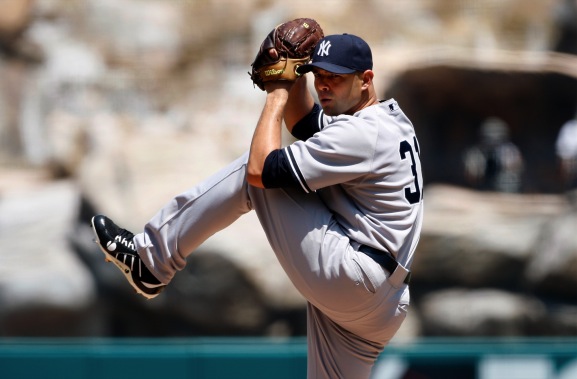 Again, Vazquez's struggles at this point are a bit more severe than those of Sheets and Pineiro. Yet I feel that Vazquez has a better chance of turning it around than the others. Sheets is further removed from his surgery every day, but it doesn't seem that his his control, or his fastball velocity, is close to being back. Pineiro impressed last season and showed that he can get through tough lineups, but how much of that can we depend on in the future. After all, before last season he hand't been good since 2003. If all three are struggling, I'd choose Javy over the other two.
There has been nothing encouraging about Javy's 2010 season to date. He has no idea where his fastball is going, and isn't getting as much speed on it as he has in the past. If he somehow gets that under control, he can recover and be the pitcher the Yankees thought they were acquiring in December. If not, we'll see a lot of second guessing. As we've seen, though, there weren't many better options on the free agent market. Despite his struggles, I still believe that trading for Javy was a better call than signing Duchscherer, Sheets, or Pineiro.