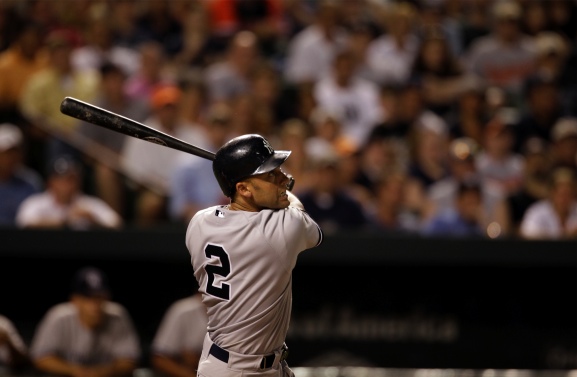 I'm not sure when it happened. Looking at the game logs it was probably around May 9, when his average dropped below .300 for the first time this season. In any case, there has been some — concern might be a light word, but I'll use it — over Derek Jeter's struggles. He started off the season strong despite his refusal to work a count, but things started to turn south in May. Particularly around that May 9 data, the start of a four-game hitless streak, Jeter looked particularly weak. His average dropped from .330 at the start of May all the way to .266 on May 19. Was Jeter washed up?
Clearly he was not. His bat didn't appear any slower. He just wasn't making the kind of contact we've grown used to in the past 15 years. A few folks pointed to his low walk rate as an indicator, but I don't think that's particularly troubling. Clearly Jeter was comfortable jumping on first pitch fastballs, and while it hurt him for a while it appears he's adapted. And that bad stretch turned out to be just that. Jeter made a complete recovery and is currently hitting very well. Just as we should have expected.
As it currently stands Jeter is hitting .293/.345/.440, a .347 wOBA. That puts him second in the AL among shortstops. The only player ahead of him is Toronto's Alex Gonzalez. Despite a paltry .303 OBP, Gonzalez has hit for plenty of power this season, a .248 ISO. Considering how far out of line that is with his career numbers I suspect that it will continue to drop as the summer wears on. That opens up the top spot for Jeter. I will boldly predict that he ends the season as the AL's leader in shortstop wOBA.
Really, though, there aren't many, if any, strong alternatives. Only six AL shortstops currently sport a wOBA over .300, and one of them is Yuniesky Betancourt, who isn't a serious contender by any stretch. It will ultimately come down to Gonzalez (if his power remotely holds up), Marco Scutaro, and Elvis Andrus. Even then, I think that if Jeter stays healthy and on track it will be a two-way battle between him and Andrus. Even then, I'd give Jeter the advantage. Andrus looked like the toast of the town in mid-May, when he was hitting .331/.431/.382, but since then he's come back down to earth. He'll still be good, but I think that Jeter has the clear advantage, at least on offense.
Even on defense Jeter ranks right around Andrus. While the latter mopped the floor with the AL competition last year he's been a bit more human this year with seven defensive runs saved and a 2.2 UZR (6.1 per 150). Jeter has been a bit far behind in DRS, saving four runs this season, but has a UZR equal to Andrus, though his per-150 mark is just a tick behind. If Jeter keeps up his hitting and continues playing defense like this we should see him, for the second straight season, be the AL's most valuable shortstop.
Not that this should come as much of a surprise. It is Derek Jeter, after all.