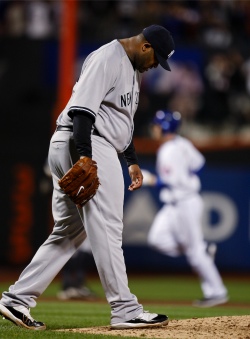 Tonight CC Sabathia makes his 13th start of the season, and his third against the Baltimore Orioles. Despite facing the league's worst offense in 1/6 of his starts so far, Sabathia has had a rough go of late. After holding Boston to one run in seven innings on May 18, Sabathia has allowed 14 runs, 13 earned, in his next three starts, which cover 18 innings. None of those numbers look like the CC we watched pitch for the Indians last decade, and who fronted a World Series winning rotation last year. The major difference shows right in his stat line.
We know that CC can take time to warm up. Here's a quick rundown of his numbers through 12 starts last year compared to 12 starts this year.
| | IP | K/9 | BB/9 | HR/9 | H/9 |
| --- | --- | --- | --- | --- | --- |
| 2009 | 86.0 | 6.38 | 2.8 | 0.6 | 7.3 |
| 2010 | 78.1 | 7.00 | 2.8 | 1.4 | 7.8 |
He has actually struck out batters at a better rate, is around the same with walks, and has allowed just one more hit every 18 innings pitched. Two aspects stand out, one more than the other. First, his home runs rate has more than doubled this year. Second, he has pitched fewer innings, just about 6.5 innings per start compared to over seven per start last year. That's certainly cause for at least a little concern, but not nearly to the level of his home runs.
Noticing that home runs allowed has been CC's biggest difference this year is easy. It's right in any stat sheet you see. He allowed 18 home runs all of last year and has already allowed 12 this year. The hard part is thinking of why this might be. Whatever the answer, it will only cover his starts from May 8 forward. That's the start in which he surrendered two homers to the Red Sox. He again surrendered two to the Tigers in his next start, then dominated Boston while allowing one home, and then allowed two more against the Mets. He then got beat up, but allowed no homers, against Cleveland, and then allowed two against Baltimore, even though it looked like he was cruising through six.
CC did admit that his mechanics were off for a few starts, but said that they had worked on the issue in the bullpen and that his mechanics, in his own words, "have been pretty good." That showed last start. Again, it was just just one bad pitch to Jones, and even then it might have been more Jones guessing than a bad pitch by CC. Against Scott there might have been a number of things at play. CC had been struck in the hand by a batted ball earlier in the game, though that appeared to not be serious. He also fell behind 2-0 and tried to get over a high fastball. I'm not sure if he was aiming high, but that seems like a poor selection to a power-hitting lefty, especially at Yankee Stadium.
Tonight we might get a better idea of whether CC is back on track. It's tough to get a real gauge, because he's facing the AL's worst offense. Those guys will naturally score few runs. We can check for other factors, though. For instance, the Orioles are in the middle of the pack in terms of strikeout percentage. If CC strikes out a ton of hitters, it's probably more reflective of him than the Orioles hitters. The Orioles have the second lowest walk percentage in the AL, so if CC walks three or four it might be cause for concern.
The homer happiness against CC is probably a blip on the radar. He had a couple of stretches last year in which he allowed a few too many homers. For instance, in seven starts from June 6 through July 7 he allowed seven homers. Then, from July 28 through August 13, five starts, he allowed six homers. This year is a bit worse, 10 in seven starts and 12 in his last nine, but given how he looked last time out it might be behind him. We'll get another look tonight. He'll get his real test against the Phillies at the Stadium on Tuesday.