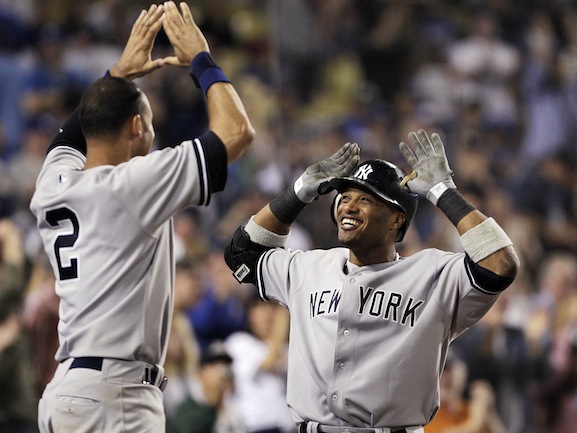 Down to their final two outs, the Yankees stormed back with four runs in the bottom of the ninth off Dodgers' closer Jonathan Broxton. A two-run home run in the top of the 10th off the bat of Robinson Cano gave the Yanks an 8-6 lead, and Mariano Rivera didn't need more. The Yanks' closer worked two scoreless innings as the Bombers drove a stake through the heart of Joe Torre's Dodgers in a thrilling and emotional victory. With the win, the Yanks sealed their series victory in Los Angeles and an 11-7 record in interleague games.
Improbable heroes
We start at the end. With their Win Expectancy bottoming out at 0.4 percent after Mark Teixeira's 9th inning strikeout, the Yanks had a long road ahead of them and little support for the key batters. With Brett Gardner out of the game after getting struck on the wrist by a pitch and a few double-switches at play, Chad Huffman and Colin Curtis were due up 5th and 6th in the inning. It is a reflection on the current Yanks' bench that, with Marcus Thames shelved, these two were the best hopes for the Yanks.
They were, of course, the improbable heroes of the game.
After Teixeira's strikeout, A-Rod singled and Robinson Cano doubled. We saw the stirrings of a comeback, and the Yankees were suddenly tugging on our heartstrings. A Posada single pushed Cano to third, and then Curtis Granderson walked. The Posada and Granderson ABs shouldn't be overlooked. Jorge fouled off five pitches and singled on the tenth pitch of his plate appearance. Granderson walked on the eighth pitch he saw from Broxton.
Waiting for his chance, Huffman had seen 18 pitches. He came up ready to go and drove a 1-1 pitch to right. Two runs scored, and the lead was down to one. Still, though, it seemed like a tease. Colin Curtis, a minor leaguer with a career .709 OPS, had come in for Nick Swisher in a double switch. The Yanks needed a fly ball; the Dodgers a double play. LA almost got their wish.
Curtis battled Broxton. Foul, foul, ball, ball, ball, foul, foul, foul, foul. On the 10th pitch — Broxton's 40th of the inning — Curtis hit a ground ball to James Loney at first. With Granderson speeding down the line, Loney could have thrown home for an easy out. Instead, he tried to be too fancy; he wanted both outs. Loney ran over to tag first and then made an off-balance throw to the plate. It was to the first-base side of the plate, and Granderson slid in without a tag. Tie game.
Had Loney thrown home, the game would have been saved. It was a mental error in a game filled with them. Meanwhile, the kids were alright. At some point, the Yankees will look to upgrade their bench, but tonight, Huffman and Curtis made believers out of all of us.
Torre's bullpen management, in reverse
For years, Yankee fans bemoaned Joe Torre's bullpen management. We saw him wear down reliable relievers, using them in unnecessary situations day after day. Scott Proctor, Paul Quantrill, Tanyon Sturtze, Steve Karsay. The early 2000s are littered with the discarded arms of the Torre Era. Tonight, we saw it benefit the Yanks.
In a curious move last night, Torre went with Jonathan Broxton, his stud closer (3-0, 0.83 ERA, 13.2 K/9 IP before tonight), with the Dodgers up by five. He later said he wanted to make sure the Yanks didn't start to rally. It was, in his mind, a save without actually being a save situation. Tonight, with a four-run lead, Torre did the same thing, and it blew up in his face.
Broxton couldn't overpower the Yanks tonight. He battled through 10-pitch at-bats against Jorge Posada and Colin Curtis. He walked Curtis Granderson on eight pitches. By the time the Yanks tied the game, he had thrown 40 pitches in a single inning and still Torre left him in. Instead of cutting his losses in a 6-6 game, Torre let Broxton face two more hitters. He threw 48 pitches, and the strain on his arm for that one inning of work is arguably greater than what Edwin Jackson went through en route to his 149-pitch no-hitter. It was vintage Torre at his worst.
An inning later, Torre's bullpen management struck again. After Ramon Troncoso got an out on an A-Rod fielder's choice, Torre went with the match-ups, bringing in George Sherrill to face Robinson Cano. The Yanks' second baseman had been 0-for-11 vs. the lefty Sherrill, but as the announcers on ESPN noted, Sherrill's fastball isn't what it once was. Cano took an 88-mph fastball over the fence in left-center. The book isn't always right.
Joe Girardi, meanwhile, showed us the anti-Torre in him. After getting burned in an extra-inning affair in Toronto when Mariano Rivera never pitched and the Yankees lost, Girardi has shown a willingness to use Rivera for two innings in tie games on the road. Against the Diamondbacks, Rivera threw two innings and nabbed a win. Tonight, Rivera came in to face Andre Ethier, Garrett Anderson and Casey Blake in the ninth. He stayed out for the 10th and earned his second win of the season. As the Dodgers argued the strike zone, Mo's two-inning, three-strike out performance capped off one of the best games of the season.
A sloppy game early on
The game, however, didn't start out on a positive note. Andy Pettitte, pitching to earn his spot on the All Star Game, ran into trouble of his own making. He threw two balls away when the Dodgers started to bunt, and both times, he hesitated to make the right play. After a Reed Johnson double to open the third, Clayton Kershaw bunted, and with A-Rod yelling at him to throw to first, Pettitte made a wild throw to third. The run scored.
Two batters later, it happened again. Ronnie Belliard tried to bunt with two on and no one out, and Pettitte looked to third for a force. A-Rod was charging though and by the time Andy recovered, he had to rush the throw to first. It, too, went wild, for his second error of the inning. Pettitte looked flustered and annoyed. He had to grit it out through five innings tonight, but the Yanks' bats eventually picked him up.
General Grievances and Observations
Joba Chamberlain continues to have a maddening season. His run allowed loomed large until James Loney's mental mishap, and he just wasn't pitching smart. Someone called for an 0-2 pitch-out with two outs, and Joba couldn't locate his pitches. The only thing consistent about his season is his inconsistency.
After years of enjoying a wide Mariano Rivera strike zone, the tables turned on Joe Torre and his players. The Dodgers argued nearly every strike from Rivera and two of them — Anderson and Russell Martin — were tossed in the 10th. Life is good when Mo lives on the black.
Damaso Marte wins the Unsung Hero award tonight. Last night, the Yanks' pen couldn't pick up A.J. Burnett. Tonight, Marte came in with runners on first and third and two out. He struck out the dangerous Andre Ethier and then retired Manny Ramirez, Casey Blake and James Loney in order in the 7th. The game could have gotten away from the Yanks there, but Marte kept his cool.
Grabbin' a victory from the jaws of defeat
The WPA graph is a beauty tonight:
Up Next: Cliff Lee
The Yanks' scouts won't need to travel beyond the Bronx to see Cliff Lee in person this week. After a well-deserved travel day that allows the Yanks to bask in their 4-2 road trip, the team will host the Seattle Mariners on Tuesday night. Cliff Lee will face Phil Hughes in a must-see game.