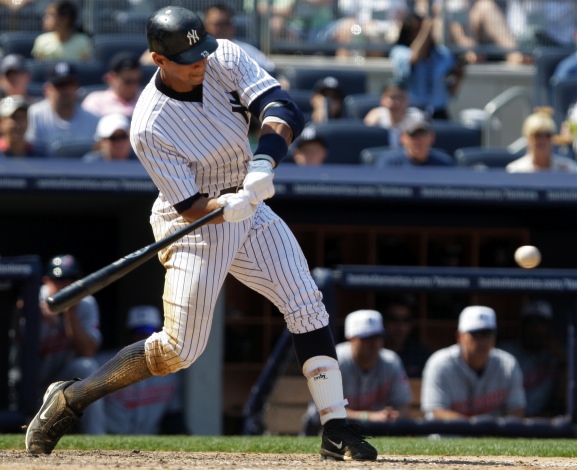 By the end of the Yanks' 6-3 victory over the hapless Orioles on June 3, it seemed as though Alex Rodriguez had finally arrived this year. He went 2 for 5 that night with a home run had reached the magical .300 plateau. Over his previous 26 games, A-Rod had hit .347/.409/.594 with 6 home runs — a pace that would translate to 38 dingers over a full season. It's been all downhill since then.
A-Rod has now gone 49 ABs since his last home run. If he fails to homer tonight in the first or second innings, it will be his second such stretch of 50 homerless ABs this year. During that span, he is just 8 for 46 (.174) with only two walks in 12 games. And, oh yeah, the hip that sidelined A-Rod for four games is still bothering him a bit.
"It's just one day at a time right now," he said last night. "I'm definitely feeling better. It's a slow process. I'll be back out there tomorrow and I'll tell you how I feel tomorrow. I hope I can start all six games on the trip, but I don't want to talk about best or worst or six. I'll definitely be out there tomorrow and then hopefully the next day."
For the Yankees, A-Rod's hip presents something of a problem. They're currently amidst their final NL swing of the season and do not have the luxury of the DH until they return home next Tuesday. With the offensive malaise that has overtaken the club, the team cannot afford to stack Ramiro Pena above the pitcher's spot and, in effect, give away two out of every nine outs.
The team, however, is putting a happy face on it. Both A-Rod and manager Joe Girardi liked what they saw from A-Rod last night, and I provisionally did too. By the end of the game when he was driving the ball, A-Rod seemed to be swinging more freely from his hips. In games last week, the Yanks' third baseman appeared to be trying to drive forward with his torso instead. He needs a healthy hip to generate power.
"His at-bats were good tonight," Girardi said. "Even in his first two at-bats, he just missed a couple of pitches. So I do sense he's getting more comfortable. The more at-bats he gets, the more his timing will come back. He works very hard at everything. The pitch away, he works at all that stuff. Obviously, when you're driving the ball the other way you're staying on the ball, and that's a good sign."
Yet, despite these assurances, the hip is a problem that doesn't go away overnight. A-Rod is on pace for just 20 home runs right now, and his triple-slash line of .276/.348/.459 is the worst since he was 19. A-Rod also suffers from the same problem the rest of us do: He's not getting any younger. Expecting the 40-home run A-Rod to return might leave us grasping at straws.
Last year, Nate Silver's concerns about A-Rod's decline led us to note how the Yanks have to keep him healthy for the long haul. As long as they do that, the Yanks will be OK. But handle with care.