Today's game might not have been as smooth as last night's, but that's for a good reason: the Yankees offense needed some more time to run up the score. It made for a comfortable game, where the Yanks had the lead most of the way. There was that microscopic length, which lasted just three outs, where the Astros had a one-run lead, but we knew that wouldn't last. In fact, before the Astros could record an out in the bottom of the third the Yanks had essentially put the game away.
Biggest Hit: Jorge don't need no stinkin' rehab assignment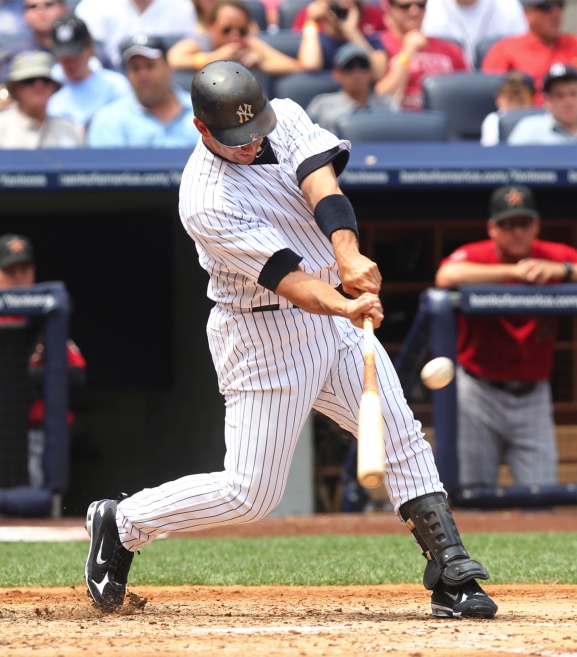 In last night's recap I mentioned Jorge's poor numbers, including high strikeout total, since returning from the disabled list. It appears he could have used a rehab assignment, but given that he's been back since the beginning of the month he's basically been through one already. While his strikeout to lead off the second was discouraging, he made up for it in his next at-bat.
The entire bottom of the third was one long string of excellent. The Astros had just taken a 2-1 lead, and the Yankees just couldn't stand for that. Derek Jeter started the inning by drawing a walk on a 3-2 count, and got a bit aggressive on the bases. He bolted for second and would have made it even if the throw didn't get deflected into shallow center. That allowed him to take third and score easily when Nick Swisher lined one to left-center. Tie game.
Mark Teixeira continued showing a more discerning eye at the plate, drawing another walk. This is nothing but an encouraging sign. Robinson Cano followed with what Michael Kay called a potential double play ball, but probably would have accounted for only one out had the ball landed in Wandy Rodriguez's glove rather than deflecting off it. That loaded them up for Jorge with no outs. It took just two pitches to put the Yanks out ahead again. Wandy came inside with a fastball for a called strike one, and then tried to go low and away with a curve. Jorge picked it up and smashed it the other way. Over the right field wall it went. 6-2 Yanks.
Jorge got on base in his next two times up as well via a single and an HBP. If he and Teixeira are staring to get into a rhythm, and if rest really does cure A-Rod's ailing hip flexor, the Yanks will be set for the summer. Also, I might be sounding a bit like Peter Gammons there.
Biggest Pitch: Stros take a puny lead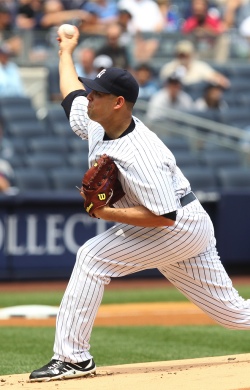 Javy Vazquez looked good right at the start of this one. He was using his fastball and changeup well, retiring the side on 14 pitches, including a first-pitch pop out Carlos Lee to end the inning. He had a few hiccups, but nothing especially worrisome. In the second, Hunter Pence led off with a game-tying home run on the first pitch. It was a high fastball, a pitch Javy just can't throw if his fastball is clocking under 90 mph. While he's improved on that aspect of his game since April, I'm sure it's easy to forget that his lack of velocity precludes him from throwing certain pitches in certain places.
The biggest blow came in the top of the third. Tommy Manzella, who apparently can hit only Yankees pitching, led off with a single. Javy then had one of the most amusing sequences in the game, throwing Michael Bourn six straight changeups, eventually getting him to tip one into Cervelli's glove. He actually started off the next batter, Jeff Keppinger, with two changeups, both of which missed low. His next pitch, a slider, caught a bit too much of the plate and Keppinger lined it to the wall in left. With Marcus Thames out there at the time it was a no brainer to send Manzella home.
From there, however, Javy rolled. He retired 10 straight before Carlos Lee hammered a belt high fastball over the left field wall. He then got four of the final five hitters he faced. He threw just 95 pitches through seven innings, which made me wonder why Girardi removed him. But with the top of the order coming up I guess he wanted to get Javy out.
Strange fact of the game: Javy threw more changeups, 39, than he did fastballs, 24 four-seamers and five two-seamers. He also went to the curveball 16 times. The slider he threw most infrequently, 11 times. After the Keppinger double he threw only one, a first-pitch later that inning, until the seventh, when he attacked Manzella with it.
Stuff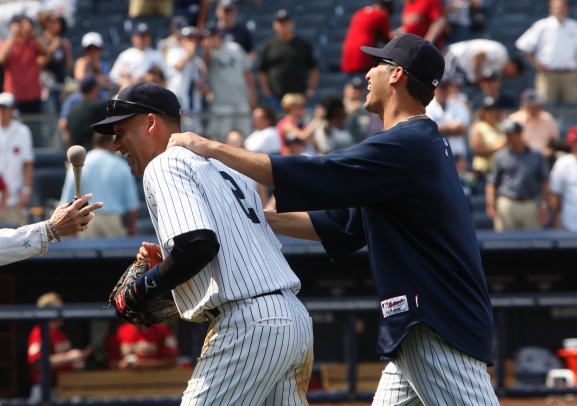 Derek Jeter's two-homer game was the ninth in his career and his first since August 27, 2006. He did it twice, in the same month, in 2004.
Another 1 for 3 with a walk day for Teixeira. Not only is he performing better, but he's looking better at the place. Though I suppose the two go hand in hand.
Marcus Thames left the game with hamstring problems. He had an MRI. As of this writing I haven't heard anything.
Jorge will catch tomorrow. I'm guessing they'll recall Miranda and play him at DH if Thames hits the DL.
Yanks with RISP: 4 for 7. Thaaaaat's more like it.
Six strikeouts and no walks for Javy. He's been quite excellent lately.
Graph and box
You know it's a good game when the graph goes flatline towards the end.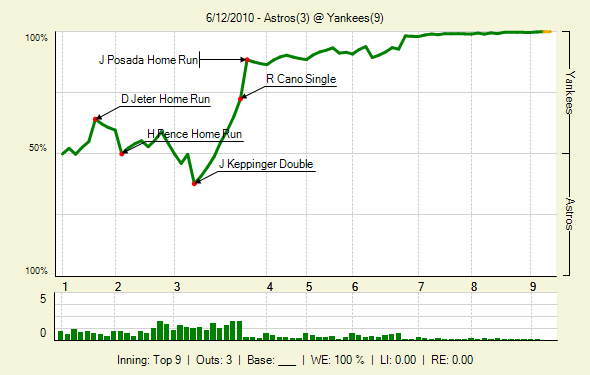 Next Up
Another matinee to close out the series. It'll be Brian Moehler for the Astros against Phil Hughes.