Andy Pettitte twirled eight masterful innings as the Yanks, powered by a two-run, two-out, top-of-the-ninth single off the bat of Alex Rodriguez, downed the Mariners 3-1 tonight. For the Yankees, the win is their sixth in a row and seventh in their last eight games. They move a season-high 23 games above .500 and have maintained a two-game lead over the Tampa Rays.
Andy Was Dandy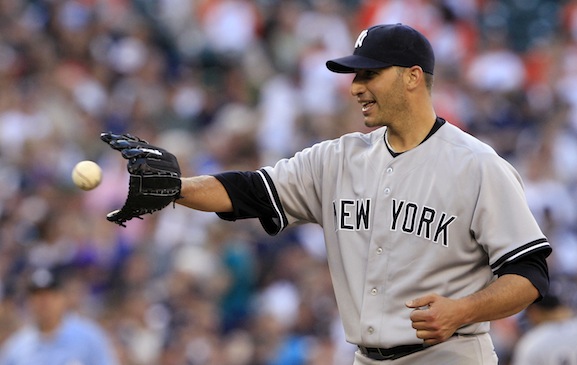 Andy Pettitte and Mariano Rivera are two peas in an exclusive pod. Rivera has saved more wins for Andy Pettitte than any other duo in baseball history, and tonight, the two were masterful. Pettitte, in particular, was rolling, and he emerged from the game with an 11-2 record and a 2.70 ERA. The nine strike outs served as an exclamation point on a stellar first half.
While Pettitte's final line is one of total domination, the game started out on a bad foot. Ichiro tapped out an infield single to start the game, and Chone Figgins lofted a base hit down the left field line. Playing alert baseball, though, Brett Gardner gunned down the Mariners' speedy lead-off hitter trying to reach third, and Pettitte quickly settled in. Franklin Gutierrez grounded out, Russell Branyan fouled off, and off to the races went Andy.
Over the next four innings, Pettitte faced the minimum 12 hitters with a Chone Figgins walk disappearing into a fourth inning double play. In the sixth though, Andy ran into some trouble, and as the Yanks' bats were silent, the Yanks were on the wrong end of a deficit. Josh Wilson and Michael Saunders, the Mariners' eight and nine hitters, knocked out back-to-back singles, and Ichiro squared to sacrifice. He laid down a bad bunt, but Pettitte's throw ended up well wide of first base. Wilson scored, and the Mariners had 2nd and 3rd with no one out. They were set up.
The Mariners being the Mariners and Andy being Andy, however, the team failed to score. Chone Figgins hit a ball down the third base line that Ramiro Pena speared. He held the runner at third and gunned out Figgins. The Yanks intentionally walked Gutierrez, and Russell Branyan struck out looking on a 3-2 beauty. Jose Lopez swung through strike three to end the threat. No other Mariners runner would reach third base.
Key Moment: Cano doesn't advance
As Andy rolled, the Yankee offense did not. As they did in the early innings against Gio Gonzalez in Oakland, the Yanks put on runner after runner but could not score. In fact, they knocked out nine hits and worked two walks against Jason Vargas but scored only a run. Even that lone run required a head's up effort by A-Rod.
To set the scene, A-Rod walked to lead off the 7th, and Robinson Cano singled. With Jorge Posada batting, a Vargas wild pitch escaped the clutches of Josh Bard and trickled down the first base line. Alert at second, A-Rod dashed for third. "I got a ball in the dirt, had a good jump and made it to third," he said after the game.
At first base, though, Robinson Cano missed the play. Jorge Posada, not a particularly adept base runner, initially held up his hand to hold the runners, but then he changed his mind and tried to wave them on. Cano was frozen, and the Yanks had first and third. Posada tapped into a double play that scored A-Rod, and the Yanks were happy with the tie. With a nod to the fallacy of the predetermined outcome, had Cano better read the wild pitch, Jorge's grounder would have tied the game, and Curtis Granderson's subsequent base hit could have given the Yanks a lead. The point, though, became moot two innings later.
A-Rod in the Clutch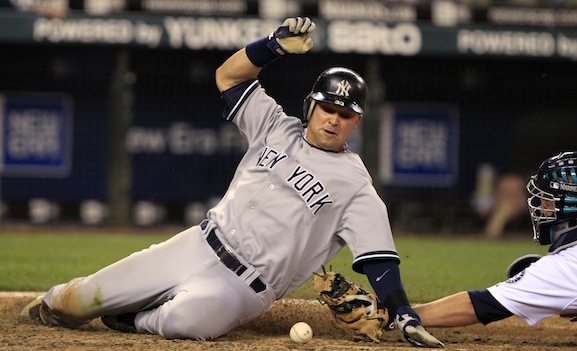 On the 16th anniversary of his debut with the Mariners and on the night when another high-profile free agent spurned his original team, Alex Rodriguez was the game's hero. Coming on to pitch the ninth, Mariners' closer David Aardsma quickly dispatched Kevin Russo. But Derek Jeter walked, and Nick Swisher — 4 for 4 with a walk tonight — hit a booming double to right field. With 2nd and 3rd but one out, Mark Teixeira swung under a first pitch fast ball, and as his shoulder dipped, the ball arched foul. Bard settled under it for the second out.
Up to the plate came A-Rod, and he did not fail to deliver. A-Rod laced a single into right field, and both Jeter and Swisher scored. For A-Rod, the runs were RBIs numbers 68 and 69, and Mariano Rivera had an insurmountable two-run cushion. The team had been 0 for 9 with runners in scoring position before A-Rod's base hit, and that one hit was all they needed.
A Hairbrush at a Baseball Game
Early on in the first inning, Ichiro ran into foul territory in right field in an effort to haul in ball. As he leaned over to try to make a play, he whacked a young woman on the head with his arm. She had a hairbrush out at a baseball game. Why? I don't know, but the AP snapped a stellar photo of the whole thing. The woman could not look more awkward.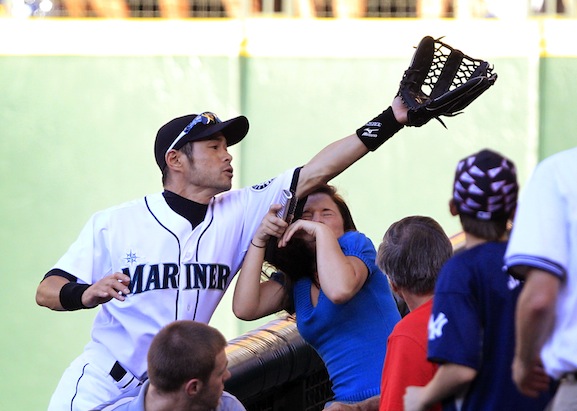 Peaks and Valleys
The WPA graph is particularly pleasing tonight. (Fangraphs box, ESPN box)
Up Next
The Yanks and Mariners continue their four-game set at 10:10 p.m. on Friday as Cliff Lee auditions for a role with, well, someone. The Bombers will counter with All Star Phil Hughes who will look to get his season back on track after a rough stretch of starts.