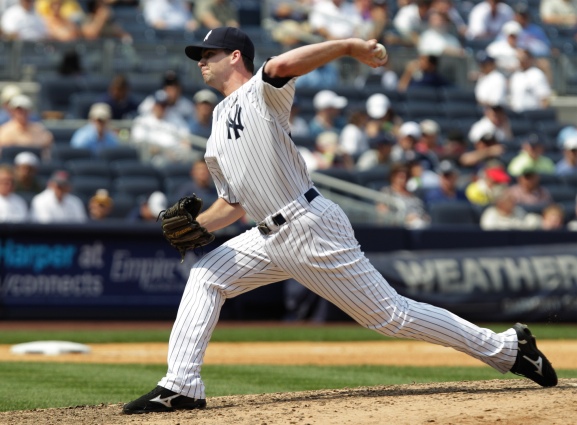 Just after the All-Star break the Yankees placed reliever Damaso Marte on the 15-day DL with inflammation in his left shoulder. The move sounds more like a precautionary maneuver than anything; the Yanks remember how greatly Marte helped in the World Series and want him fully healthy for the stretch run. Still, he was the only lefty in the bullpen, and if Joe Girardi has made anything clear during his tenure it's that he wants a lefty available. That meant only one thing, the recall of Boone Logan from AAA Scranton.
The season hasn't gone so well for Logan. He had two previous stints with the big league club, both of which resulted in far too many walks and hits. In fact, those seem to be Logan's calling cards. He has a career BB/9 rate of 4.25 and a career BABIP of .350. A pitcher who puts so many men on base likely won't find long-term MLB success. Maybe he'll get lucky for a while and find favorable situations in which he can help the team. But over time he'll probably remain ineffective. Yet I remain optimistic about Logan.
Maybe it's because of his demeanor. He's a big dude, 6'5″, but has this goofy streak that makes him quite the affable character. Plenty of players take themselves too seriously, but that's clearly not the case with Logan. And with good reason. It's easy to forget that he's only 25 years old. It might seem like he's been around forever, but that's because he broke into the league as a 21-year-old in 2006 and pitched a full season, 50.2 innings, as a 22-year-old in 2007. Now that he's entering his prime I think the Yankees might get some use out of Logan.
One thing we often hear discussed on broadcasts is how hard Logan throws. According to the Baseball Info Solutions velocity data presented on FanGraphs, Logan's fastball averages 93.3 mph this year, which is about on par with his short 2009 stint with the Braves. It is also a tick higher than his velocity in 2007, which is so far his best full season in the majors. I'm not sure what one has to do with the other, but the uptick in velocity also moves in step with his increased fastball usage. He's throwing it 72.1 percent of the time this year while using his slider just 18.9 percent. In 2007 he used the slider 37.9 percent and in 2008 he used it 41.5 percent.
The FanGraphs pitch type values aren't perfect, since they don't consider the pitch sequence. In other words, maybe a pitcher is retiring plenty of batters with the curveball, but that ignores how he set them up with the fastball. Yet it still tells us whether hitters did or did not hit the pitch well. For his career Logan's fastball rates as -1.65 runs per 100 pitches, while his slider rates as a positive 0.38. This year Logan's fastball is getting hit, -2.5 runs overall, while his slider, +1.9 runs, and his changeup, +1.0 runs even though he throws it just 9 percent of the time, have worked well. Perhaps, then, sequencing has become an issue. Might Logan find more success by going to the slider and changeup more and using his fastball in a different manner?
Maybe it comes down to figuring out exactly what he did yesterday. He came in to start the seventh inning of a one-run game and pitched as well as anyone could have expected. The first lefty he faced, Bobby Abreu, flied out to center on a 3-2 fastball that he set up with two two-strike sliders. Logan then worked the count 2-1 on Torii Hunter before leaving a changeup right over the middle of the plate. But then, with the tying run on base, he slung two fastballs, 94 and 95 mph, over the outside corner to get ahead of Hideki Matsui 0-2. In this count he has gone to his slider 61 percent of the time this year, but yesterday he went even further outside with a 95 mph fastball, getting Matsui to swing and miss.
Will that happen every time? Absolutely not. Can the Yanks trust Logan as a primary setup man? Not now, and probably not at any time this year. But considering the state of the bullpen, I don't see how he's any worse an option than Chan Ho Park, Dustin Mosely, or Chad Gaudin. The Yanks need help, and if they're going to acquire an arm or recall one from AAA I'd far rather see those three go before Logan at this point. He's no great shakes, but he's young and showing signs of improvement. Unless the Yanks are running out an elite relief corps, I think Logan should have a place in the pen.