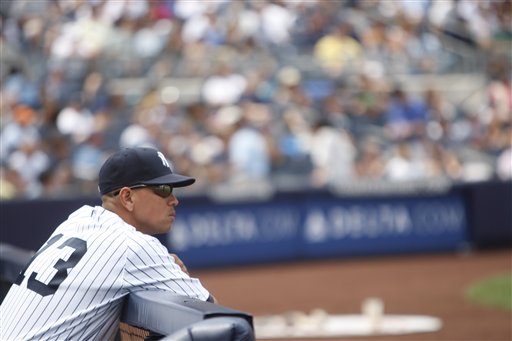 The Yankees head out on the road for the seven game road trip after today's game, so if Alex Rodriguez wants to hit his 600th career homer in front of some friendly fans, he better get it today. Personally, I'd just like to see him get a curtain call and cheered and a video montage and all that jazz when he hits it, so I'm pulling for him to hit it today. I don't want to see A-Rod get this milestone homer in front of 16,000 people in Cleveland, half of whom have no idea what just happened.
Today's pitching matchup is a rematch of Tuesday's, before Sean O'Sullivan was traded from the Angels to the Royals. According to Kim Jones on the pregame, he's the first pitcher to ever start against the Yankees twice on the same homestand for two different teams. Remember guys, he's probably throwing a changeup. Here's the lineup…
Jeter, SS
Swisher, RF
Teixeira, 1B
A-Rod, DH
Cano, 2B
Posada, C
Granderson, CF
Gardner, LF
Pena, 3B
And on the bump, it's Phil Hughes, who could really use a dominating start.
First pitch is set for 1:05pm ET, and YES will carry it. Apparently there might be a rain shower in the mid-afternoon. Enjoy the game.