By now you've been inundated with rumor after rumor and discussion after discussion on how much value the Yankees would give up to receive D-Backs pitcher Dan Haren. The Yankees have said that they're not willing to give up Joba Chamberlain, Ivan Nova, Z-Mac, Banuelos and eating salary. No, I have no new news to report. With other teams balking and Arizona hemorrhaging cash, it makes sense for the Yankees to wait it out and see the asking price drop. So what would you give up to get Haren? Remember, we're talking the most you'd put toward the center of the table.
There are very good reasons to pursue Haren –he's a borderline ace/great #2 with a very attractive below-market contract, which would give the team a great second starter, keep Hughes' inning limit in check, and really hedge their other rotation concerns. No need to rush Andy, and it also limits some lingering concerns about AJ Burnett.
On the other side, Haren really isn't a need, that's still around $30 million they'd be adding to payroll, at present it would be a heavy prospect loss, and the addition may adversely impact the pursuit of Cliff Lee.
Before I get to my own personal high offer, let's first knock down a few points.
Selling Low?
People continue to say the Yankees would be "selling low" on Joba to trade him off when he's pitching so poorly. Yet, I don't see it that way. Clearly, his value is high for the Diamondbacks. Their bullpen is remarkably inept. Maybe they overvalue the impact of closers. Whatever the case, if his value now is high enough to be the main piece that gets a top 20 pitcher in baseball (while giving up what appear to be 2 back-end rotation guys, a promising mature lefty in Banuelos), isn't that enough for Yankee fans? What could Joba get you if you 'sold high' on him? He's going to hit arbitration soon, and for this team he's been a very mixed bag. Dan Haren is probably the ceiling on what Joba could get you if his value is much higher. And Dan Haren on a team-friendly deal is not a bad thing at all.
Beyond that, as Artisteve at TYU points out, it doesn't appear the Yankees have much faith in Joba as a starter going forward. From their perspective that's not unreasonable (though I think they've botched the handling along the way, though Joba certainly should be as responsible for his performances; hard to gauge). If you think Dan Haren would be overall more valuable for the team over the next three years than Nova, Joba, Z-Mac, and Banuelos would be, you certainly pull the trigger.
However, there is more to that. I saw a great comment yesterday, one that Moshe Mandel of TYU pointed out. steve (different one) notes that contrary to the belief of some, it's not that one player holds up the deal, but rather, adding that one additional piece that tips the scales in the wrong direction. Maybe losing Joba isn't a big deal. Maybe even adding the salary of Haren and giving up Nova is something they'd be willing to do. But an additional piece, an asset they clearly value, like Banuelos or Z-Mac is just too much for them. That asset would be there to offset some kind of other loss, and thus, would be too steep a price for what the team may consider just a luxury. At the same token, you can't just offer up Nova, Z-Mac and Ramiro Pena and expect them to jump. That porridge is too cold.
The Dollar, Dollar Bills, Y'all
On the financial side, it preliminarily looks like it could work. Financially, the team should have close to $80 million coming off payroll next year. Of course, with Jeter and Mariano, you're probably looking at $30 million next season in contracts. So we're down to $50. And even with Haren, you'd still be looking at another pitcher at over $11 million, so we're down to $24-25 million. (Drop even further if that pitcher next year is Cliff Lee.)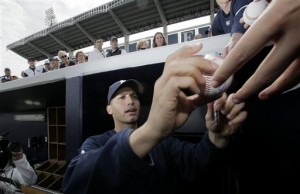 With the bullpen needing some improvement and the DH situation looking cloudy, in addition to arbitration to Hughes, salary jumps to Teix, Granderson, and Swisher, we're probably down to around $18 million. Of course, this is all highly dependent on a myriad of factors, but let's be clear — there is a very good chance that Haren and Lee for around $32 million is a realistic possibility next year. It's basically Andy, Javy and Kei Igawa being replaced by those two.
But I want it now!
On a personal level, I'd be a bit disappointed if the Yankees didn't get Haren, even if it's Joba, Nova, Z-Mac and (gulp) Banuelos. That's right, push comes to shove, it's five minutes before the trade deadline, I include Banuelos, Nova, Z-Mac and Joba, while taking on Chris Snyder (I'll explain in a bit) and the salary of Haren (which is a completely reasonable salary considering his performance). Of course, there's no reason to bet against oneself, so I suspect the price tag will drop, but I could live with that offer.
Banuelos, to me, is the hardest part of that. While there's certainly value in back-end starters like Nova and Z-Mac, I don't have a terrible amount of faith in them, and they have far more value as trade pieces to the Yankees than they do as actual players. Joba, if not given the opportunity and right amount of leash to be a top-flight starter, holds below-average value to the Yankees. I like Joba as a talent, but he may not suit the needs and philosophy of the organization, at least not this year, probably not next year either. Banuelos is a tantilizing talent. A lefty with great poise and very good stuff, he could be a star some day. But he might not be. He's under 20-years-old and in A-ball. It would be a damn shame to lose him, but there are still a few levels for him to jump and he's still a "prospect". Tough to swallow, but if that's what helps get an established #1.5 starter, I'm willing.
Chris Snyder is an overpaid pseudo-backup catcher, but a fairly good player. He has 15 HR pop, good on-base skills, and is defensively a pretty good catcher. The team could legitimately pair him with Jorge Posada for the rest of the season, who's missed quite a bit of time to a host of nagging injuries over the past few years. Boom, there's your DH, even if Jorge does whine about it. If nothing else, limiting the playing time of Francisco Cervelli is a big benefit to the lineup. (Sorry, Blue Eyes.)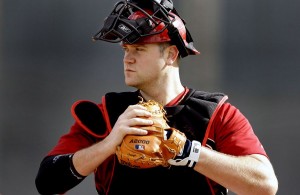 With Snyder being under contract only through 2011 (albeit with a moderate-sized buyout in 2012), Montero could work as a rotating DH with Jorge. Montero, under this scenario, would be splitting time at catcher with Snyder. Snyder's gone in 2012, where it seems a good bet Romine would be ready, at least in some capacity. Either way, Snyder (for $5.5 million) may be a little expensive, but a short contract that fills a need and allows a good deal of lineup versatility. Considering the other catchers are either some-glove, no-bat or all-bat, no-glove, I think that's reasonable, though if they could pay half of that cost, it would be gravy. Hell, trade them Cervelli if they eat some of Snyder's salary.
Dan Haren would of course slot behind CC and Hughes would return to the bullpen for the remainder of the season. I've been extremely pleased with Phil's performance on a whole this year, but he's near his innings limit and has had some trouble finishing off batters over the course of the season. With Joba gone, the latter part of the bullpen would appear in much better shape.
Moving to next year, it's not unreasonable to think a 1-5 of CC, Lee, Haren, Hughes, AJ is possible. Haren may or may not knock Lee's price down this off-season, and if nothing else, provides some sort of contingency plan if CC decides to opt-out and takes the Yankees on an expensive joyride. Don't underestimate the closing of the Yankees' window. Jeter, Mariano, Posada, A-Rod may not have many more very good seasons left. Adding two of the top pitchers for the next few years could do a tremendous amount to strike while they still can.
So having rambled for 1200 words, I ask what, if anything, your max offer for Dan Haren would be? Remember, it needs to be a bit painful. (Unless it's Betemit and Jeff Marquez for Swisher, of course.)
For more of my incessant chatter, check out Mystique and Aura (though I've been busy at work lately and you won't find much current information to check out. But whatevs, if you're there, look at Steve's stuff. He's a less-neglectful parent).