The Rockies, owners of one of the league's deepest rosters, have dropped their last six games to fall to eight back in the NL West and four-and-a-half back of NL Wild Card, and now they're considering selling before the deadline. Just take a quick glance at their roster, and you'll see plenty of players that appear to fit what the Yankees need.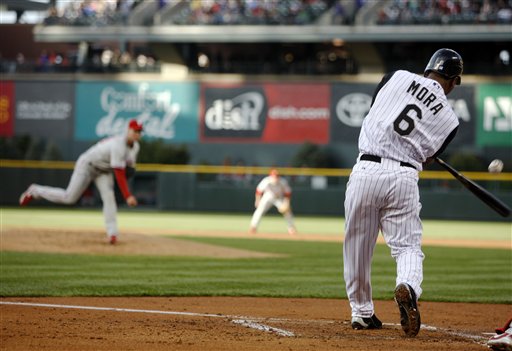 Despite valiant efforts to land Cliff Lee and Dan Haren, the Yanks biggest needs at the trade deadline are help for the bullpen and help for the bench. A full-time designated hitter is another possibility, but I'm curious to see what a Juan Miranda-Marcus Thames platoon could do given regular at-bats. Besides, DH types are abundant during the August waiver trade period, so it's not a high priority.
Starting on the bench, the Rockies could and probably will shop former Oriole Melvin Mora if they are serious about turning over some of their roster. Mora is owed about $472,000 the rest of the way, and he'll become a non-compensation free agent after the season. We're all familiar with Mora from his days with Baltimore, so this part is just review. He's very versatile, having played first, second, third, and left this season, and his bat is basically league average if not a bit below. His .321 wOBA is actually not a product of Coors Field (.291 wOBA at home, .344 on the road), but his defensive shortcomings have him at perfectly replacement level this year, 0.0 WAR. Is that better than Ramiro Pena (-0.4 WAR)? It sure is.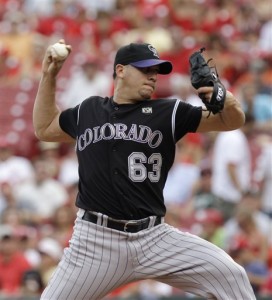 As for the bullpen, there are plenty of options, but the most attractive is probably Rafael Betancourt. His peripheral stats are off the charts this season (10.75 K/9, 1.25 BB/9), but his ERA sits at 4.50 because of some bad luck on balls in play (.374 BABIP). The big drawback is that Betancourt is an extreme fly ball pitcher (71% of the balls put in play off him during his career have been liners or fly balls), something that might not jive with the New Stadium. The contract situation isn't great either. Betancourt is owed a touch less than $1.4M for the rest of the season, then is under contract for $3.775M next year. That's not exactly a bargain basement price for a middle reliever.
The Rockies also have southpaw Joe Beimel to offer, but he's got unimpressive peripherals (4.50 K/9, 2.25 BB/9 vs. LHB this year) and about $315,000 left on his contract. Plus the Yanks don't really need another lefty reliever. Manny Corpas has always been a personal fave, and he's established himself as a ~6.4 K/9, ~2.4 BB/9, ~48% ground ball pitcher over the last several seasons. The Rockies locked him up long-term a few years ago, so he's owed $1.02M the rest of this year, $3.5M next year, and then there's a pair of club options for 2012 ($6M or $250,000 buyout) and 2013 ($8M or $500,000 buyout). If Corpas' 2012 option is declined, he's still under team control as an arbitration eligible player. They might not want to move him given the cost certainty. Matt Belisle has found a niche in Colorado's bullpen over the last two years (9.10 K/9, 1.79 BB/9, .3% grounders), but his limited track record of success makes him a risky proposition. He's owed the same $315,000 as Beimel the rest of the way, and still has another year of arbitration eligibility ahead of him.
Since we're here, we might as well talk about Brad Hawpe as a DH option, and make no mistake about it, he's strictly a DH. Over the last three seasons the guy has a -60.4 UZR in the outfield, the worst of any player at any position. The second worst defensive player during that time is Jermaine Dye, who had a -40.5 UZR, so it's not like it's close either. Thankfully he can really hit, though he hasn't produced as expected this year. Coming off four consecutive seasons of at least a .376 wOBA, Hawpe is all the way down to .327 this year, losing close to 50 points off his isolated power. His batted ball profile is basically unchanged, but for whatever reason just 8.1% of his fly balls are leaving the yard (compared to ~17.6% over the last three years). Comparing Hawpe's spray chart from this year to the past few years, it looks like his isn't pulling the ball as much as he used to. Maybe his bat has slowed as he entered his 30's (he turned 31 last month).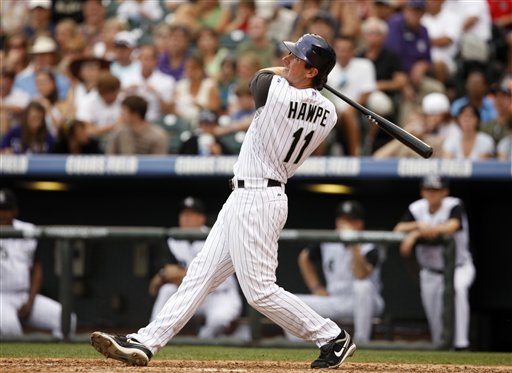 Regardless of what the problem is, someone's still going to have to pay Hawpe the $2.78M left on his deal this season, plus the $500,000 buyout of his $10M option for 2011. Even though he projects to be a Type-A free agent, an arbitration offer isn't guaranteed, and despite his offensive production over the last four years, Hawpe is still just a platoon guy. He's got a .380 wOBA vs. RHP in his career, but just .323 vs. LHP. It's not Curtis Granderson bad, but bad enough that Thames will still see plenty of at-bats.
I ran Mora, Hawpe, Corpas, and Betancourt through Sky Kalkman's trade value calculator (here's the breakdown), and frankly none of them have much value. Using what I think are optimistic (and admittedly, somewhat arbitrary) WAR projections, Mora comes in at $1.3M, Hawpe at -$0.2M (assuming his option is declined and arbitration is not offered), Betancourt at $2.8M, and Corpas at $4.5M (assuming his 2012 option is picked up, but the 2013 option is declined). Hawpe has negative value because his production is down and he's owed so much money. Based on Victor Wang's research, none of the four is worth even a Grade-B position player prospect. Mora could fetch an older (23+) Grade-C pitching prospect (Wilkin DeLaRosa?), the two relievers someone like Dan Brewer or Bradley Suttle. If that's the case, I imagine the Rockies would just keep Corpas and Betancourt.
Whether or not the Rockies decide to go ahead and sell remains to be seen. They do have some players that could help the Yankees down the stretch and shouldn't cost an arm and leg. Mora is certainly familiar with the AL East, ditto Betancourt and the AL in general. I prefer Corpas to Betancourt, but I'm not the one calling the shots.