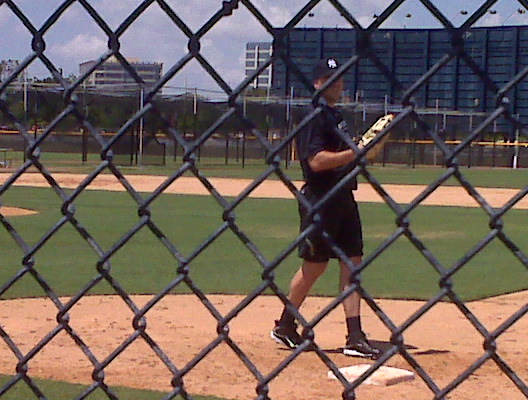 A two-month long stint on the disabled list and one setback later, Nick Johnson has finally resumed baseball activities down in Tampa. The forgotten Yankee is simply taking grounders at first right now, though he did hit test his surgically repaired wrist by hitting some soft toss with a fungo bat earlier in the week. He also took some dry hacks with a regular bat.
"I don't really know what to think at this point," said Joe Girardi on Tuesday. "Until he starts actually taking swings in batting practice, I don't know what to make of it, when we might get him back."
Johnson is pretty much in the same boat as Al Aceves; anything the Yankees get out of him from here on out is a bonus. They can't, and shouldn't count on him staying productive and healthy the rest of the season given the nature of his injury. It sure would be nice to have OBP Jesus and his military style plate discipline bat in the lineup, though.
Long-time RABer Andy in Sunny Daytona provided the info and picture above, so everyone thank Andy.