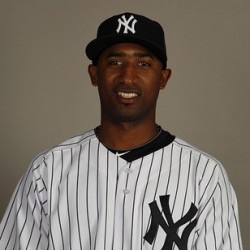 Meet Eduardo Nunez. The 23-year-old short stop out of the Dominican Republic signed with the Yankees in 2004. For AAA Scranton this year, Nunez is hitting .305/.354/.405, and his 107 hits are tops in the International League. He may also be the reason why the Yankees did not acquire Cliff Lee on Friday.
As the story goes, the Yankees and Mariners had a handshake agreement late Thursday night for a swap that would have sent Cliff Lee to the Yankees and Jesus Montero, David Adams and Zach McAllister to Seattle. When Seattle took a look at Adams' medicals and determined that something in the reports about Adams' ankle injuries were alarming, they balked on the deal. As Joel Sherman relates this morning, the Mariners went back to Yanks' GM Brian Cashman and requested Nunez. Here's how Sherman, clearly with some help from Yankee sources, tells the story:
However, the only way Seattle would have considered accepting a Yankee package once Smoak was included by Texas was if touted Triple-A shortstop Eduardo Nunez was included with Montero. That was the Mariners' initial request earlier in the month and the Yankees had refused, and they refused again. They simply could not justify, in their mind, giving up their two best position prospects at Triple-A for this trade because they wanted Lee, but they did not absolutely need Lee.

Did the Yanks think Lee was a piece that greatly increased their chances to win a 28th championship? Yes. But at the time of the trade the Yanks had the best record in the majors and believed they could win the championship without Lee and, therefore, could not justify giving up two high-end talents that are nearly major-league ready for Lee, especially because Lee is a free agent after the year and besides the prospect the Yanks would have to pay top-of-the-market dollars to retain Lee.
I have little reason to doubt Sherman, but I can't wrap my head around this thinking by the Yanks. The team has always thought highly of Nunez; after all, they signed him when he was a 16 year old and moved him to the States for the 2005 season. Following a solid year at Staten Island, Baseball America ranked him sixth in a depleted farm system. As the league's third-youngest position player, Nunez dazzled in the field and flashed a then-exceptional bat for a middle infielder.
The Yanks were so pleased with Nunez's 2005 campaign that they bumped him up to the High A club in Tampa, but then the prospect wheels fell off. He didn't hit in Tampa and then didn't hit upon being demoted to Charleston. After repeating A ball in 2007 and 2008, Nunez found himself in Trenton in 2009 where he reemerged as a prospect. He hit .322/.349/.433, and Baseball America ranked him 14th in their annual Prospect Handbook. He was the only true short stop ranked in the Yanks' top 30, but BA projected him as a "utilityman at the big league level."
"Nunez has athletic ability and good all-around tools," the book says. "He's a free swinger who may not have the plate discipline to bring solid power out on a consistent basis. He made good strides with the bat last season, though, making more consistent contact….Nunez has the size, strength and quickness to play shortstop. His arm is his best tool, though it sometimes gets him into trouble on defense when he tries to make plays he shouldn't. His lack of concentration also contributed to 33 errors in 120 games at short last year."
Last year, the Yankees restated their commitment to Nunez. The team seems to like his toolsiness, and coverage this year indicates better defensive play and a more focused approach at the plate. He could very well be a better option than Kevin Russo or Ramiro Pena now, but the team doesn't want to stint his development by having him sit on the bench in the Bronx.
So where does that leave the Yanks? Outside of the fact that they feel jobbed by Seattle GM Jack Zduriencik for the second time in two seasons and probably won't be too keen on doing the Mariners a favor any time soon, the Yanks may have overplayed their cards. They know Jeter is getting old; they know they're going to re-sign him; they know he isn't too keen on moving from his short stop position. They also know they could have had Cliff Lee for Jesus Montero and Eduardo Nunez. Maybe that's a price too high to pay, but it seems to me as though the Yankee Front Office — who admittedly know more about Nunez than I — are higher on him than most. He hasn't been a top prospect for four seasons but still has the tools.
Today, the point is mostly a moot one. Unless an obvious offer lands in their lap, the Yankees, says Buster Olney, are "not engaged in any talks about any starting pitcher and at this point, have no plans to" look for one. They went after Cliff Lee because, well, he's Cliff Lee. They already have one of the best, if not the best, rotations in the American League and are primed for a run at October. Cliff Lee, their obvious winter target, would just be icing on the cake.
Still, as this Lee trade was the biggest deal the Yanks have made that didn't go down, we'll be asking these questions as more information comes out. Was it all worth it for Eduardo Nunez?