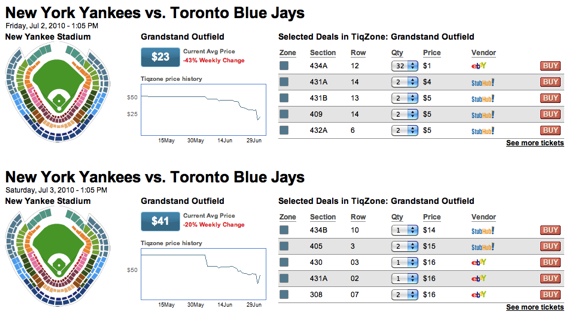 During the last few series I've been winging it with Yankees games. If there were cheap tickets available on StubHub I'd jump on them, making last minute plans to hop on a bus up to the Stadium. During the Phillies series, though, I encountered a logistical issue. StubHub stops selling tickets two hours before the game. So while I waited for tickets to come down below $10, they became unavailable completely.
It made me desire more options for finding tickets. There are sites out there that search multiple directories, but I've never had much success with them. So when the guys from TiqIQ got in contact with us, we were receptive. What they've provided us is essentially our own outlet for Yankees tickets.
As you can see in the photo above, the TiqIQ-powered RAB Tickets lays out options for you, from which you can select the best seats at the best price. Here's what's going on for the Jays series this weekend: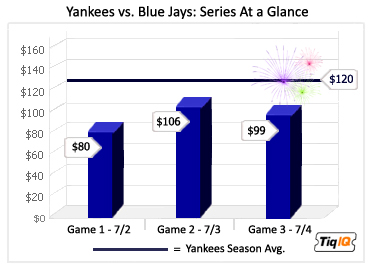 And here's what TiqIQ provides:
Aggregated Listings: TiqIQ track tickets from major sellers including Stubhub, TicketsNow, eBay and TicketNetwork.

We show these in both a Market Tab (Stubhub, TicketsNow, TicketNetwork, eBay) and Auction Tab (eBay)

TiqZone Categorization: TiqIQ breaks each stadium up into TiqZones, which are groupings of sections that we've determined are comparable in value. 
TiqIQ Statistics: TiqIQ provides ticket-level buying intelligence through the IQ rating and TiqIQ Statistics.
Event Details: TiqIQ gives you time and location information on the event.
If you're looking to head to a game now or in the future, make sure check RAB Tickets along the way.