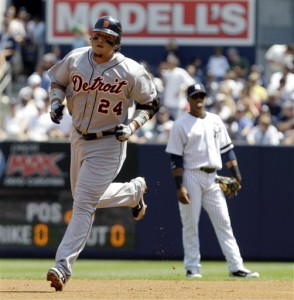 Last night Jose Bautista almost singlehandedly beat the Yankees (his pitching staff helped), driving in all three Blue Jays runs with his two homeruns. The first one, a two-run shot on a hanging curveball in the 3rd inning is forgivable since there was still so much baseball left to be played, but the second homer … not so much.
It's the 8th inning of a tie game with the baseball's premier homerun hitter at the plate after he'd already gone deep earlier in the game AND was pissed off about alledgedly being thrown at, so why does that guy even get a chance to swing the bat? Sure, David Robertson absolutely missed his spot on the deciding homerun pitch, but that doesn't excuse anything.
Rewind back to this past weekend and even to last week for that matter. The Mariners have one legitimate power hitter in their lineup, yet Russell Branyan was allowed to hit three homeruns in the three game set. The series before that featured an injury riddled Tigers' lineup with MVP candidate Miguel Cabrera smack dab in the middle of it, and yet Miggy hit four homers in the four game set. Do you see the pattern here? The Yanks are allowing the one guy in the other team's lineup, the guy your game plan says not to let beat you, beat them.
Of course this is just a very, very small sample. We're talking about an eight game stretch during which time the Yanks actually won five of those games, but the point stands. These players who so obviously stick out from the rest of their lineup because of their offensive might are punishing the Yanks time and time again. The old school Michael Jordan Defense doesn't work in baseball, you can't let these guys hit their homers and concentrate on shutting everyone else down and hope to win.
I'm not saying they should blindly pitch around the other team's big bats a la Barry Bonds in the early aughts (I'll never forget watching a game a few years ago when the opposing team intentionally walked Barry with two outs and the bases empty in the 1st damn inning), but in high leverage spots like last night, don't even give him a chance to make to you pay. Go after Vernon Wells and his .313 wOBA since May 10th. Forget Cabrera, let Brennan Boesch and his .197 wOBA since the break beat you. Let's see if Jose Lopez's .267 wOBA can made you regret avoiding Branyan.
Maybe this is just a knee-jerk reaction following last night's loss because you never want to intentionally put the winning run on base in the late innings, but when you're talking about hitters of that caliber, the winning run is already in scoring position when they come to the plate. They're capable of driving themselves in with one swing, like Bautista did last night. I don't think it's an unreasonable request for Joe Girardi and the rest of the Yanks' decision makers to use their brain a little and not give the other team's best hitters anything to hit in late inning, high leverage spots. There's no shame in pitching around great hitters when they have a chance to do major damage to your win expectancy, we see it happen to the Yanks all the time.
We're getting down to crunch time here with basically no wiggle room in the division race. Stop giving these great hitters a chance to beat you in the late innings. Just stop it.