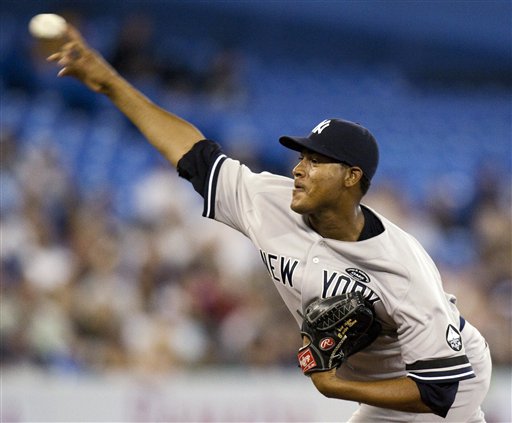 Even though they were saddled with a frustrating loss, the Yankees have to be encouraged by what they saw out of first time starter Ivan Nova last night. He avoided certain doom in the very 1st inning (with some help from Brett Gardner) before settling down and more than holding his own the rest of the way. Nine of the final ten men he faced made outs, with the lone exception being a dinky little infield single that ended his outing perhaps a little sooner than I think we all expected. Given his pitch count (73) when he was lifted with one out in the 6th, there's a very real chance that Nova could have completed seven full innings he had been given the opportunity. That's like hitting the lottery when you're talking about a 23-year-old pitcher in the AL East.
In a normal situation, Nova easily earned himself another start, but the Yanks aren't exactly in a normal situation right now. They're in a division race and have five other (theoretically) capable starters on the roster already. The plan was to use Nova to give the other starters a little extra rest here and there, though the team never divulged how many starts they actually plan to give him. Joel Sherman reported "at least two or three," but I'm not sure we can take that as gospel. I'm willing to bet this situation is a lot more fluid than we may think, and the team is going to play it by ear until their spot in the standings becomes a little more certain.
Prior to yesterday's game, Joe Girardi indicated that his starters for the next five games will be as follows:
Tonight: Dustin Moseley (five days rest)
Tomorrow: Phil Hughes (five days rest)
Thursday: OFF
Friday: A.J. Burnett (six days rest)
Saturday: CC Sabathia (six days rest)
Sunday: Javy Vazquez (seven days rest)
Nova's start combined with the off day gave them the opportunity to split up Burnett and Vazquez not just because they're unpredictable and could burn out the bullpen in a two day span, but also because Girardi wants Frankie Cervelli to serve as the personal catcher for both pitchers. Now they don't have to worry about 39-year-old Jorge Posada potentially catching three days in a row just to keep the catching rotation in order.
What happens after those five games is anyone's guess right now. Obviously they could go right back to Moseley and Hughes on Monday and Tuesday, respectively, with both pitching on five days rest before running A.J., CC, and Javy out there after that on their normal four days rest. They also have the option of starting Nova on Wednesday, giving those three guys another day of rest. There's about a dozen different options here.
Perhaps the best thing to do from a big picture point of view is to start Nova on either Monday or Tuesday, Moseley the other day, then go to the regulars with Hughes getting skipped this one time through the rotation to control his innings. The punchless A's (.311 team wOBA) are in town early next week, which makes throwing the rookie out there in the division race a little easier to swallow. Yeah, that's weak logic, but I figured it was worth mentioning.
Really, the most important thing going forward is a) making sure Hughes' workload doesn't enter the danger zone (he's at 140.2 innings right now), and b) Sabathia makes as many starts as possible. An extra day here or there is fine, but he makes the big bucks for a reason, and that's so the team can lean on him in crucial late season games. Under no circumstances should CC be pushed back a day just to squeeze in a start for Nova to keep him from getting stale, unless of course the Yanks have a comfortable division lead.
There's one other thing we have to remember here: Nova's on an innings limit too. He's at 153.1 innings this season, a career high. He threw 139.1 innings last year and 148.2 the year before, so what's his limit this year, maybe 180? That's another four or five starts, which … is probably fine now that I think about it. I suppose the only way it becomes an issue is if the Yanks remove Vazquez from the rotation for whatever reason (injury, ineffectiveness) and decide to go with Nova as one of the regular starting pitchers. I'm not saying that's what I think they should do, but we can't rule it out completely.
For now, the Yankees have to be encouraged by what Nova did last night, and should feel confident with him making another start in the not too distant future. When (or if) that chance comes is anyone's guess, but with Hughes on an innings limit and Vazquez walking a tightrope, I'm willing to bet that Mr. Nova will make another start for the Bombers before the season is out.