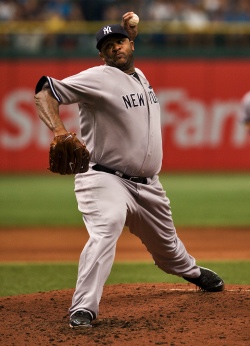 It wasn't long ago, about a month and a half, that something seemed wrong with CC Sabathia. Through 12 starts he had allowed 12 home runs. He had allowed just 18 in all of 2009. His ERA seemed a bit high at 4.14, and at that point he was pitching like the team's fourth-best starter. In the linked post I looked at his peripherals and determined his home runs to be the only issue, but that seemed like a significant one. The Yankees were relying on Sabathia to be their workhorse ace.
As expected, he turned around his season at that point. On June 9, six days after he allowed two home runs to a then-hapless Orioles lineup, he held them to just two runs, none via the homer, through seven innings. That started a run of excellence that ran through last night's seven-inning, two run performance. In that 103.1-inning span he has a 2.35 ERA, striking out 82 to 37 walks. Best of all, he's allowed just three home runs — and two of them were solo shots last night. If I've learned one thing about aces over the last few years, it's to not sweat it when they surrender solo home runs.
This run, unsurprisingly, has gotten people talking about Sabathia's Cy Young candidacy. He leads the AL in wins and has lowered his ERA to 3.12. Since those two stats factor heavily into the BBWAA voters' decisions, it stands to reason that Sabathia has a decent shot at the award. But if the baseball writers cast their votes for the actual best pitcher in the AL, rather than the one who has the most pitcher-wins, Sabathia will not win. He's having a top-10, maybe even top-5, season, but that isn't good enough to win the Cy Young Award. For that you need to have a top-1 season.
Seven AL pitchers currently have an ERA better than Sabathia, though that can be misleading. Being the best in the league means not only having the best rate stats, but also the best counting numbers. A pitcher who eats a larger percentage of his teams overall innings is more valuable than a pitcher who produces similar results while pitching a bit less. Only two of the pitchers ahead of Sabathia have as many as his 26 starts, and one of them, Jered Weaver, has thrown 14.2 fewer innings. Only Felix Hernandez has a better ERA and more innings than Sabathia. That would certainly strengthen his case, but it still doesn't put him over the top.
Hernandez, it seems, has the best case. He has the third-best ERA in the AL and has pitched at least 49 more innings than the two pitchers ahead of him. He also has the fourth-best FIP and xFIP, again having pitched more innings than the pitchers ahead of him. His 8.13 K/9 ranks ninth in the league, though only one pitcher ahead of him, Jered Weaver, has a better walk rate. The only area where Hernandez is deficient is in wins, and that's more a product of having the league's worst offense behind him. But that also means that he doesn't have the advantage of facing that offense.
These differences in offense show up in Baseball Prospectus's quality of batters faced report. Felix has faced hitters with a collective .261/.330.399 line, while Sabathia has faced slightly worse hitters, .256/.327/.395. Yet Felix has held those slightly better hitters in check, allowing a .231/.288/.336 line on the season, while Sabathia has allowed opponents to hit .246/.301/.370. So not only is Felix's ERA a half-run lower than Sabathia's, but he's done it while facing slightly tougher hitters. And, of course, with the league-worst offense supporting him. That would seem to bolster his case considerably.
There are other cases to be made, as there are every year. Cliff Lee has been otherworldly, unintentionally walking just 10 hitters in 169 innings. He's also averaging eight innings per start, a full inning more than Sabathia and 2/3 of an inning more than Hernandez. Francisco Liriano has allowed just two home runs all year and has a league-leading FIP and xFIP. Jered Weaver has a 4.33 K/BB ratio and a 1.10 WHIP, both second-best in the league (to that Lee character). But all of these guys you can put in the same category as Sabathia, which is the conversation for runner up. Felix, by most appearances, has been the best pitcher in the American League this season.
CC Sabathia is great. I love watching him pitch. It's a great feeling, every five days, to say, "hey, the Yanks have one of the best pitchers in the league on the mound." But the key part of that phrase is "one of." He is, without a doubt, the best pitcher on the league's best team. But that doesn't make him the best pitcher in the league. That would be Felix Hernandez right now. The lackluster offense should not be held against him. After all, he's not the one who put it together. Plenty can change between now and October 4, but on that date I still expect Hernandez to stand ahead of the pack.