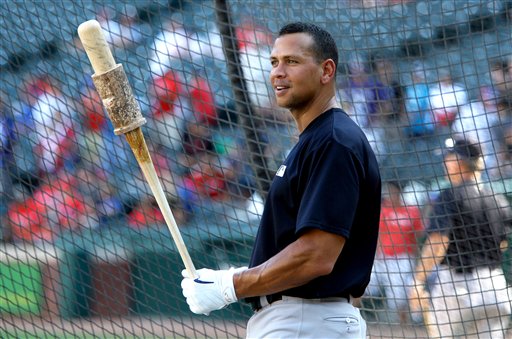 The following is a guest post that comes from regular RAB commenter tommiesmithjohncarlos, and recaps all of the Yankees' wins without Alex Rodriguez in the lineup. There have been a bunch of them, and regardless of what some may thing, the team is not better off without him.
We've already heard a few times how the Yankees were 12-0 (ZOMG!!!) in the games Alex Rodriguez has missed this year from various corners of the MSM and blogosphere. While we're all smart enough to know that the team isn't really better without Alex, I was curious to see how we were able to do so well without him nonetheless. So let's take a stroll down memory lane.
The (now 15) games ARod hasn't played in so far:
#24, May 2: A 12-3 hometown beatdown of Mark Buerhle/Tony Peña and the White Sox.
Lineup: Jeter-Johnson-Tex-Swish-Cano-Sado-Thames-Gardner-Peña.
Gardner had a second inning RBI single and a 4th inning solo homer; Cano hit a three-run shot in the 5th to break it open (5-0) and chase Buerhle. Swish hit a two-run shot an inning later to make it 7-0, then starting with Sado the team went double-groundout-walk-ROE-walk-double-double to plate five more runs. Hughes left after 7 frames with a 12-0 lead.
#48, May 28: An 8-2 hometown beatdown of Fausto Carmona/Tony Sipp and the Indians.
Lineup: Jeter-Granderson-Tex-Cano-Swisher-Miranda-Gardner-Peña-Moeller.
Swisher hit a two-run blast in the second and Miranda/Gardner chipped in with a bases-loaded walk and sac fly in the 6th, but it was still just 4-2 Yankees when we finally got Carmona out after 6 innings. Tony Sipp promptly loaded the bases (walking Tex, sounds familiar) to face Robbie, who hit a predictable grand slam. Game over, Hughes wins again.
#61, June 11: Andy beats Brett Myers and the Astros in an interleague tilt at YS3, 4-3.
Lineup: Jeter-Granderson-Tex-Cano-Swisher-Posada-Cervelli-Peña-Russo.
We jump on Myers in the bottom of the first with a groundout-double-walk-single-bases loaded walk-strikeout-single to plate three. Swish had the RBI BB and Cervelli hit a patented BABIP single to plate the second and third runs. In the fifth, Kevin Russo singles, steals second and scores on a Tex single to add a needed insurance run.
#62, June 12: A 9-3 hometown beatdown of the 'Stros, this time Wandy Rodriguez who gives up 8 runs.
Lineup: Jeter-Swisher-Tex-Cano-Posada-Thames-Cervelli-Granderson-Russo.
Jeter and Hunter Pence trade leadoff solo shots in the 1st and 2nd, and it's 2-2 in the third when Wandy gives up an RBI single to Swisher and then walks Tex and gives up a single to Cano to load the bases for Posada. I think you can guess what happens. Three innings later he issues leadoff walks to Cervelli and Granderson, chasing him from the game and summoning Jeff Fulchino, who gives up a three-run shot to Jeter for the 7th/8th/9th runs of the game.
#63, June 13: We finish the home sweep of the lowly ex-Colt .45s with a 9-5 romp over Brian Moehler and Gustavo Chacin.
Lineup: Jeter-Granderson-Tex-Cano-Swisher-Posada-Gardner-Huffman-Peña.
Hughes gives up a first inning sac fly, but Robbie ties the game in the 4th with a solo shot. A strikeout and three walks later, Ramiro Peña knocks in a run on a sac-fly (but I thought we never hit those?!?!), but Huffman ends the rally getting thrown out stretching at third. The reprieve is brief, however; after retiring Jeter to open the fifth, Moehler walks Granderson and gets Jorge to pop-up for out #2. Chacin comes in for the lefty-lefty matchup and pulls a Phil Coke, walking both Cano and Swisher to load the bases. Casey Daigle comes in to put out the electrical fire, but Jorge Posada pees all over it instead and the 3-1 lead becomes a 7-1 lead with one swing (Ed. Note: You probably remember this as the worst single pitch in baseball history. Total meatball). Hughes improves to 9-1 on the year in another slugfest.
#64, June 15: The Sabathia-Halladay duel of aces at YS3 turns out to be a cakewalk 8-3 victory.
Lineup: Jeter-Granderson-Tex-Cano-Swisher-Posada-Gardner-Cervelli-Peña.
Swish-Sado-Gardner kick it off in the second with a single-walk-GritTriple™ to plate two runs. Granderson hits a solo shot to open the next inning; after Tex flies out, Cano doubles and Swish knocks him in with a homer of his own and it's 5-0. CC gives three back with a string of singles the very next inning, but a Tex solo shot in the fifth pushes it back to 6-3. Two innings later, Halladay is lifted for Antonio Bastardo who gets Cano and Swisher to ground out and fly out… which would have been more impressive if those two outs weren't sandwiched between two HBPs (Tex and Sado) and a walk to Gardner to load the bases. Bastardo is replaced by David Herndon, who is no match for Frankie Cervelli's BABIP magic single that plates two more runs.
#109, August 7: CC hiccups, but recovers to shut down the now-dead Boston Red Sox in a 5-2 home win.
Lineup: Jeter-Swisher-Tex-Cano-Posada-Berkman-Granderson-Gardner-Peña.
Victor Martinez homers to open the 2nd, and Beltre-Lowell hit consecutive doubles to put CC in an 0-2 hole early. That's all they'd get, though: the big fella retires 20 of the next 24 Red Sox to step to the plate, giving up only a single in the third, and ROE in the 5th ,a single in the 6th and a walk in the seventh (erased on a GIDP). In the bottom of the second, the Yankees erase Boston's lead when Lance Berkman walks and then scores on Granderson's triple, who scores himself on a Peña groundout. Lackey then gives up four straight singles (Swish-Tex-Cano-Posada) to score two more in the 5th; in the 6th, Granderson hits a leadoff single, steals second and advances to third on the airmailed throw, and Peña's gets him home from third again (on a single this time). Mo works a perfect ninth (as usual).
#119, August 17: CC outduels another ace – this time Justin Verlander – in a 6-2 home victory.
Lineup: Gardner-Jeter-Tex-Cano-Swisher-Posada-Thames-Granderson-Peña
The Austin Jackson leadoff solo shot is probably fresh in your memory. As is Verlander giving up a single-walk-flyout-walk-single-walk to the first six batters he faced to give that lead right back, then giving up a solo shot to Granderson in the bottom of the second. It stayed at 3-1 until Daniel Schlereth gave up a double-single combo to Gardner and Jeter (sandwiched around 3 Ks) to add a tack-on run in the 6th, then served up a leadoff homer to Cano in the 7th. And guess what, another Ramiro Peña sac fly for the 6th run a few batters later, imagine that. Somebody knows how to play smallball… CC goes 7 full, striking out 9, and the Yanks control the game start-to-finish.
#120, August 18: Moseley is kinda meh, but Bonderman is utterly bleh in a 9-5 Yankees home win.
Lineup: Gardner-Jeter-Tex-Cano-Swisher-Posada-Granderson-Kearns-Peña
Gardner opens the game with a HBP; a Jeter K later, Tex and Cano kick off the scoring with back to back bombs. Miggy the great hits two solo bombs of his own in the 2nd and 4th innings to narrow it to 3-2, but Kearns-Peña-Gardner go walk-triple-double (yes, a Ramiro triple, he's an offensive juggernaut) to plate two insurance runs and Gardner scores the 6th run on a pair of errors by Cabrera and Ramon Santiago. Granderson adds a solo shot in the 5th, and after Tex-Swish-Cano load the bases with a single-GR double-IBB (with a Cano flyout and a Granderson K mixed in), Kearns knocks in two more with the second ground rule double of the inning to make it 9-4. Joba/Logan/Wood/Gaudin/Robertson/Rivera all come in to relieve Moseley to close out the win. Four holds, son, FOUR HOLDS!!!
#121, August 19: At YS3, Hughes bests Porcello in the First Round Phenom Matchup™, 11-5.
Lineup: Gardner-Jeter-Tex-Cano-Swisher-Posada-Granderson-Kearns-Peña
A Cabrera two-run shot in the first puts the Yanks in an early hole, but Tex and Cano start the party in the 4th with a single-single-single-flyout-single-flyout run; Swish and Granderson get the RBIs. That 2-2 tie becomes 11-2 in the 6th, as Porcello, Schlereth, Robbie Weinhardt and Eddie Bonine combine to do the following: walk to Tex, double by Cano, walk to Swisher, double by Posada – new pitcher – walk to Granderson – new pitcher – double by Kearns, groundout by Peña, passed ball walk by Gardner (followed by a stolen base), triple by Jeter – new pitcher – groundout by Tex, 2-run homer by Cano, single by Swisher, and finally a groundout by Jorge to end the frame. BOOM. Back up the truck.
#123, August 21: The team bounces back from King Felix's gem to pound Seattle 9-5 at YS3.
Lineup: Jeter-Swisher-Teixeira-Cano-Thames-Posada-Kearns-Granderson-Nuñez
Javy Vazquez only made it 3 innings, giving up four runs (three via solo homer to Russell Branyan and Ichiro… twice). But the Yankees matched those 4 runs in the second inning, with Jeter and Tex hitting a single and a double, getting knocked in on Robbie's single; one batter later, Posada dumped one over the wall to bring himself and Cano home. Jason Vargas kept it at 4-4 until the seventh, when Kearns-Granderson-Nuñez-Jeter-Swisher-Teixeira hit four straight singles followed by a walk and a sac fly to plate three more runs and knock the starter out. The next inning, Posada, Gardner and Granderson reached on a walk-single ROE, scoring a run, and then Ramiro "Mr. Sac Fly" Peña did his thing again to knock in Gardner from third and make it 9-4. Win, baby.
#124, August 22: CC dominates and the intentional walk haunts the M's again in a 10-0 home romp.
Lineup: Jeter-Swisher-Teixeira-Cano-Thames-Posada-Kearns-Gardner-Nuñez
Austin Kearns's solo homer in the 4th was a nice appetizer. An inning later, after a walk and a single to Jeter and Swish, Tex got IBB'd to load the bases for the cleanup hitter (again) and Cano smacked a granny (again). Seriously, we have been coming to this same party for the last twelve years, and in no way is that depressing. That 5-0 lead would have been more than enough for The Big Stoppa, but in the 6th Jeter chipped in with a sac fly and two walks later Cano knocked in two more with a single, then the next inning Posada hit a solo shot and an inning after that "Big Game" Ramiro Peña singled and scored on a Marcus Thames baseknock. 10 runs for the Yanks versus only 9 total baserunners (only two of whom even reached third base safely) allowed by CC, Wood, and Joba. That's a beatdown.
#125, August 23: The Ivanova/Jose Bitchtista Game. I think we remember that. 2-3 L in Canadia.
Lineup: Gardner-Swisher-Tex-Cano-Posada-Granderson-Nuñez-Peña-Cervelli.
#126, August 24: Tuesday. Fun Fact: We scored as many runs as "Rzepczynski" has in his last name. 11-5 W up north.
Lineup: Jeter-Swisher-Tex-Cano-Thames-Posada-Kearns-Granderson-Nuñez.
#127, August 25: Yesterday
—————————————————
Summary: We went 12-0 in the first 12 games ARod missed, all of which were at home, BTW. We then lost the Bitchtista game, rebounded the next day, and then lost last night. We scored a ton of runs in almost every game, because ARod or no ARod, we're good at scoring a ton of runs.
Really good.
The lesson here is this team is so packed with awesome goodness that we can afford to miss ARod for a few games and always put a studly lineup out there and back it up with top-shelf pitching. (Oh, and it helps to have the bench scrubs kick in a few timely BABIP singles or sac flies and make the void ARod vacated remain productive.)
The league should fear us. Deep and thick, baby.