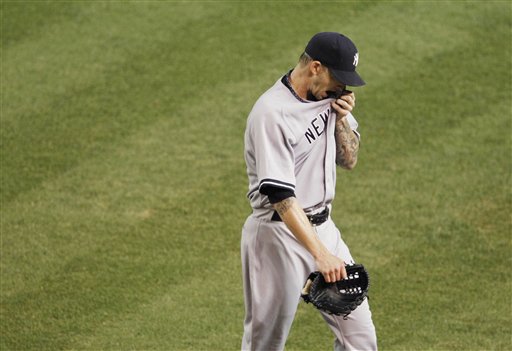 The date is August 26th and the Yankees seemingly have one sure thing in their starting rotation. CC Sabathia has been nothing short of brilliant for months, A.J. Burnett has pitched to an ERA north of six for a month now, age appears to be catching up with Andy Pettitte, the 24-year-old phenom in his first full season as a starter in the AL East is starting to show signs of fatigue down the stretch, and the various journeyman dreck filling out the back of the rotation inspires confidence in no one. It's a scary thing when a team built to win year after year suddenly starts to show cracks in the most vital part of the roster.
And here's the kicker: that was last year.
Last year's rotation was led by Sabathia, who as I said was absolutely money. There are zero concerns about him in any shape or form, and everyone involved feels extremely comfortable trotting him out there in Games One, Four, and Seven in a playoff series. Any negative you can drum up about CC is nothing more than nitpicking.
Burnett, as always, is a wildcard. Last year at this time he was coming off a nine run, five inning outing against the Red Sox in Fenway, his third clunker against the Yanks' biggest rival in four starts. He was in the middle of a stretch that extended into mid-September and saw him post a 6.14 ERA with a .273/.347/.445 batting line against in nine starts, including a 6.32 ERA, .293/.370/.447 ledger that August. Is that really all that different than the 6.08 ERA and .288/.362/.490 line against Burnett has put up this month? No one really feels 100% comfortable with A.J. on the bump today, and guess what, no one did last year either.
Pettitte had been solid most of last summer, coming into this date with a rock solid 4.25 ERA on the season, though that was on the way up after he allowed at least six runs in four of his last 11 starts. This year he's on the disabled list with a groin injury that, as Brian Cashman likes to say, isn't career ending. He'll be back in mid-September and more likely than not resume being the same pitcher he's been for the last decade-and-a-half.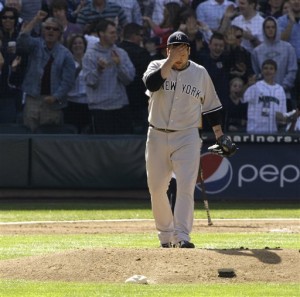 Phil Hughes, meanwhile, has assumed the role of Joba Chamberlain, the young kid with a big time bullpen background thrust into the rotation for a full big league season for the first time. He got smacked around last night and hasn't recorded an out after the 6th inning since before the All Star break. But Joba … do we even have to relive that late season nightmare? Last time at this year he had allowed at least four runs in each of his last four starts, and had pitched to a five-plus ERA for the better part of two months. Once the Joba Rules took over in September, things only got worse. Thankfully, the Yanks have learned from that and aren't planning to jerk Phil around in the same way.
I find myself doing this all the time, saying that this year's team doesn't make me feel as confident as last year's, but you know what? That's a load of crap. The only reason we feel that way is because we know what happened at the end of last season. There's no mystery. It's like seeing a horror movie for the second time; while everyone else jumps and screams at the scary parts, you sit there and try to act tough like it didn't scare you even though you knew what was coming. It's a false sense of security brought on by the power of hindsight.
Just take a quick look at the archives, late last August there were injury concerns about both Jorge Posada and Alex Rodriguez, complaints about Joba using his slider too much (much like Hughes and his fastball this year), rumors of the Yanks pursuing Brad freaking Penny, and talk about all the games they had left against teams with better than .500 records in September. It's the same story this year, just with different a different cast of characters. We were no more confident then than we are right now; it's the (mostly MSM driven) shock factor, where every little thing that goes wrong late in the year is shoved down our throats as a potentially fatal flaw.
Example: I've seen plenty of people talk about not being able to use just three starters in the playoffs like last year and act as if it's a big problem, yet no one seems to remember that – hello! – the other team has to use their fourth starter too. Go ahead, give me Tommy Hunter in a playoff game, or Kevin Slowey, or Jeff Niemann, or Edwin Jackson. I'll take my chances with this club against those pitchers eight days a week and twice on Sundays.
This year's starting rotation is a bit of a wreck at the moment, but frankly it's in better shape than last year's because they have a ton more options. Offense and individual players slump all the time and we accept it as part of the game, yet we don't afford the same luxury to the starting pitching. Dustin Moseley has been better than either Sergio Mitre or Chad Gaudin was late last year, Hughes has been demonstrably better than Joba was last year, and they still have Javy Vazquez in reserve. He might figure it out and contribute down the stretch, he might (probably) not. And who was 2009's Ivan Nova? Exactly. The rotation won't sink the Yankees because the core of the team is extremely strong, and that's what will carry them to where they need to go.
Exactly one year ago today the Yanks' record stood at 79-47 with a +113 run differential, pretty damn close to their 78-49 record and +164 run differential this year. Well, the run differential isn't all that close, last year's team would finish the season at +162, worse than the current team's with 30-something games to play. Of course the 2009 club had the luxury of a six game lead in the division on this date, but the fact that they're tied atop the AL East today isn't their fault. The Rays are much, much improved and have forced their way the picture. The Yanks didn't let them in.
Remember, it's never, ever as bad as it seems, and we've been here before. Just last year, in fact.