With the frustrating loss to Bryan Bullington and the rest of the Royals in the rear-view mirror, the Yankees returned home to welcome their old pal Johnny Damon back to the Bronx. Damon received a nice hand during his first at-bat,  but otherwise the Yankee Stadium crowd didn't have much to cheer about. The offense was once again shut down by a pitcher they've never faced before, and a late rally ultimately proved to be nothing more than a tease.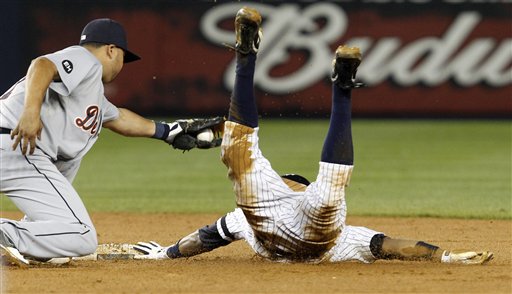 Biggest Hit: The One That Never Came
For the second straight game, the Yankee offense was nowhere to be found. Max Scherzer navigated the first six innings by allowing just two singles and two walks, and never really faced any kind of threat. Phil Coke allowed a pair of hits to match hit pair of outs, and Ryan Perry chipped in three outs while allowing a hit. The first eight innings were simply dreadful, the Yanks seemingly had no life and showed no signs of snapping out of it. Then the 9th inning happened.
The over-caffeinated Jose Valverde was on the bump for Detroit after recording the final out in the previous inning despite a strained oblique that made him unavailable the last few games. Robbie Cano, already sporting a career high 40 walks, took four straight pitches off the plate to lead things off with a free pass. Designated hitter turned catcher (more on that later) Jorge Posada tapped a grounder to first and reached on a fielder's choice, but Cano was gunned down as the lead runner. Two pitches later, Curtis Granderson brought the tying run to the plate with a single to left, and all of a sudden everyone started thinking crazy thoughts. Could a come back really be in the cards?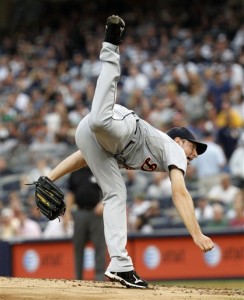 At this point Ben said to me "why is this guy up in every key moment," referring of course to Frankie Cervelli (in the interest of full disclosure, Ben's language was a but more colorful). Thankfully Valverde was in the giving mood, walking Frankie on five pitches to load the bases with just one out. With the lineup about to turn over, the Yanks were in business. Brett Gardner brought home the Yanks' first run in 18 innings by drawing a five pitch walk, simultaneously pushing the tying run into scoring position.
So here are the Yankees, set up with Captain Clutch, sir Derek Jeter at the plate about to do what he does best. Valverde had thrown 18 pitches in the inning and just six strikes, so naturally he started Jeter off with two straight balls. The Cap'n took a called strike right down the plate like he should have (make the guy throw you a strike when he's struggling that much), and three pitches later we're all looking at a full count. All we wanted was for Jeter to keep the line moving with Austin Kearns and Mark Teixeira due up behind him.
Instead, Derek grounded a ball to short for a rally killing 6-4-3 double play. Gardner slid hard into second base and at first glance it looked like Jeter beat the throw at first, but alas, it did not happen. Rally over, ballgame over, thaaa Yankees lose.
Where Has The Good Javy Gone?
Under the perpetual microscope, Javy Vazquez took the mound in this game after having his between-start work reduced in an effort to combat a dead arm. The velocity was mostly there tonight – he topped out at 89.8 mph and averaged 88.46 – but it seemed like nothing else was. Tigers' batters had no trouble digging in and extending at-bats, which led to an absurdly high pitch count for Vazquez and a rather quick exit.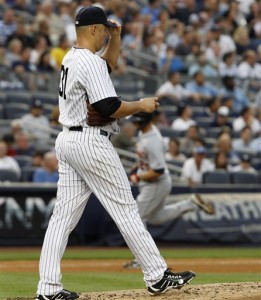 The 1st inning was rather painless, three routine outs sandwiched around a ground ball single, but it took Javy 25 pitches to escape the inning. The 2nd inning is where things got interesting, however. Carlos Guillen led off the frame with a first pitch ground-rule double to right, and the molten hot Ryan Raburn brought him home when he went out and got a breaking ball off he plate for a two-run homer to left. It wasn't a terrible pitch, maybe caught a little too much of the plate, but it was down in the zone and Rayburn basically golfed it out. The trouble didn't end there, with Detroit loading the bases with two outs before Vazquez escaped the inning by striking out Brennan Boesch.
Two runs is hardly a catastrophe, but Javy threw a whopping 34 pitches in the inning, putting his pitch count at an astronomical 59 following just two innings of work. The 3rd inning featured a walk and a single and 24 more pitches, the 4th a walk and another 23 pitches. Of the 21 batters he faced, just six saw three pitchers or fewer while 13 saw at least five pitches. Vazquez didn't have any kind of put away pitch or command of the zone, and it was painfully obvious. Frankly the Yanks are lucky he left with just a two run deficit.
In the end, Javy needed 106 pitches to record 12 outs, and 34 (!!!) of those 106 pitches were fouled off. That's an absurd rate, and speaks to his recent inability to put hitters away. We'll discuss what options the Yanks have with Javy a little more tomorrow, but this has been a problem for six starts now, and they can't just sit back and let him go out there every five days with absolutely nothing.
Leftovers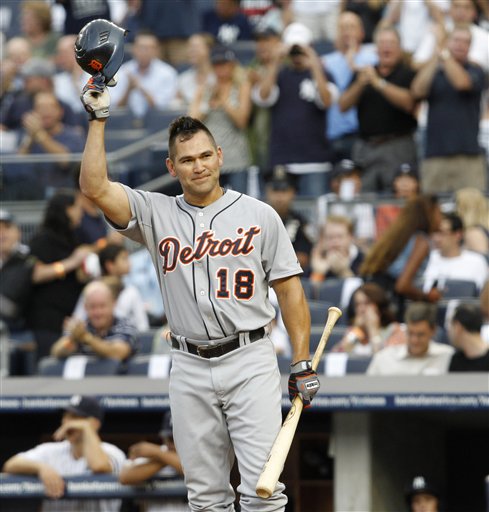 With one hit and a pair of twin killings in five plate appearances, Jeter racked up -.465 WPA in this one. I'm not even mad, that's impressive. Okay find, I am mad. Jeter's twin killings have gone from nuisance to crippling; you half-expect them whenever he comes to the plate with a man on first. How did this happen to the great Derek Jeter?
Granderson went 3-for-3 with a walk and a double, and even though it's been just five games, the results from his revamped swing have been very promising. He scalded some pitches in Kansas City and continued to go so tonight, some of them even off a lefty. Consider me excited.
Another solid effort from the bullpen, especially Sergio Mitre. He chipped in 2.2 scoreless innings, Kerry Wood another 1.1 scoreless, and Joba Chamberlain allowed one run in his inning of work. It's trendy to bash Joba, but sorry, I'm not going to get on the guy for giving up an opposite field solo homerun to Miguel Cabrera, arguably the best hitter on the planet. It happens.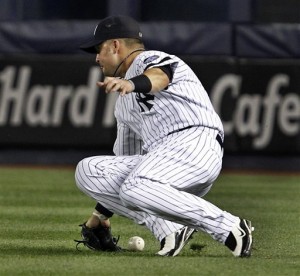 Both Alex Rodriguez and Nick Swisher left the game with injuries that right now appear to be minor. I wouldn't be surprised if both got a day off tomorrow, which would stink. Between those two and Lance Berkman's jammed ankle, the bench (and lineup) could be very, very short for the foreseeable future. They might have to make a roster move tomorrow to get some help, otherwise we might run into a situation like this game where Cervelli's manning the hot corner and Joe Girardi has to surrender the DH.
The Red Sox were off but the Rays managed to beat Cliff Lee, so the Yanks are now tied atop the AL East with their rivals from Tampa. Their lead in the Wild Card sits at five-and-a-half games.
WPA Graph & Box Score
MLB.com has the box score, FanGraphs the nerd score.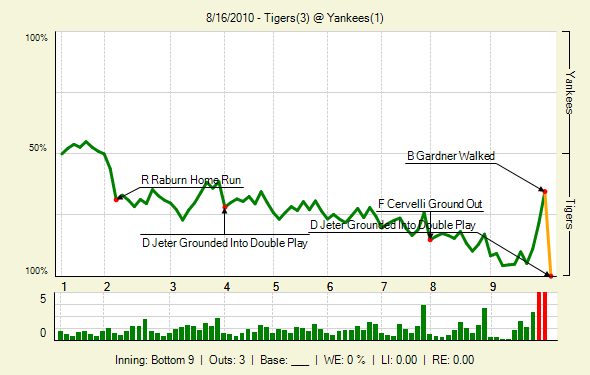 Up Next
Same two teams tomorrow night in a matchup of aces, when CC Sabathia takes on Justin Verlander. That should be a treat.