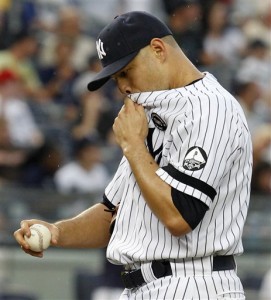 If there's one thing that was obvious during last night's loss to the Tigers, it's that the Yankee offense is mired in a rather hideous slump right now. If there's a second thing that was obvious, it's that Javy Vazquez is basically pitching with nothing these days. His fastballs lack life, his breaking balls hang more often than not, and his changeup tends to float out of the zone. This has been going on for at least three starts now, with both the team and Vazquez himself acknowledging a dead arm period.
After last night's 106 pitch, 34 foul ball, 12 out effort, we're starting to reach the point where the Yankees have to seriously reconsider Javy's spot in the rotation. I'm not saying they should do anything drastic like stick him in the bullpen, I just want to see them give Javy some rest, both physically and mentally. Given his dead arm and obviously short stuff, a 15-day disabled list stint with a bout of shoulder weakness or soreness or tendinitis or whatever you want to call it gives Javy a breather and wouldn't require any roster manipulation to keep the team from being short-changed. And the good news is that if the Yanks stick Vazquez on the disabled list today (can't do it retroactively to yesterday since he actually played on that day, MLB rules), he'll only miss two starts. Here, check it out.
Javy's next start is scheduled for this Saturday against the oh-so-lowly Mariners, who will unfortunately be throwing the great Felix Hernandez. Ivan Nova, who last started Friday for Triple-A Scranton and has pitched to a 2.07 ERA in his last five starts, could fill-in during that game with ease. The Mariners have the game's worst offense with a .288 team wOBA (before last night's loss) and one of its worst road records at 17-41 (the heroic Cliff Lee is responsible for five of those wins), so you're not throwing Nova to the wolves in his first career start. It's a (theoretically) friendly environment against a bad team coming off a solid stretch of starts in Triple-A, so he's set up for success. Given Javy's recent performances, he wouldn't have to do much for it to be a net gain for the Yanks.
After that Saturday game, Javy's next turn would come next Thursday, and guess what? The Yanks are off that day. Here's the schedule if you don't believe me. They could either skip Nova outright that day, or (preferably) start him on Friday and push the four other starters back a day. There's nothing wrong with giving them a little extra rest. If they go that route, the next time they'd need a fifth starter is the following Wednesday, which is the day Javy is eligible to come off the DL. He could make that start no problem.
In addition, the Yanks would be able to call up a position player in the interim with Nick Swisher, Alex Rodriguez, and Lance Berkman all banged up. That guy (Kevin Russo makes sense because of his versatility) then goes back down for Nova before Saturday's game. Nova then goes back down following his two starts in favor of whatever the team needs at the time; bullpen help, bench help, whatever. Either way, that 25-man roster spot turns into a bit of a revolving door while Vazquez is on the shelf, allowing the team to optimize the squad based on their needs at the time.
What's the alternative to all this? They could run Javy out there on Saturday, hope for the best, then either skip him next Thursday if he continues to throw slow-pitch softball or start him Friday on his regular turn. It's the always popular "do nothing" approach, which has a surprisingly good success rest.
The point of DL'ing Javy isn't to give Nova two starts to show what he's got, it's to rest one of the team's five primary starters and hopefully get him back to being the pitcher he was from mid-May to the All Star break. That guy would be a huge asset down the stretch in September, but the guy they have right now isn't much of a help at all. And hey, there's a chance the 15 days of rest won't do anything and Vazquez will come back the same guy he is right now, but I think they have to at least try. At this point they're just rolling the dice every five days, which is not something I advise doing in such a tight division race.