Yesterday's game was not a typical one for Yankee catcher Jorge Posada. The soon-to-be 39-year-old made an out in each of his four plate appearances, which by itself isn't all that shocking, everyone has days like that, but what was surprising was that the 0-for-4 came on just five pitches. Most teams expect very little from their catchers offensively, but Posada isn't most catchers. He's been a central piece in the Yankee lineup for the last decade-plus, and continues to be that this season.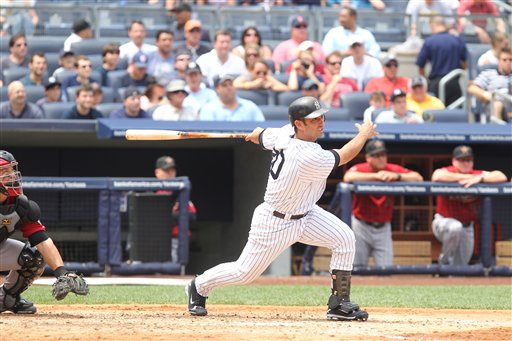 With Derek Jeter and Alex Rodriguez limping along to the worst full seasons of their careers, it's only natural for the age question to creep into our mind. We have to acknowledge that their skills will decline for no other reason than being in their mid-30's, whether that's losing a step in the field or a touch of bat speed or reaction time or whatever. Even though he's closing in on this 39th birthday and has spent basically his entire professional career playing the most demanding position in the sport, age is one thing that does not appear to be taking it's toll on Posada's offensive game.
Following last night's 0-fer, the Yankees' primary catcher sports a .262/.366/.472 batting line this season, good for a .368 wOBA that ranks just behind Joe Mauer's .370 mark for the lead among American League backstop. Victor Martinez is a distant third at .351. Posada's season has been two stretches of offensive dominance sandwiched around a period of physical trouble. He came out of the gate playing like an MVP, hitting .326/.406/.618 through mid-May before a Michael Cuddyer foul ball fractured a bone in his right foot. It was a fluke injury, something that comes with the territory. Jorge ended up missing just 16 days, much better than the initial diagnosis of three or four weeks. He served as a designated hitter in his first ten games back, and went just 6-for-33 before getting back behind the plate.
The rest of the first half wasn't kind to the Yanks' catcher, as he went on to hit just .230/.352/.365 in 91 plate appearances between his return from the DL and the All Star break. Between his age and the injury, it appeared as if Posada might be joining A-Rod and Jeter on the path to age-related decline. But then something strange happened and Posada started hitting after the break. Perhaps the four days of rest recharged his battery and allowed the nagging bumps and bruises to heal. Jorge came out and went 8-for-23 with three homers in his first three games back, and overall is hitting .250/.339/.500 in the second half. The only AL catcher with a better OPS during that time is that Mauer guy again.
What's helping Posada remain productive at an age when most catchers are in the retirement home is his skill set, quite simply. He's always had what you'll see referred to as "old man skills," meaning he's a patient hitter with power. His game doesn't rely on speed (heh, no kidding) or hitting them where they ain't, Jorge makes his own luck by working the count and waiting for pitches he can drive. His natural strength allows him to hit those pitches with authority for extra bases.
Of course, this season hasn't been perfect because of injury. Before the Cuddyer foul tip, Posada missed a few games with a sore knee after Jeremy Guthrie hit him with a pitch (another fluke) and a minor calf strain. A sore ring finger shelved him for a day after another foul tip (yet another fluke), and a barking knee relegated him to DH duties for a few days at the end of last month. Posada has played 46 games behind the plate and another 25 as the DH, the latter group aided by Nick Johnson's injury. With a full-time DH on hand, like the team has now in Lance Berkman, Posada would have seen more starts behind the plate.
Defense has never been Posada's forte and never will be. His mammoth offense – seriously, he hit .283/.386/.492 (.383 wOBA) from 2000-2009 – far outweighed whatever he gave away with his glove. Once the offense starts to slip, then the defense will become a pressing issue, but thankfully that has yet to happen. ZiPS rest of the season projection is a bit pessimistic, forecasting a .350 wOBA for Posada the rest of the season. It's below Posada's norm but still well above average for a catcher.
The Yankees have been successful for all these years because they've been strong up-the-middle, getting premium production from premium positions. Posada is a gigantic part of that, and so far he's done one hell of a job defying the aging process as a catcher. He continues to be a dynamic offensive force that makes pitchers work and hits with power, two traits you want to see in any player.
Aside: Just out of curiosity, what kind of offensive numbers do you think Posada could have put up if he played first base all those years? He's at .277/.378/.480 for his career right now, would .290/.390/.500 be reasonable? Only 29 players in baseball history can claim that as their career line, so we're talking big time here.