Heading into last night's game, Trevor Cahill held the AL's second lowest ERA, trailing just Clay Buchholz. So when the A's staked him to a 3-run lead in the first, things didn't look so good for the Yankees. It took all of five batters to change that outlook. The night continued to get better, and it ended with an 11-5 Yankees victory.
Biggest Hit: Swisher ties it early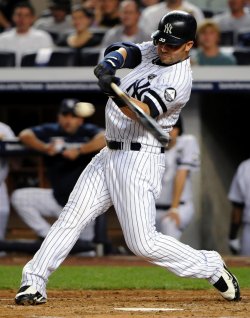 For the most part Dustin Moseley has done a good job filling in for Andy Pettitte. He's had some rough outings, but that's expected. He is, after all, Dustin Moseley. All the Yanks ask is that he keeps them in the game. From the outset last night it looked like he would fail. Two singles and a walk loaded the bases, and the A's struck for three before heading out to the field. That had to feel good with Cahill on the mound.
The Yanks wasted no time in evening the score. Gardner started with a walk, Teixeira followed two batters later with a single, and then Robinson Cano brought home the first run with a single of his own. That ball was so well struck that even though Mark Ellis was in a position to field it, he just couldn't make the play. That brought Nick Swisher to the plate, and Swisher delivered.
Cahill delivered five sinkers during the at-bat, but only one of them ended up down in the zone — Swish took that one for ball two. The sequence went ball, foul, ball, ball, foul, double to deep center. Coco Crisp made a valiant effort, but the ball went beyond his outstretched glove. It took him a moment to recover, which gave Cano enough time to score from first and tie the game.
In a span of just five batters the Yanks turned this from a frustrating game into a new game. That's what happens when you have such a high-powered offense.
Meet Saturday's starter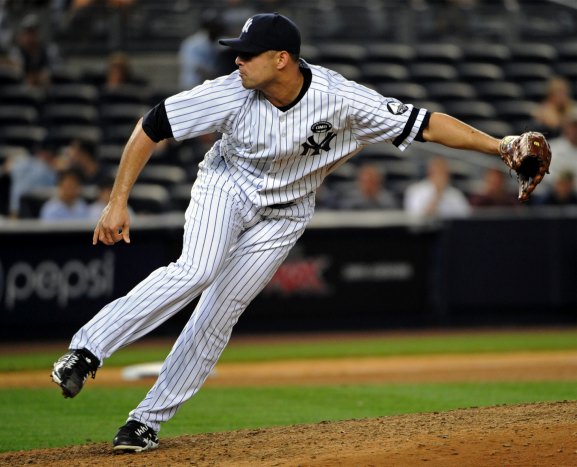 When Moseley walked Kurt Suzuki in the fifth he accomplished two things. First, he guaranteed that Girardi would take him out of the game. The last pitch hardly had time to cross the plate before Girardi was out of the dugout and on a brisk jog to the mound. Second, he opened the door for Javy Vazquez's return to the rotation. For the next 4.2 innings, Vazquez made his case clear.
It took a Jeter jump toss to get out of the fifth, but from there Vazquez had things under control. He started the game by retiring seven straight and allowed just one run on two hits, striking out six. He even hit 90 consistently. Though, for what it's worth, Moseley's final pitch was also 90 mph.
Moseley's next turn in the rotation would come on Saturday, but I'd bet on Vazquez slotting in there. It seems like a good time to see if he can be that guy he was from May into July. That will be a big boost to a rotation going through a rough patch.
Filling in for A-Rod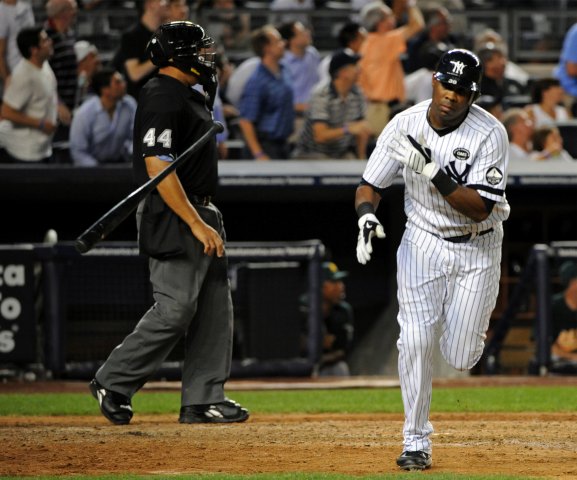 Marcus Thames hit his 10th home run of the season this year, though it certainly feels like he's hit more than that — probably because he's hit six in his last six games. The tear comes at a great time. It's like not losing Alex Rodriguez at all. In fact, since A-Rod's injury Thames is 11 for 34 (.324) with three walks (.432 OBP) and six home runs (.765 SLG).
Mark Teixeira, too, has been cruising along since A-Rod started missing time. He was 3 for 3 with a walk last night, and is 14 for 41 (.342) with six walks (.429 OBP) and seven extra base hits (.659 SLG). He and Thames have made missing A-Rod not as big a deal as it could have been.
Miscellany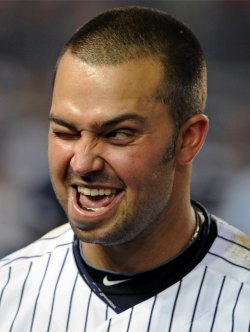 Brett Gardner got on base three times and didn't score. You won't see that happen often.
How many young pitchers have we see throw 100 mph? How many of those pitchers sustained that speed? How many of them lasted long-term? Sorry, Henry Rodriguez, but you are no Billy Wagner.
Swisher is back up to .298, for those of you who are still holding out hope that he'll finish the season at .300.
Trevor Cahill has allowed 50 earned runs this season. The Yankees have 14 of those.
Graph and Box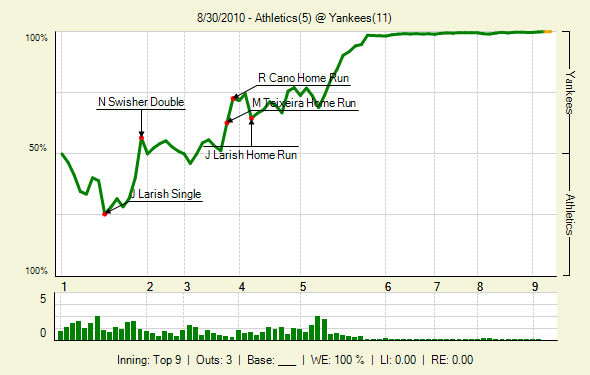 More at FanGraphs. You know, FanGraphs has the box score, too. But just in case you like 'em simple, here's the regul'r box score.
Up Next
Phil Hughes attempts to recover from a poor start, while Vin Mazzaro starts for the A's. Considering the sparse crowd last night, I'm sure Mazzaro will be able to get all of his buddies into the game.