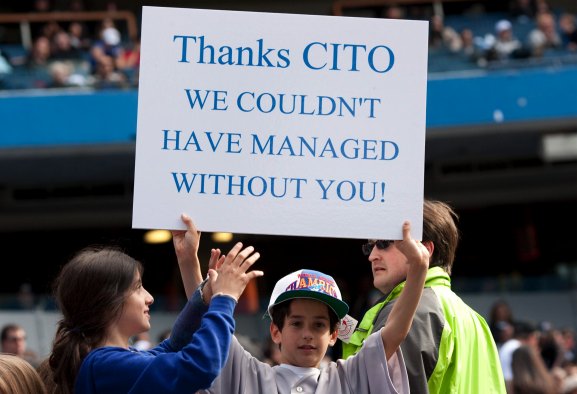 The day after clinching it's expected that we'll see the AAA lineup. After last year's clincher Girardi penciled these names into the lineup:
1. Brett Gardner, CF
2. Melky Cabrera, LF
3. Robinson Cano, 2B
4. Jorge Posada, DH
5. Eric Hinske, 3B
6. Shelley Duncan, RF
7. Juan Miranda, 1B
8. Francisco Cervelli, C
9. Ramiro Pena, SS
Today's lineup has far more regulars. I guess there's good reason for that. Unlike last year, the Yanks aren't quite done. They're in the playoffs, yes, but they're still in a battle of sorts for the AL East crown. Before the game Joe Girardi said that the team is still "playing to win this division," so he's not going to rest everyone at once. The off-day, he said, will give him a chance to get guys two days off. Some get today, some get Friday. If they stick to this, Matsuzaka will face quite a scrubby lineup.
Javier Vazquez gets the ball tonight in what could be his final audition for the postseason roster. I think he makes it regardless, but if he bombs there has to be a chance that they leave him off in favor of a more effective pitcher. He did settle down after plunking three straight batters last time out, so maybe he's onto something. If he pitches well, look for the inevitable article asking whether he pitched his way into the ALDS rotation.
(There is no way this can happen if the Yankees are sane, so I suggest ignoring these.)
Anyway, here's the lineup. I guess Jeter, Swisher, Tex, A-Rod, and Cano will sit on Friday in Boston.
1. Derek Jeter, SS
2. Nick Swisher, RF
3. Mark Teixeira, 1B
4. Alex Rodriguez, 3B
5. Robinson Cano, 2B
6. Marcus Thames, DH
7. Austin Kearns, LF
8. Francisco Cervelli, C
9. Greg Golson, CF
And on the mound, number thirty-one, Javier Vazquez.