Today's September 1st, so that means dozens of prospects, former big leaguers, has-beens, never will-bes, and more will join the 30 big league teams as they expand their rosters down the stretch. For most of the clubs, it's a time to give some youngsters a look or back off their young starting pitchers, stuff like that. For a guy like Jon Albaladejo, who the Yankees will activate before tonight's game, it's an audition for a future job.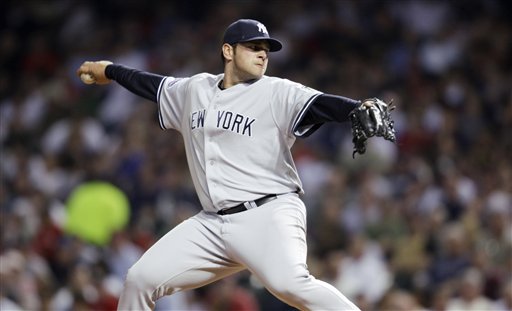 Albaladejo, the portly 27-year-old righthanded reliever, failed to make the Yanks' Opening Day this season for the first time since joining the organization following the 2007 campaign, and that's because he was simply atrocious in Spring Training. He appeared in five games, recorded just eight outs, and allowed 16 (!!!) hits and 11 runs. He walked a pair and struck out just one. With last year's stellar relief corps intact (plus some new additions), it was going to be tough enough for Albie to crack the bullpen to start with, but his performance in camp cemented his trip to Triple-A Scranton.
With his sinker-slider approach apparently no longer doing the trick, Albaladejo decided to reinvent himself as a more traditional power pitcher. The sinker was replaced with a more traditional four-seamer that has registered in the mid-90's, the slider with a 12-to-6 curveball. Well, he still throws the sinker and slider on occasion, but they're nothing more than his third and fourth pitches right now. That's pretty good for a reliever.
The results of the change were staggering. Albaladejo struck out 82 batters and walked just 18 in 63.1 innings this season, and opponents hit just .170 off him. A mere 22 of the 113 righthanded batters he faced with Scranton this year reached base, and exactly double that number went down on strike three. Along the way he saved 43 games, setting franchise and International League records. Clearly, the new Jon Albaladejo was a force to be reckoned with, and it's just a matter of proving himself against big league competition now.
Albie showed off his new approach in a brief late-July call-up, when he allowed a run and struck out three in 2.2 innings of work spread across a pair of appearances. Basically a one inning pitcher all season, he appeared to fatigue in the second inning of his first appearance, when he allowed a single (the baserunner was then erased on a caught stealing) and a walk before giving way to Chan Ho Park, who of course allowed the inherited runner to score when he served up a homerun ball on the second pitch he threw. It wasn't much to judge the new Albaladejo by, but it was obvious that all the talk of his new fastball-curveball combo was more than just talk, it was reality.
September, like Spring Training, isn't the best time to evaluate players because of the diluted talent pool, but sometimes we're forced to do it. That's what the Yankees are going to have to do with Albaladejo, who's going to be out of options next season. He's either going to have to stick with the big league club out of Spring Training in 2011 or be placed on waivers before going to the minor leagues. Given the dearth of quality relievers and Albie's kick-ass Triple-A performance, there's a pretty good chance someone will give him a whirl. Hell, someone claimed Chan Ho freaking Park off waivers, Albaladejo's not making it through.
David Robertson, Joba Chamberlain and Kerry Wood figure to remain Joe Girardi's primary righthanded setup relievers down the stretch and rightfully so, which means Albaladejo's going to have to make the most of whatever playing time he gets. That's probably going to be sixth and seventh inning work in close but probably still trailing games or blowouts. And remember, Albie's not just pitching for a job with the Yankees next year, he's basically auditioning himself for the other 29 clubs as well. Perhaps the Yanks could net something in a trade after the season than risk losing him for no return off waivers.
Jon Albaladejo's reemergence this year was just one of several pleasant pitching surprises in the farm system this season, but unlike the rest of the guys down there, the Yanks don't have the luxury of time in this case. Surely they've been evaluating him all season long, but this month they're going to get a crash course look at what he can do against Major League hitters and use that to make a decision on his future with the organization. Hopefully he takes advantage of it.