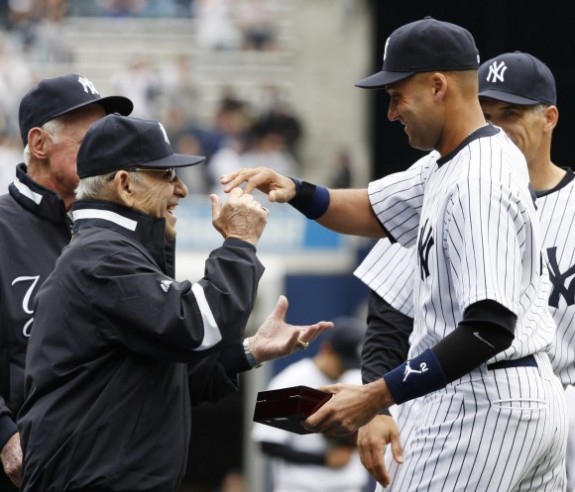 Derek Jeter picked a bad time to get old.
For nine years, Derek Jeter made the Yanks' 10-year, $189-million contract they gave him after the 2000 season look like a great deal, and then he turned 36. With one month left before Jeter's final regular season game under this deal, the Yankee Captain is having the worst season of his career. Mired in a 2-for-30 slide, Jeter is now hitting .266/.332/.376 on the season, and he's on pace for career lows in every triple-slash category. His OPS is .130 points below his career average, and although he's out-pacing the average American League short stop, he may put up an OPS+ below 100 for the first time he was just a 21-year-old rookie.
It hasn't been easy for the Yanks to diagnose Jeter's problems this year. His isolated patience — on-base percentage less batting average — is .066, not far off from his career norm of .071, but his .298 BABIP is well below his lifetime .356 mark. He's not striking out, and he's not really walking. Yet, he's also not hitting the ball with authority as his ground ball rates are up and his line drives are down. He's swinging at way too many pitches out of the strike zone and is making bad contact with those pitches. In other words, he's having a very bad, no-good, rotten season (for him, at least).
We can talk about Jeter's swing, his personal frustration and his poor approach at the plate — as Frankie Piliere has this afternoon — but for the Yankees, the future matters more than the present. Jeter is a free agent, and as we've explored in the past, he wants to get paid. Now, he doesn't just want a token contract for a reasonable-but-still-high amount; he wants to be recognized as the face of the Yankees. He wants, in other words, to be treated like A-Rod.
The tabloids today tackle just that subject. In his 3UP column, Joel Sherman ponders the nature of Derek Jeter. "If his name were not Derek Jeter," Sherman writes, "the Yanks would have definitely moved him to eighth or ninth in the lineup and possibly considered playing Eduardo Nunez at shortstop more." I disagree with playing Nunez more, but Jeter shouldn't and wouldn't be batting at or near the top of the Yankee lineup if he were any other short stop with a .332 on-base percentage.
Sherman eventually broaches the delicate topic of money. He doesn't believe Jeter would get more than a one-year, $7-million deal on the open market — in other words, Marco Scutaro money. Jeter, according to John Harper's anonymous sources, will expect more. The Daily News columnist rounded up some people who wished to remain nameless, and surprisingly, none of them had nice things to say. ""Knowing Jeet," one player said to Harper, "he's not going to let an off-year, if it turns out to be an off-year, play a role in what he thinks he should get paid. He just doesn't think like that. He'll be more convinced than ever that he'll come back and hit .330 next year."
Another of Harper's supposed former teammates echoed those concerns: "The question is whether Cashman and the others think this is the start of a decline, and if so, are they going to factor it into the negotiations or just pay him for being the face of the franchise all these years? Knowing Derek, he'll say all the right things, but he won't give an inch based on his numbers this season."
I grew up with Derek Jeter, and it's tough for me to admit that he's getting old. No one likes to come face-to-face with their own mortality and their own aging, but that's very likely what's happening with Derek Jeter. His eye isn't as discnering; his bat speed not as quick; his fielding more suspect. But age is not on his side.
Take a quick gander this:



That list represents every single short stop in Major League history who, at the age of 36 or older, played 75 percent of his games at short stop and played at least 200 games before calling it quits. It isn't a very long list, and it isn't one filled with successful players. Now, few of these guys could approach peak-era Derek Jeter in terms of offensive production, but history and age aren't on Jeter's side.
Any agreement the Yankees and Derek Jeter reach this winter will set the tone for the immediate future of the franchise. They can risk overpaying Jeter for the good will of his 3000th hit and the end of his career. They can play hardball with Derek and risk ill will from everyone. But they can't expect to pay Derek Jeter $18 million and A-Rod north of $25 million in 2013 and 2014 and compete at a high level. Even the Yankees' resources are limited, and poor investments at such high levels are tough to overcome.
The easy answer is one of hope. We have to hope Derek Jeter can kick in gear as the Yanks head for October. We have to hope he can defy age. We have to hope he can battle back the question marks. And we have to hope he'll reach an amicable deal with the Yankees. Anything else might just be too depressing to ponder. After all, none of us are getting any younger.