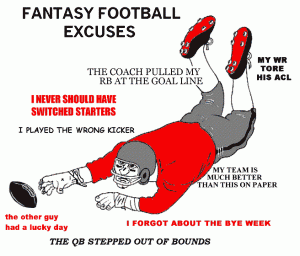 Time for the annual tradition of revealing the fantasy football team I drafted for you all to mock and laugh at. We only did 14 teams this year (in the past it's been 20), and it was basically the same people as last year. So you didn't miss a post about signing up or anything, we never had one. Sorry. Anyway, here's my squad…
QB: Aaron Rodgers (1st round, 6th overall)
RB: Jamaal Charles (2/23)
RB: Jonathan Stewart (3/34)
WR: Wes Welker (5/62)
WR: Donald Driver (6/79)
TE: Vernon Davis (4/51)
RB/WR: Laurence Maroney (7/90)
K: David Akers (13/174)
D/ST: New Orleans (8/107)
BN: Cadillac Williams, RB (9/118)
BN: Jacoby Jones, WR (10/135)
BN: LaDainian Tomlinson, RB (11/146)
BN: Austin Collie, WR (12/163)
BN: Jeremy Shockey, TE (14/191)
BN: Jason Campbell, QB (15/202)
Rodgers might have been a bit of an overdraft at six, but with all the premium backs already gone, I figured I was better off taking the mammoth quarterback production than gambling on Frank Gore's knees. With any luck, Charles will continue last season's breakout and Jacoby Jones has a breakout of his own in Houston. I could really use that big wideout. I've struggled with running back depth the last two or three years, so I was happy getting Maroney and Cadillac reasonably late since I know they're at least likely to get the bulk of their team's carries.
I'm not nearly as good at fantasy football as I am fantasy baseball, but I feel better about this team than any other team I've drafted in the past few years. My first four picks went exactly as I planned before the draft, so that made me feel good. Here's the full draft results, if you're interested. Next year I'll remember to not schedule it on Labor Day weekend.
Anyway, here's your open thread for the night. Depending on where you live, the Marlins-Phillies or Rays-Red Sox will be on MLB Network. At this point, Yankee fans have to pull for a Boston sweep. Just think of it as rooting for a Tampa loss, not a Red Sox win. Other than that, I'm sure there's a bunch of college football on. Talk about whatever, just be cool.