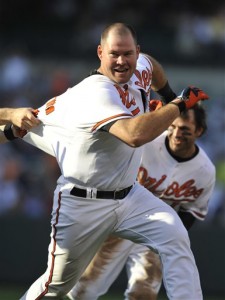 There's nothing like two straight wins and three in four games to help us forget how ugly things were in the last week-and-a-half, but the same problems that doomed the Yankees during their slump reared their ugly heads again on Sunday. Opportunities to tack on runs early weren't taken advantage of, and another strong pitching performance went to waste.
Scott Ties It Up
Mariano Rivera always has one or two stretches in a season when he suddenly looks human, when he blows a save or two and gives up some homers and can't seem to hit his spots with his usual precision. That's what he's going through right now, and today it manifested itself in the form of a cutter that didn't cut all the way in on Luke Scott, who did was he was supposed to do and crushed the ball out of the park. The solo homer to lead off the ninth tied the game at three, continuing this recent stretch of unfortunate pitching and tough losses.
Mo now has four blown saves on the season, two of them coming on the road trip. He'll be fine though, he always is.
Insurance Runs? Like The Yankees Need Those!
Orioles starter Chris Tillman was asking for it. He allowed three hits and walked six batters in just three-and-two-thirds innings of work, but the Yanks just wouldn't give it to him. They pushed across a first inning run, then two more in the fourth, but that was it. They left a man on first in the first, a man on first in the second, the bases loaded in the fourth, a man on first in the fifth, runners at the corners in the sixth and then again in the ninth, yet none of that represented their biggest blown opportunity.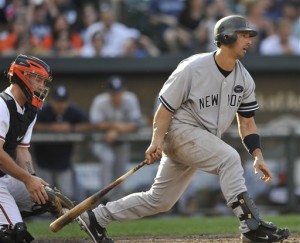 After Scott tied the game up, Alex Rodriguez pinch hit for Greg Golson (who replaced Austin Kearns earlier in the game) and drew a walk to lead off the 11th. Eduardo Nunez came in to pinch run, and before Ramiro Pena could bunt him into scoring position reliever Mike Gonzalez threw a pickoff attempt into the stands, putting Nunez on third automatically. Joe Girardi then subbed in Marcus Thames for Pena in the middle of the at-bat with a 1-1 count, though Thames couldn't get Nunez home when he swung and missed at a pitch in the dirt for strike three.
Girardi then sent Mark Teixeira in to pinch hit for Brett Gardner (more on that later), but Buck Showalter got all manager-like and intentionally walked not just Tex, but Derek Jeter after to him to load the bases with one out. The Yanks couldn't possible screw this up, right? Wrong. Lance Berkman, hitting from his weaker side, bounced into a double play that killed the inning, his second GIDP of the game. At -.361 WPA, it was the most costly play of the game for New York.
Andy Was Dandy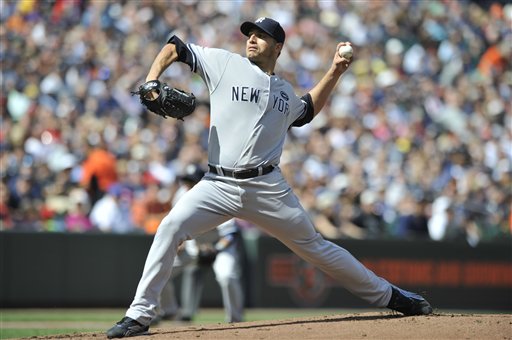 Even though the Yanks dropped this game, it was undeniably positive in the big picture. Andy Pettitte made his first start since July 18th due to a groin injury, and it was like he didn't miss any time at all. Girardi said he would be thrilled to get six innings out of his starter, but Andy cruised right through those six innings with ease. If he wasn't limited to 80-85 pitches (he threw 79), he would have been out there for the seventh inning as well, no doubt about it.
Pettitte battled his command early, running three ball counts to four of the first eight men he faced. The O's tied the game at one on an Adam Jones bunt single with two outs in the first, a play that tested Andy's groin on the fielding attempt, but after that they had little chance against the southpaw. Pettitte sat down 15 of the final 17 men he faced, including the last 11 consecutively. He was throwing his breaking ball for strikes, his cutter into to righties, and his changeup down and out of the zone for weak grounders. It was vintage Andy, and the Yanks have to be extremely encouraged by what they saw out of him.
Leftovers
Girardi burned through eight players in the span of four plate appearances in that 11th inning, but the only move worth second guessing was pinch hitting Tex for Gardner. Yes, it's Mark freaking Teixeira, but Gardner had already reached base twice in the game and hasn't shown enough of a platoon split to worry about the left-on-left matchup. Given Tex's injured hand (and toe), it's not hard to make a case that Gardy was a better bet to get the run in right there, especially since Showalter went right to the four-fingers once the first baseman was announced.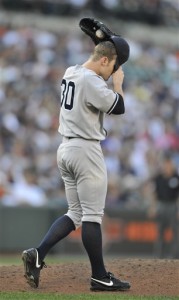 Robbie Cano had two hits and walk, and finished the year with a .444/.487/.694 batting line against the O's. Unfortunately he was the only Yankee with more than one hit, and was on deck when Berkman hit into that rally killing double play in the 11th.
Not the best day for the bullpen, with Boone Logan and Kerry Wood combining to surrender a run in the eight before Mo blew the save. David Robertson pitched a scoreless tenth before taking the loss in the next inning thanks to a bloop double by Scott and legit gap double by Ty Wigginton. It happens, what can you do.
The Rays lost, so the lead in the division remains at half-a-game. The Red Sox won however, so the lead on the Wild Card shrinks to just seven with 13 to play. I thought the Sox were supposed to back in this thing, what happened? Seem kinda foolish looking back on it, no? I told you not to worry about them.
WPA Graph & Box Score
Gross. MLB.com has the box score and video, FanGraphs the nerd score.
Up Next
The Yankees will dedicate a new monument in Monument Park to George Steinbrenner tomorrow evening, then they'll take on the Rays in their first game in the Bronx in what feels like an eternity. The final homestand of the season (!!!) will start with Ivan Nova and Matt Garza.