On the heels of three rather ugly, often unwatchably bad losses, the Yankees showed up to the park on Wednesday afternoon with a chance to turn things around and avoid a sweep at the hands of the lowly Orioles. Things certainly didn't look good for the first, oh eight-and-a-half innings or so, but one swing by Nick Swisher was enough to erase all the frustration of the game and really the series.
Biggest Hit: Swish Makes Up For It All
The 2009 season spoiled us all. Not a homestand went by last year that the Yanks' didn't win at least one game thanks to a walk-off homer/hit/dropped pop-up, but so far this season they've only enjoyed four such wins. Marcus Thames was responsible for the first two, Swisher the third and now the fourth.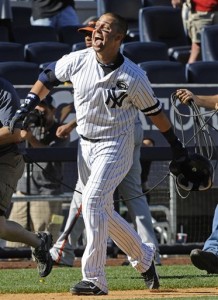 Down 2-1 against Orioles' closer Koji Uehara, Alex Rodriguez led off the bottom of the ninth with a solid single to rightfield, the fourth time he hit the ball hard in as many trips to the plate. He was immediately pinch run for by Eduardo Nunez, but Robbie Cano flew out to deep center for the first out of the inning to end his day. Swish, already 1-for-3 and still noticeably favoring his sore left knee, worked himself into a hitter-friendly 2-0 count by taking two straight fastballs off the outside corner. He took the third pitch, just not for a ball. He took the pitch and turned it around towards left-centerfield. Nunez was running on contact, so even if the ball landed in the gap, Swish's hit likely would've tied things up. He did one better though, as the ball carried up and over the wall and into the visitor's bullpen for a walk-off two-run homer.
The Yanks haven't had many huge WPA swings this season, but Swish's homer ranks among the largest. It accounted for 77.3% of the win, a win the team sorely needed.
Biggest Out(s): Nova Gets Wigginton & Izturis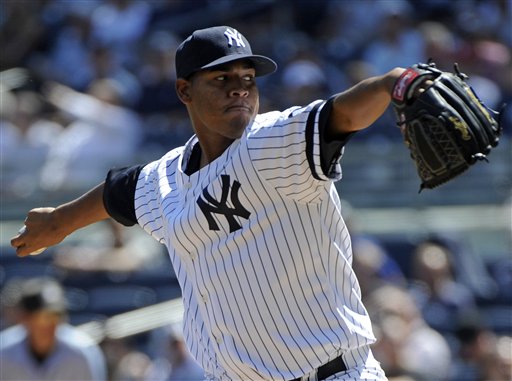 Things started off very well for Ivan Nova, but the O's started to get to him the second and third time through the order. Matt Wieters hit a two-run opposite field homer on a 3-0 count two batters into the fifth inning, but Baltimore's threat didn't end there. Brian Roberts – 6-for-14 in the series – doubled to right with two outs before Nick Markakis was intentionally walked. Nova escaped the jam by striking out Ty Wigginton on four pitches, three of which were swings and misses on curveballs. Wiggy just couldn't lay off it.
Things again got a little hairy in the very next inning, when Adam Jones reached base on an 0-2 single with two outs and no one on. Weary of Wieters following the homer, Nova seemed to pitch around the catcher and put him on with a walk. Cesar Izturis, he of the .249 wOBA, worked a 3-0 count before Nova managed to run it back full. The seventh pitch of the encounter yielded a line drive, thankfully right at a slightly leaping Derek Jeter. The O's had failed in their second chance in as many innings to tack on some insurance runs, and sure enough it came back to bite them.
Rallies For Nothing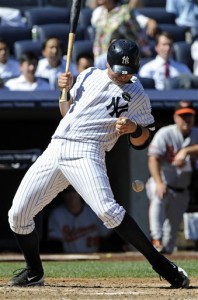 Like the Orioles, the Yanks had themselves plenty of opportunities to get back in this game before Swish did the honors in the ninth. Lance Berkman led off the fifth with a walk, and two batters later Frankie Cervelli pushed him into scoring position when he took a pitch to the left butt cheek. O's starter Brad Bergesen fed Brett Gardner a diet of upper-80's fastballs with the two men on, but the Yanks' speed demon ripped a hard grounder right to Roberts at second for an inning ending 4-6-3 double play. It was actually the biggest negative WPA swing of the game at -13.2%.
Two innings later the Yanks again threatened, except this time it was Cervelli who came up with men on the corners and two outs. His at-bat lasted all of one pitch, a routine grounder to third that ended the inning and what seemed to be their last chance at the time. This inning was such a mess, it gets its own section.
The WTF Inning
Like I said, that seventh inning was a disaster for the Yanks. Cano did well to reach base with a leadoff single to the opposite field, but Swish struck out looking on a pitch that was probably too close to take. That's when things got a little crazy.
Buck Showalter lifted Bergesen with his pitch count at 101 following the Swisher strikeout, handing the ball to former New Jersey Net Mark Hendrickson with Lance Berkman and Curtis Granderson coming up. Berkman, as we all know, is part of a designated hitter platoon with Marcus Thames because of his .252 wOBA against lefthanded hitters, and yet he was left in to face the southpaw Hendrickson. Predictably, the former Astro was caught flailing at a changeup for strike three and the second out of the inning. Not pinch hitting for Berkman is the first WTF.
Now with two outs and Cano still at first and Hendrickson still in the game, Joe Girardi finally sent Thames to the plate for Granderson. We know Grandy struggles against lefties, but he's got something like an 1.100 OPS against them with his new swing. But fine, you have to give Thames a chance against the lefty, that's what he's here for. Except Showalter would have none of that, lifting Hendrickson for the righty Jim Johnson after Thames was announced. The platoon advantage was lost for two straight batters late in a one run game. That's the second WTF.
Girardi lucked out because Thames singled and sent Cano to third, but then the inning ended one pitch later on Cervelli's ground out. Letting Cervelli hit for himself was the mother of all WTF's, but it turns out that Jorge Posada was unavailable due to concussion-like symptoms. There's still an argument to be made that someone like Colin Curtis was a better option at that spot. Either way, fine, Girardi gets a pass for letting Frankie bat since Posada's hurt. The Thames thing though, sheesh. Not getting him in there for Berkman and essentially sacrificing the platoon advantage for two batters late in a close game is rather stupid. You have to utilize your personnel better than that, have to.
Leftovers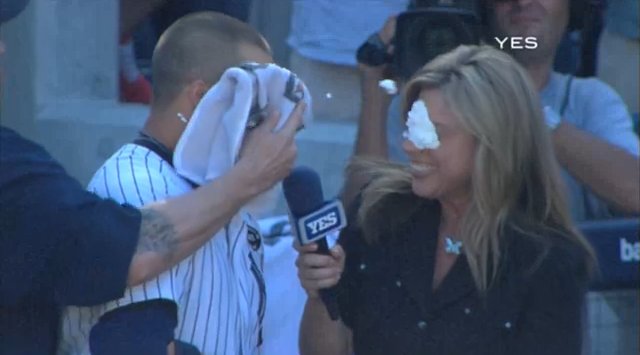 Derek Jeter took a big fat 0-for-4 and is down to .262/.328/.369 on the season and .233/.311/.327 since June 2nd (395 plate appearances). He also muffed a throw on a routine grounder that pulled Berkman off the bag. I want to see him sit at the negotiating table this winter and say he deserves three or four years at $18-20M per with a straight face.
A-Rod continues to crush the ball, picking up two hits and two loud, hard hit outs. He's pretty clearly the team's most dangerous hitter right now. Mark Teixeira, meanwhile, was at the mercy of Bergesen all afternoon, striking out three times in four trips to the plate.
I liked Gardner's aggressiveness in the third inning, when he doubled in a run but got thrown out trying to stretch it into a triple. Felix Pie completely misread the ball in left and let it roll to the wall, and it took a set of perfect relay throws to nail Gardy. The O's executed, so give them credit.
Nova was pretty good, especially in the first three innings before having to really battle his way through the next three. David Robertson, Boone Logan, and Joba Chamberlain combined for three innings of perfect relief with a pair of strikeouts each. As for Baltimore's bullpen, well, the Yanks had zero hits off of that crew in the series until Thames' single with two outs in the seventh inning of this game.
The Yanks are still the only team in baseball to not have a losing streak longer than three games this season, and they also avoided getting swept in a three game series at home for the first time at the New Stadium. I mean ever. The division lead is back up to two-and-a-half games because the Red Sox beat the Rays, and the magic number for a playoff spot is down to 14 thanks to the White Sox loss.
WPA Graph & Box Score
Hooray for late comebacks! MLB.com has the box score and video, FanGraphs the other, nerdier stuff.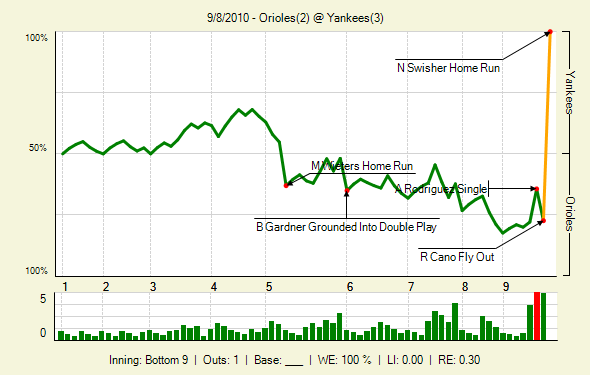 Up Next
The Yanks went 7-3 on the longest homestand of the season, and will get to enjoy a day off on Thursday before moving on to Texas to take on the scuffling Rangers. Javy Vazquez and his nothingball will face C.J. Wilson.