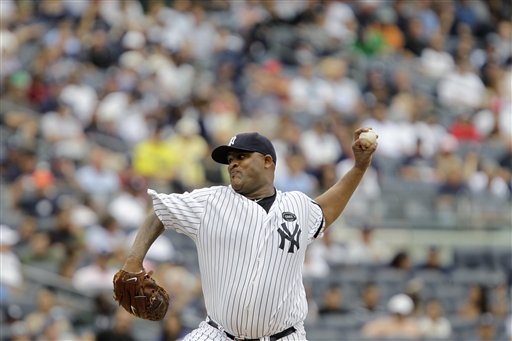 The word ace gets thrown around quite a bit these days. Every team has one if you consider an ace to be the best pitcher on a given staff, and it's usually whoever is designated as the Opening Day starter regardless of merit. By that definition, guys like Zach Duke and Scott Feldman are on par with Roy Halladay and Felix Hernandez. Of course that's completely wrong, because not every team has an ace. In fact, there are probably fewer true aces than teams out there.
But the Yankees have an ace. They have a guy they can lean on in big games, that they can count on for dominant performances and scores of innings. A pitcher they can start in Games One, Four, and Seven of a playoff series on almost any amount of rest . A pitcher that when his turn comes every fifth day, a win isn't just likely, it's expected. That man is CC Sabathia, who almost singlehandedly pitched he Yankees into the postseason with eight-and-a-third dominant innings against the Blue Jays on Tuesday night.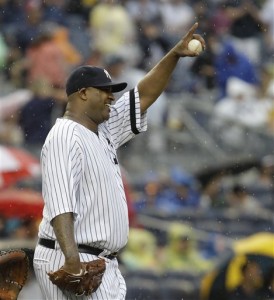 Since signing that mammoth seven-year, $161M deal in December of 2008, Sabathia has been everything the Yankees expected him to be and then some. He hasn't missed a single start, throwing a total of 467.2 innings across the last two seasons, earning every one of his MLB leading 40 wins over that time. His playoff performance last season was simply masterful, as he took ALCS MVP honors thanks to a pair of dominant eight inning outings against the Angels (one on three day's rest) before limiting the Phillies to five runs in 13.2 innings in the World Series. The Yankees went 4-1 in his five postseason starts, and if a Game Seven was needed against the Phillies, he was ready to go yet again on short rest.
Aside from his work on the field, Sabathia has gone above and beyond the call of duty in the clubhouse. He's helped transform a far too corporate and uptight environment into one filled with more smiles and comradery than anytime in the recent past, and that's just me speaking based on what I've seen as an outsider. He's arranged outings to basketball games and what not with teammates during Spring Training and even the regular season, something we never ever ever saw happen before he got here. Despite all that talk about his preference to remain close to home on the West Coast, Sabathia has fully embraced New York and his place as a Yankee. For once, it's a player with a larger than life personality that no one dislikes.
CC turned 30-years-old just over two months ago, so he's still very much in the prime of his career. He's proven to be more than capable of handling the workload required of an ace and then some, and he's become every bit a piece of New York as the Yankees themselves. There isn't enough that can be said about how tremendous Sabathia has been in his two years as a Yankee, but I want you to try anyway. Give up to the big man, because we all know he's gone above and beyond for us fans.