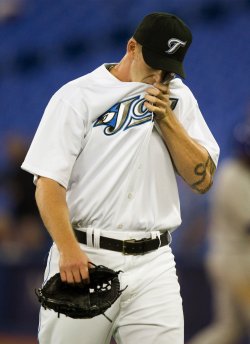 A.J. Burnett had plenty of time to prepare what he'd say this afternoon. He knew long before us that he was not going to start a game in the ALDS. I don't know what went through Burnett's head in those few days, but it resulted in him getting the best press coverage possible. "Burnett handled himself better today than anybody could have expected," wrote Mark Feinsand of the Daily news. "Burnett is a super-likable guy," said Wallace Matthews of ESPN New York*. That type of reaction tends to occur when you admit that you suck and take your demotion without issue.
*The rest of Matthews's quote reads, "who regrettably seems destined to drive himself and his bosses crazy." Well said.
Burnett will sit in the bullpen for the ALDS, which raises the question of how Girardi will use him, if he'll use him at all. Would he use him in the sixth inning of Game 3 if Hughes throws 100 pitches through five. Would he use him in Game 4 if he had used Wood, Robertson, and Chamberlain in the first three games? I doubt he uses him before any of those three, but he probably fits in ahead of Moseley and Mitre. There's a chance he'll get an inning or two, which makes me wonder how he'd adapt to a relief role.
Burnett last pitched in relief on April 16, 2008, in an extra-inning game against Texas. In a 5-5 game he allowed two runs on three hits and a walk. The Blue Jays were retired in the bottom half and the Blue Jays lost the game. The time before that came in 2004, on the final day of the season. Burnett hadn't pitched since September 12. He came into the fifth inning of a 5-3 game against the Phillies and pitched two scoreless innings that included four strikeouts. In his career Burnett has made four relief appearances and has faced 30 batters. They have hit .346/.433/.500 off him.
Of course, four appearances scattered over three different years doesn't mean much as it concerns his current abilities. Then again, I don't think that many stats, if any, can explain A.J. Burnett this season. Normally I'd go through his numbers in various reliever situations — first inning of work, men on, late & close, etc — but I'm not sure it would tell us anything. Not only are they small, non-predictive samples, but they're also almost all bad, because A.J. was bad most of the season. There are very few situational splits in which the opponent's OPS against dips below .700. It's tough to find any silver lining with numbers like that.
I really wanted this to be a post on how A.J. might make a good reliever — that he might add a fourth to the setup crew of Chamberlain, Wood, and Robertson. But that's just not likely. It's possible, in the same way that it's possible that the Braves win the World Series. But it would come only in a desperate scenario. I have to agree with Ben; Burnett the reliever is a pitcher I hope never takes the mound in the ALDS. It probably means a grave situation — even before Burnett enters the game.