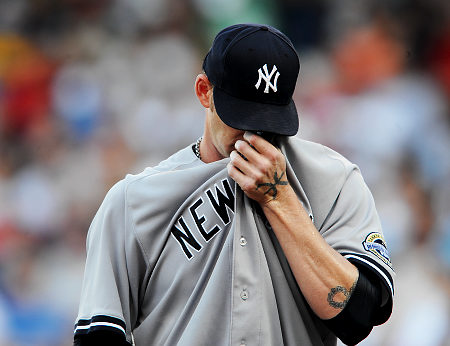 A lot has been written and said about A.J. Burnett recently and many fans are calling for him to be traded.  The obvious answer to that is that A.J. is untradeable.  For the most part that is true, but clearly if the Yankees really wanted to trade him they could, it would just cost them a ton of money.  Without getting too unrealistic and saying the Yankees should eat $40 million (of the $49.5 million remaining on his contract), what could they possibly get for him?  Let's take a look at some possible candidates in a Burnett trade and decide if shipping him out of town would be worth it.
Derek Lowe– The Braves had interest in Burnett when he was a free agent, reportedly offering him a 5 year/$80 million contract.  When they couldn't get him, they settled for Lowe at 4 years the $60 million.  Lowe has two years and $30 million left on his deal, so the Yankees would certainly have to eat some of the cash on Burnett's extra year.  Would you trade Burnett and $10 million for Lowe, essentially paying $40 million for 2 years of Lowe, who hasn't pitched in the AL East since 2004 and has a 4.37 ERA in the NL East the past two years?  Though it would be tempting to have one less year of expensive mediocrity, A.J. has had success in the AL East much more recently than Lowe and has more upside.
Barry Zito– Zito has 3 years and $64.5 million remaining on his contract (including a buyout).  I don't think I need to go much further discussing this one do I?  Despite Zito not being a total disaster the past two years (and that's a compliment), there's no way he'd have success in the AL East at this point in his career.  As frustrating as A.J. can be, I cannot imagine watching Zito and his 85 MPH fastballs in the Bronx for the next 3 years.
Carlos Zambrano– A few months back I would consider this an absolute no.  Now I think the Cubs would.  Zambrano is owed just under $36 million over the next two years, so while the AAV is similar to A.J.'s, the extra year owed to Burnett is huge.  Burnett has obviously been a disaster lately while Zambrano has been on a tear.  Since being put back in the rotation in August Zambrano is 7-0 with a 1.27 ERA.  Those numbers are a bit fluky, but there's no doubt he's looked much better since coming back.  Zambrano of course has had several disciplinary and attitude issues with the Cubs, would they jump at the chance to get him out of their clubhouse and bring in the well-liked Burnett?  I doubt it, and again, because of the extra year, the Yankees would have to chip in some cash.  If the Cubs were interested in the swap, that could tell us a lot more about his relationship with the Cubs and maybe more behind the scenes issues we don't know about it.  If that's the case, would you want the Yankees to bring him in?
Other than these three there aren't many pitchers out there that you could even consider matching up in a trade.  Dig into position players and you can find the untradeable players due to their contracts such as, Vernon Wells (4 years/$86 million), Alfonso Soriano (4 years/$72 million), Alex Rodriguez (oops).  Clearly trading A.J. would not be easy, and no matter what you get back you're not guaranteed an upgrade.  Like it or not, A.J. is here to stay, so you might as well treat him like everyone's crazy uncle. We have to deal with him, but he's family, so just get ready to grind your teeth for the next three years while A.J. takes the mound.