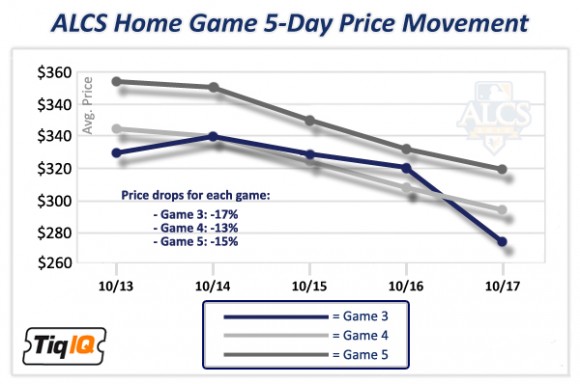 Our partners at TiqIQ comes an update on ALCS ticket prices. As the graph above shows, over the last five days, prices for the tickets at Yankee Stadium have gone down significantly.
I believe we're seeing the impact of a long series coupled with what I call the A.J. Effect and the reality of a weekday day game. I'm surprised that the Cliff Lee/Andy Pettitte tickets are showing such a decline, but I know Yankee fans aren't keen on seeing A.J. throw a pivotal Game 4. With Game 5's 4:00 p.m. start time, too many fans with tickets can't take off from work.
As always, we have plenty of seats at RAB Tickets. Check it out if you're trying to get to the Stadium.