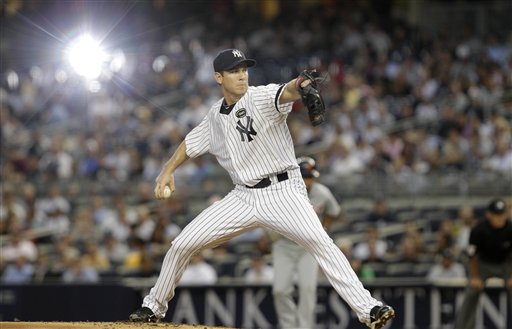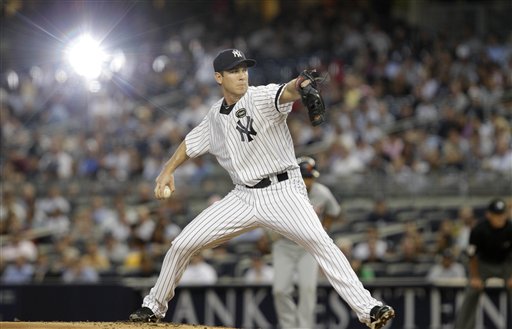 With the team on its way to Minnesota in advance of tomorrow's ALDS opener, the Yankees have released their 25-man roster for the series. They're carrying 11 pitchers and 14 position players, with Sergio Mitre and Dustin Moseley grabbing the final two bullpen spots. They beat out the unimpressive quartet of Javy Vazquez, Chad Gaudin, Royce Ring, and Ivan Nova, all of whom pretty much bombed their September auditions. Nova's the only real surprise, but he didn't exactly shine in his relief appearance on Saturday night.
We know that CC Sabathia (Game One), Andy Pettitte (Game Two), and Phil Hughes (Game Three) will be the primary starters, though A.J. Burnett's status was a bit unclear. He made the roster and will pitch in relief, joining Joba Chamberlain, Mariano Rivera, Kerry Wood, David Robertson, Boone Logan, Mitre, and Moseley out in the bullpen. Given the scheduled off days between Games Two and Three (and Four and Five), the four core setup relievers (Joba, Wood, D-Rob, Logan) should be able to pitch almost every inning between the starters and Rivera. I'm curious to see if and how A.J. will be used, he could be a weapon if comes in and just airs it out for an inning, but does Joe Girardi trust him?
Greg Golson beat out Eduardo Nunez for a bench spot, since he offers top notch outfield defense and has no worse than equal baserunning ability. Ramiro Pena gets the nod over Nunez likely because of seniority, but it was the correct choice anyway. Neither player can hit and at least Pena can play stellar defense. Regardless, the utility infielder is going to be glued to the bench all month. The starting eight position players are clear and do not need introductions, and as expected the DH spot will be a Marcus Thames/Lance Berkman platoon. Golson, Pena, Austin Kearns, Frankie Cervelli, and the non-starting half of the DH platoon will occupy the bench.
Thames figures to get a lot of at-bats in the ALDS with lefties Francisco Liriano and Brian Duensing scheduled to start two of the first three games for Minnesota, so Berkman's going to play a big role coming off the bench as a pinch hitter in the late innings. His power appears to be pretty much gone, but he's gotten on base 40 times in his last 100 plate appearances, which has definite value. Golson will likely get the call as the primary pinch runner since they have two outfielders on the bench and just one infielder, and he should be well equipped for the job. He's swiped 60 bags in 73 tries over the last three years in the minors (82.2% success rate).
The Yankees are only going to go as far as their star players take them. The decision to carry Moseley over Nova, or Pena over Nunez will not determine their playoff fate. They might contribute a little something at some point, but that's it. We've known who this team will rely on come playoff time all season, so for all intents and purposes the last three or four ALDS roster spots are inconsequential.