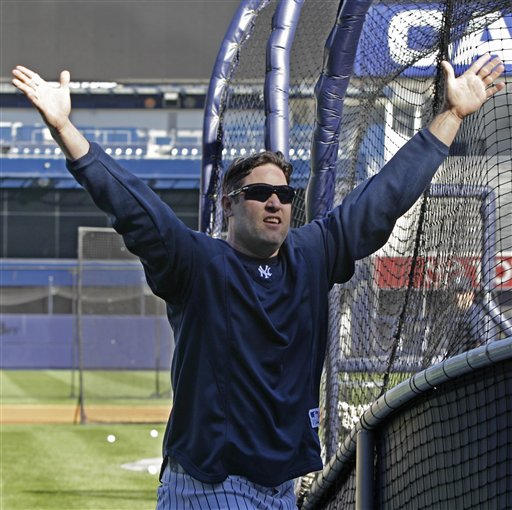 The big news from A.J. Burnett's simulated game this afternoon is not that he threw 80-plus pitches for the first time in close to two weeks, not that he felt great about his curveball and changeup, but that he plunked two batters. In a simulated game. He got Greg Golson with a two-seamer on his fifth pitch (after his first sailed to the backstop) before getting Austin Kearns with another two-seamer later on. It wouldn't be an A.J. Burnett outing without erratic command so this is just par for the course. I can't wait until those two pitches to Golson and Kearns are extrapolated into more #LowPitchingIQ articles and the like. It wouldn't be the same old A.J. without 'em.
Oh, and apparently Mark Teixeira has a black eye. He says he got it while messing around with his son. Whatever, as long as he keeps hitting bombs and catching everything hit within a time zone of first base, he can do whatever he wants off the field.
Here's tonight's open thread. The Knicks are playing the Celtics in preseason action (meh), and both the Isles and Devils are playing real games that mean something (not against each other). Yeah, it's that kind of night. You guys and gals know what to do, so have at it.