Tonight Cliff Lee will face the Yankees for the 15th, and perhaps final, time in his career. This presents the Yankees with their toughest challenge to date in the 2010 postseason. They've faced quality lefties in Francisco Liriano and C.J. Wilson previously, but neither of them quite matches Lee. Yet, despite what the hyperbole might suggest, the Yankees have had success against Lee in the past — one of the instances being an elimination game in the World Series. In the spirit of this match-up, let's take a look at how the two have fared against each other during Lee's career.
Before Grand Transformation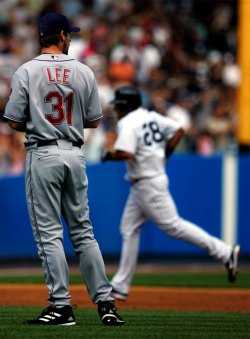 In 2002 the Montreal Expos were in a state of limbo. There was talk of contracting two teams, and the Expos would surely be one. The team's owner, Jeffrey Loria, had already bought the Florida Marlins, leaving the team to MLB control. Still, on June 26 the team found itself in the midst of the playoff hunt. They were seven games back of Atlanta in the NL East and six behind the Diamondbacks for the Wild Card. A day later GM Omar Minaya traded his Nos. 1 and 3 prospects, Brandon Phillips and Grady Sizemore, plus a left-handed pitcher named Cliff Lee for Bartolo Colon. While the trade flopped for Montreal — they finished 19 games back in the division and 13 games back of the Wild Card — it changed the course of the Indians.
Lee made his major league debut in 2002 and was ranked the Indians' No. 3 prospect, behind Phillips and Victor Martinez, in 2003. He followed that up with an excellent season in the minors, which earned him a full-time spot in the 2004 rotation. That didn't go so well, but the next year was his breakout. In 2005 Lee went 18-5 with a 3.79 ERA and FIP. He followed that up with a decent year, but he struck out far fewer batters and allowed quite a few more hits, leading to a 4.40 ERA and 4.73 FIP. That trouble grew in 2007. After three straight July starts in which he allowed seven earned runs, the Indians demoted him to AAA. They recalled him in September to pitch out of the bullpen, but they did not include him on the postseason roster.
From his debut through his demotion the Yankees faced Lee six times. During that span he pitched 34 innings and allowed 28 runs (25 earned). He clearly wasn't the same pitcher as he is today: he walked 13 men in those games. The worst of the outings came on September 2, 2004, when he allowed six runs in just 1.2 innings. That was part of Lee's second half collapse, in which he posted a 7.91 ERA in 15 starts. In 2005 he allowed five runs in six innings during one start. In 2006 they again lit him up, scoring seven runs (four earned) in six innings. They did not face him during his terrible 2007.
After the transformation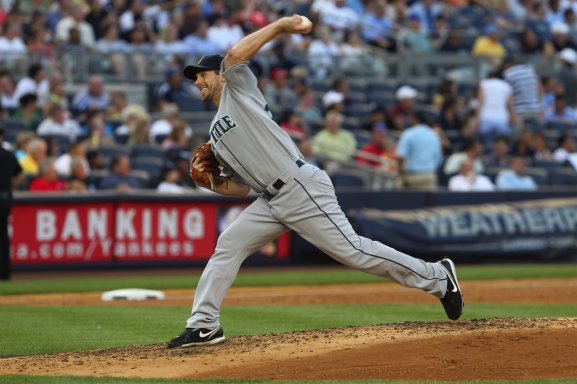 In 2008, fresh off the Indian's Game 7 loss to the Red Sox in the 2007 ALCS, Lee returned with a vengeance. Through April he had a 0.96 ERA and had walked just two men. He would have appeared to be the perfect complement to the 2007 AL Cy Young Award winner CC Sabathia, but Sabathia got off to a horrible start. Once he started to come around in May, the Indians were already out of the race. But that didn't deter Lee. He faced the Yankees on May 7 of that year and spun seven shutout innings, striking out seven and walking none. (Rich Lederer of Baseball Analysts has a great story about meeting Lee on the subway before the game.) After a slight rough patch he cruised through the rest of the season, ending 22-3 with a 2.54 ERA and the Cy Young Award.
Had something changed during Lee's time in the minors? Or was this just a fluke season? It might have been tempting to say fluke, but the man displayed pinpoint control on nearly every pitch he threw. He ended the season leading the league in both walk rate and home run rate, so it was reasonable to think that while he might not have a 2.54 ERA again in 2009, that his success was for real. But his Opening Day start, in which he allowed seven runs in five innings, cast some doubt on the situation.
After another so-so start Lee picked right back up where he left off in 2008. From April 16 through July 26 he started 20 games and posted a 2.66 ERA, striking out 97 to 29 walks. After that July 26 start the Indians, knowing they wouldn't contend in 2010 and would lose Lee after the season, traded him to the Phillies. In th emiddle of that run Lee spun six innings against the Yankees, allowing three runs on nine hits and two walks. While they were surely glad to have him out of the AL, he'd come back to haunt them in the postseason that year.
This year it appeared as though the Yankees would face Lee only once. He pitched a complete game on June 29, and while he allowed four runs (three earned) in that game, it doesn't tell the entire story. He was completely dominant sans for appearances against Nick Swisher, plus a mini 9th-inning rally. He was set to face them again in the beginning of July, but it came out before his scheduled Friday night start that the Mariners intended to trade him prior to it. The rumored target was the Yankees, but that fell through and he ended up going to Texas. That hurt not only because the Yankees didn't get their man, but that they'd have to face Lee twice more, whereas they were done with Seattle after that July series. The Yanks beat him the first time, scoring four runs in 6.1 innings before finishing the comeback against the bullpen. In the second instance only Derek Jeter could figure him out, and despite Dustin Moseley's best efforts the Yanks dropped the game.
Postseason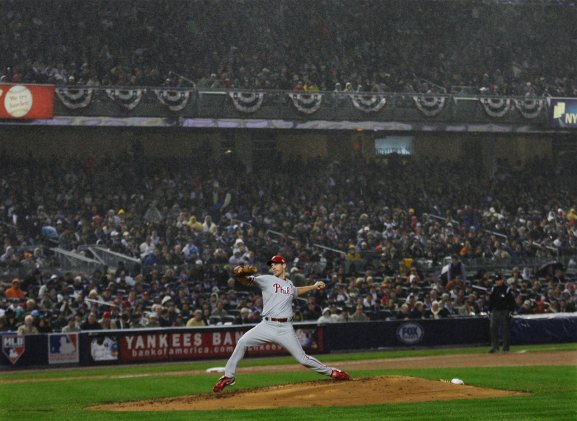 Lee's postseason success against the Yankees typically get exaggerated, because he won both times he faced them in the 2009 World Series and was absolutely brilliant in Game 1. But he was beatable in Game 5, and the Yanks nearly did mount a comeback in that one despite A.J. Burnett's horrible performance.
In Game 1 Lee was undeniably dominant. He pitched all nine innings and struck out 10 Yankees while walking none. The six hits he allowed were scattered, as he didn't allow more than one base runner per inning until the ninth. Even then it was a matter of just two singles to lead off the inning. Lee got what appeared to be a ground ball double play from Mark Teixeira, but Jimmy Rollins threw away the ball. That allowed Jeter to score. Lee, apparently perturbed that his fielder ruined his shut out, struck out A-Rod and Posada to end the game.
The Yankees ended up turning things around in Game 5. A-Rod got them off to a 1-0 lead with a double to right, but A.J. Burnett gave it back when he allowed a three run homer in his half. Burnett then got knocked around in the third inning and had to exit the game. David Robertson allowed an inherited runner to score, leaving Burnett with six runs in just two innings. The Yankees chipped away, scoring four more runs off Lee (and Chan Ho Park). But thanks to a Phil Coke implosion they were still down three. They nearly brought it all home against Ryan Madson, as they had the tying run at the plate with none out. But Jeter grounded into a double play to lessen the threat.
Which Cliff Lee will we see tonight? Certainly we won't see the Lee that faced the Yankees before his grand transformation. That guy is long gone. The new Lee has had his ups and downs against the Yankees. If he looks more like Game 5 Lee than Game 1 Lee, the Yanks have as good a shot as they've had against all the other postseason aces they've faced.