Right before the ALDS started we took a look at some of the Twins' weaknesses and how the Yanks could exploit them. They pretty much manhandled Minnesota during all three games, so a marginal gain here or there wasn't a big deal. Delmon Young did go 4-for-12 in the series, though one of those hits was on the Greg Golson shoestring non-catch in Game One. He didn't drive in a single run and had as many extra base hits as double plays grounded into. The Yanks didn't steal off Carl Pavano or take advantage of Jason Kubel's arm, but in the end they didn't need to.
With the ALCS a day away, it's time to break down the flaws in the Rangers' game, and figure out how the Yanks can take advantage of them.
Elvis Andrus' "Power"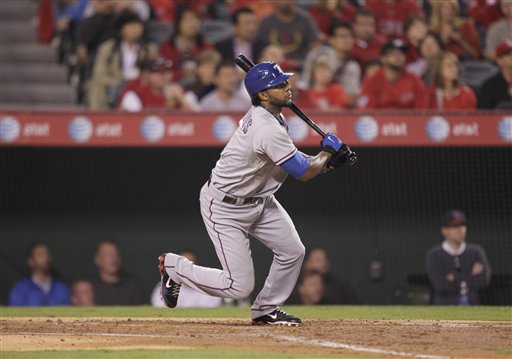 The production of American League shortstops really fell off a cliff this season, as Alexei Ramirez paced the circuit with a .322 wOBA and 3.8 fWAR. Just one other shortstop eclipsed 3.0 fWAR, and just four total were over 2.0. It wasn't just Derek Jeter having a down year, the position as a whole hit a one (or more) year slump.
Another one of those AL shortstops is Andrus, who followed up a very strong .322 wOBA, 3.1 fWAR rookie season with a .298, 1.5 effort this year. He started the season off very well, hitting .324/.410/.382 in the first eleven games, at which point Ron Washington moved him to the leadoff spot. Andrus has hit there ever since, and finished the season with a good but not great .342 OBP. Here's the thing though, he has no power. I mean nothing.
Among the 270 players that had at least 300 plate appearances this season, Andrus' .036 ISO was dead last. Behind famed noodle bats like Cesar Izturis (.038), Juan Pierre (.041), and David Eckstein (.059). If you don't know what ISO is, it stands for isolated power and is calculated by subtracting batting average from slugging percentage. It removes singles and gives you extra base power only, and Andrus was literally the worst power hitter in the game this year. For perspective, Brett Gardner had a .103 ISO this year. That's how little of a threat Andrus is with the stick.
Now, he does make up for that lack of power a tiny bit with his legs, swiping 32 bases on the year (he also got caught 15 times, a poor 68.1% success rate). The worst Andrus will do is bloop in a single and steal a base, so Yankee pitchers can't get cute and try to get him to chase stuff off the plate, possibly leading to a walk. Just go right at him and make him beat you. Chances are he won't.
The Bottom Of The Order
Long gone are the days of the juggernaut Texas offense, the one that averaged 893 runs a year and topped 920 runs three times in a six year stretch from 1996 to 2001. Those teams were led by in-their-prime versions of Ivan Rodriguez, Rafael Palmeiro, and Juan Gonzalez, among others. The 2010 Rangers' offense is good, obviously, but after the top six batters (Andrus, Michael Young, Josh Hamilton, Vlad Guerrero, Nelson Cruz, Ian Kinsler) their lineup thins out considerably.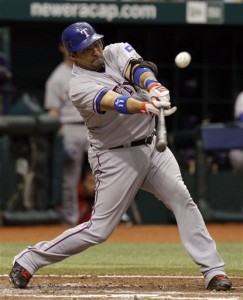 Assuming Hamilton plays center, either David Murphy, Jeff Francoeur, or Julio Borbon will play left (or right with Cruz moving to left, whatever). Murphy did some damage against the Yanks during the season and is the biggest threat out of that trio, but he struggles against lefties (.311 wOBA) and the Yanks are starting two of them in the first three games. Frenchy will murder a mistake pitch over the plate, but other than that he's awful. He finished the season with a dead even .300 OBP. Terrible. Borbon is similar to Andrus in that he has no power (.064 ISO) and will steal you blind (15 steals, but again seven caught stealings for a 68.2% success rate, bad), but unlike the shortstop he won't get on base enough (.309 OBP) for his legs to have an impact.
After the third outfielder comes the catcher, which will be either Bengie Molina (.275 wOBA, .283 with Texas) or Matt Treanor (.268). Yikes. Jorge Cantu was so awful after the trade that brought him to Texas (.270 wOBA) that Mitch Moreland plays first base full-time now, and he's a zero against lefthanders (.279 wOBA, .368 vs. RHP). Again, CC Sabathia and Andy Pettitte will start two of the first three games, and three of the first five. It's not exactly the Brendan Harris-Nick Punto-Matt Tolbert trio that the Twins used at the bottom of their order in last year's ALDS, but Texas' last three batters are unlikely to do any damage unless the Yankee pitchers make mistakes.
C.J. Wilson's Walks
As good as the Rangers' other lefty ace was this season, and he was certainly very good (3.56 FIP), Wilson did lead the league with 93 walks, zero of which were intentional. He's got swing-and-miss stuff, but he's prone to falling behind and putting guys on base without making them swing the bat, something that plays right into the Yankees' hands. If they're their usually patient selves and force Wilson to throw strikes rather than chase pitches out of the zone, it'll be a short night for the lefty, as it was in the three times he started against them this season (14.1 IP, 11 runs, 29 baserunners).
Middle Relief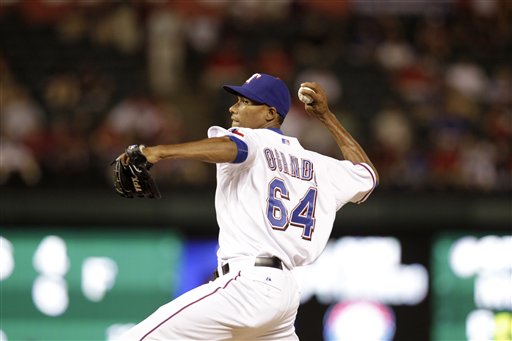 Texas has a quality rotation, a pair of good matchup relievers in The Darrens (O'Day and Oliver), and a hard throwing (yet a little green) closer in Neftali Feliz. Between the starters and the late inning arms though, there's a chance for the Yanks to pounce.
Lefties Derek Holland and Matt Harrison are almost carbon copies of each other. Both throw hard (Holland's average fastball was 92.1 mph this year, Harrison 92.2) and will walk plenty of batters (3.8 and 4.5 BB/9's, respectively). Holland does miss more bats though (8.5 K/9 compared to Harrison's 5.3 mark), so at least he has that going for him. Alexi Ogando is a power righty that struck out 8.4 batters per nine in 2010, but he also walked 3.5 per nine and was significantly worse against lefties (5.23 FIP) than righties (2.07). Righty Dustin Nippert is a walk (5.4 BB/9) and homer (1.1 HR/9) machine, so gimme a piece of that.
There's a reason that Wilson was available in relief in Game Five and Lee in Game Three, it's because Texas' bridge between the starter and setup crew is held together by duct tape and a prayer. If the Yanks knock a starter out early, it could get ugly fast for the Rangers.
* * *
It was a little easier to spot the holes in Texas' game than it was with the Twins, so maybe that's a good thing. It's all up the Yanks to take advantage though, and given how they thoroughly dismantled Minnesota last round, I suspect they will.